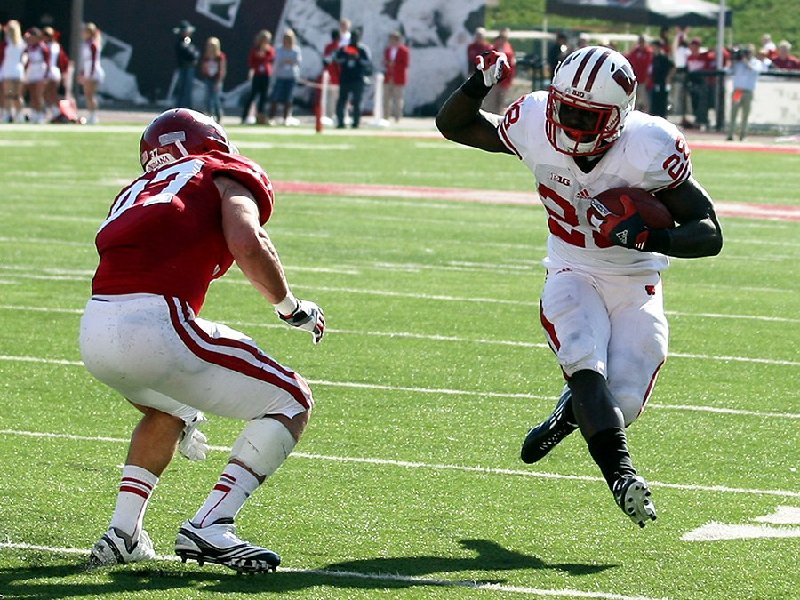 Is Montee Ball one of the greatest of all time?
Three years ago, I received a crash course in college football statistics, and I'll admit, it was a little difficult to grasp.
Growing up in Chicago, I had no college team to root for. If you're born and bred there, the Chi is a pro sports town. Major college athletics are an acquired passion. You become a fan because you either went to a big state school, or you have family connections.
Without those, it's the NBA, the NFL, NHL and Major League Baseball.
Like many of my friends and co-workers over the years, I cared nothing for college sports until I had to cover them. And let's face it – Illinois, Northwestern and Northern Illinois aren't exactly representations of football excellence. So really, there wasn't much to pay attention to in terms of individuals setting all sorts of national records. There was no reason to care for the fluidity of the football record book.
Then, a high school quarterback I covered went to Central Michigan University and earned the starting job. We paid attention to him as a notable alumnus, and I traveled to cover several of the big games in Dan LeFevour's career.
By the time he left CMU in 2009, he set the record for most career touchdowns scored (passing, receiving and running) by a Football Bowl Subdivision player and remains the only player in NCAA history with over 12,000 passing yards and 2,500 rushing yards. He's third all-time in total offense.
Did you know that? All. Time.
I bring this is up because of the feat Wisconsin running back Montee Ball will accomplish sometime this weekend against Penn State (or in the Big Ten Championship game, or the Badgers' bowl game) when he sets the all-time receiving and rushing touchdowns record with his 79th score.
He tied Miami of Ohio running back Travis Prentice's record of 78 on Saturday, and it truly is a great accomplishment, the fruits of four years of excellent play at the highest level of college football.
But what does it mean?
By the numbers, LeFevour is one of the greatest quarterbacks in the history of college football. He did things with his feet and his arm that only Vince Young and Tim Tebow could even think of. I can have that argument and go toe-to-toe with you. All you'll get me on is postseason awards and national titles.
Ah, yes. Those things.
Ball won't win the Heisman Trophy. The Badgers won't win a national title. So what will his records mean? (Yes, records plural. He'll set the all-time scoring record for points by a non-kicker).
Is he greater than Ron Dayne because he found the end zone more often? But, Dayne is the game's all-time leading rusher. Hm. Yet Ball will finish his career as the most prolific scoring player (outside of a quarterback) in the history of the sport. That has to mean something, right?
Unfortunately, no. College football is an odd animal in that the greatness of many of its record holders isn't judged on what they did in college. It's judged on a team accomplishment (a national title) the whims of a group of voters (the Heisman) or what they did in the NFL.
It's not always the case, but for the most part that's where the argument goes.
If I say LeFevour is one of the top three greatest quarterbacks the college game has ever seen (to me, he is) the question invariably turns to how many Heisman's did he win, did the Chippewa's win a title and how many Super Bowls did he win.
None of that has to do with the actual argument, but that's the way it is – and unfortunately Ball will fall victim to this. His records are nice, but they're not as glamorous as Dayne's. Ball doesn't have the hardware, either.
What this is really about is institutional pride. Wisconsin fans and alumni can say their school produced the two greatest running backs of all time. Why wouldn't they say that? As a pair, the numbers, Dayne's Heisman and Ball's finalist finish back it up.
In a couple years when a running back or receiver closes in on Ball's record, people will Google him just like we all had to Google Travis Prentice and pretend we remember how good he was. He'll get called up and will watch the game, and give the kid a congratulatory phone call. Then he'll drift away, like all the others.
It's not a bad thing. Records are made to be broken, as they say. It's just unfortunate that in college football, they don't mean a whole lot.
Talkbacks
PlayerGotGame | Nov. 21, 2012 at 8:46 a.m. (report)
Just one minor point of clarification: "Yet Ball will finish his career as the most prolific scoring player (outside of a quarterback) in the history of the sport" I think that you meant to say "(outside of a kicker)" there, because very few quarterbacks actually score a significant number of touchdowns. Montee Ball is a great back, but not even in the conversation for GOAT. He won't even be a first round pick in the NFL draft. I'm sure that he's regretting his decision to return to school, too, considering the regression the Badgers have endured this season. I wish him well, but he's going to have to be a specialist/change of pace back at the next level to be successful.
Facebook Comments
Disclaimer: Please note that Facebook comments are posted through Facebook and cannot be approved, edited or declined by OnMilwaukee.com. The opinions expressed in Facebook comments do not necessarily reflect those of OnMilwaukee.com or its staff.