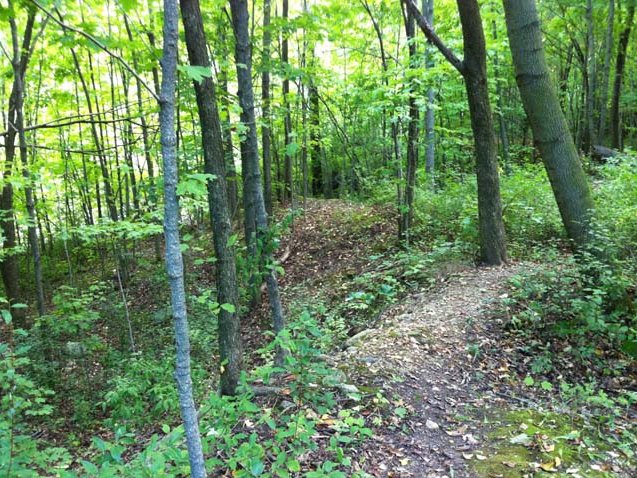 Area mountain bikers building local
There's an adage shared among outdoor enthusiasts that the time on the trail must equal or exceed the time driving to it.
Mountain bikers in Ozaukee and Waukesha counties are working to make the standard easier to meet by building trails closer to home. The trails now being cleared, marked and packed by volunteers will be relatively short, roughly four- to six miles, but more convenient for post-work rides for bikers in Cedarburg, Port Washington, West Bend, Waukesha and New Berlin.
"A lot of mountain bikers in this area, we have families, obligations," said Greg Madden, a patent agent and father who lives in Cedarburg. "This is an option. We can jump on the bike and be on the trail in five minutes.
"For me personally, it's just getting out into the woods and getting outdoors."
Pleasant Valley Park & Trails
Madden is one of the leaders of the Ozaukee County Mountain Bikers group, which won approval last month from the Town of Cedarburg Board of Supervisors to develop four miles of single-track (one-bike wide) trails in the park off Pleasant Valley Road. About a dozen volunteers have been working every weekend since, with support from the Glacial Edge Area Riding Society, Hayes Components and the Belgianwerkx Bicycle Studio.
Members of the Metro Mountain Bikers club in Milwaukee helped design two loops: a two-mile trail for beginners and a two-mile trail for more advanced riders.
The brush has been cleared from most of the trail, and Madden expects at least two miles to be open for riding in the spring.
The terrain will be similar to what riders would find on the Greenbush Trails in the Northern Unit of the Kettle Moraine State Forest – moderately technical and suitable for families - but five minutes away by bike instead of 45 by car.
"I think there seemed to be a big need for this in the area," said Jim Hinze, an architect with Groth Design Group. "It seems to be a pretty popular idea, and we've had people out and helping with the work."
Check out the Ozaukee Mountain Bikers Facebook Page to track their progress.
Minooka Park
The mild, late-fall weather has helped volunteers with the Waukesha County Bike Alliance make significant progress on the first mountain bike trails in a Waukesha County park.
Off Sunset Dr., on the southeast corner of Waukesha, Minooka will be something of a pilot project to determine how mountain bikers mix with hikers, archery enthusiasts and dogs in an urban park setting. The trails will be convenient for Waukesha residents looking for a quick outing, without the 30- to 45-minute drive to the John Muir Trails in the Southern Kettle Moraine.
"Urban trails, or local trails, have been happening around the country for a while, and it's finally catching on in southeast Wisconsin," said Ron Stawicki, vice president of the Waukesha County Bike Alliance. "If I want to do a long, 30-mile ride, then I'll go to the Kettle Moraine, but if I want to ride for an hour before work, these will be great trails for that."
The Metro Mountain Bikers and the Cyclesmith Shop, in Waukesha, have been supporting roughly two-dozen volunteers working on weekends to develop the single-track system.
Based on their current progress, Stawicki expects the first section, 1.5 miles, will open in Spring. Another two miles should be ready in May. The final layout will cover six miles and open in two years.
Follow the trail development at the Waukesha Bike Alliance website.
Talkbacks
littletinyfish | Dec. 7, 2012 at 5:14 p.m. (report)
Awesome! Next summer I predict I'll be seeing many more parts of this state.
Facebook Comments
Disclaimer: Please note that Facebook comments are posted through Facebook and cannot be approved, edited or declined by OnMilwaukee.com. The opinions expressed in Facebook comments do not necessarily reflect those of OnMilwaukee.com or its staff.