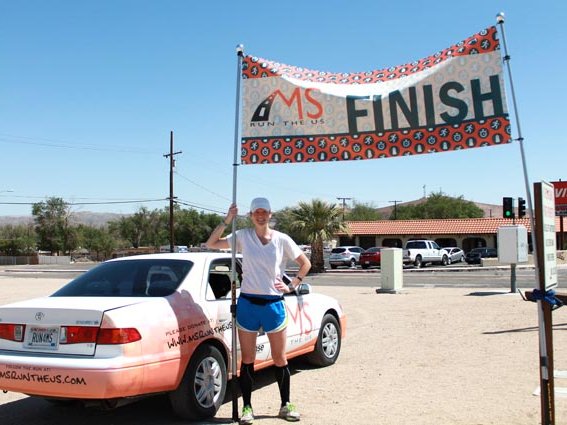 Stripped down to self-discovery over 135 miles - MS Run the US
Chellie deGelleke ran a marathon every day for five consecutive days and finished the first leg of the MS Run the US Relay full of admiration.
Not for herself, but the people who live with multiple sclerosis and "are running a marathon every day of their lives just to function or find some sort of comfort within their discomfort."
It's the kind of revelation one can find in distance running, or in this case, ultra-distance running.
Ashley Kumlien, the Brookfield native who organized the relay, discovered it herself when she ran solo across the country in 2010.
"I know running. I know this activity can break the body but heal the soul," Kumlien wrote after watching deGelleke run 135 miles from the Santa Monica Pier to Barstow, Calif. Last week. "And though it was difficult for both of us (more so for Chellie), healing is exactly what happened.
"There's something unexplainable that happens when you wear all of your physical being away so all that's left is who you are. And who you are when you don't want to move forward, when you simply cannot fathom another single step is exactly what these athletes, and Chellie, have come out here to discover."
deGelleke first discovered she could run a marathon.
The 26-year-old volleyball coach and personal trainer with MISPIBO fitness in Milwaukee had aspirations to run one a few years ago, but didn't take on the challenge until the first day of the relay. It brought her to tears.
"As soon as I saw Ashley at the finish point, my throat tightened up and tears started coming to my eyes," she said. "I never knew how much emotional investment went into it."
Emotion quickly dissolved into exhaustion, and the realization that she would lace up her shoes the next morning, run another marathon, then do it again, and again, and again.
deGelleke woke at 6 every morning, ate bananas and apples, loosened her sore muscles with a foam roller, checked her route, then set out around 8, with a handful of Skittles in her pocket. Kumlien set the course and crewed from the MS Run the US RV. After a mid-day break, deGelleke set out again to finish the day's miles in darkness.
Kumlien described it as "grit, guts and tears."
Purposely, they never discussed whether deGelleke wanted to keep going or could keep going; only that she would.
Kumlien created the MS Run the US relay as an extension of her solo run to raise money for MS research. She draws motivation from her mother, Jill, who has been slowed by the neurological disease for 30 years.
At least 2.1 million people worldwide and 10,000 in Wisconsin have MS, according to statistics from the National MS Society, which raises about $214 million per year.
Fourteen other runners have signed on to run segments of the relay, each one will cover roughly 140 miles over six days, and work to raise $10,000. deGelleke will take on a second leg, the final stretch from Pennsylvania to New York, in August.
She'll help push Jill Kumlien across the finish line with a deeper understanding of herself and her purpose.
"I never really, truly understood why Ashley chose endurance events for MS Run the US, other than she was an athlete and she ran," deGelleke said. "Then I heard an interview with Ashley and she said the people with MS are the true marathoners.
"Every day is a fight for them to stay positive and survive. That stuck with men when I started running."
For more information on the MS Run the U.S. relay, and to make donations, check out this web site.
Facebook Comments
Disclaimer: Please note that Facebook comments are posted through Facebook and cannot be approved, edited or declined by OnMilwaukee.com. The opinions expressed in Facebook comments do not necessarily reflect those of OnMilwaukee.com or its staff.