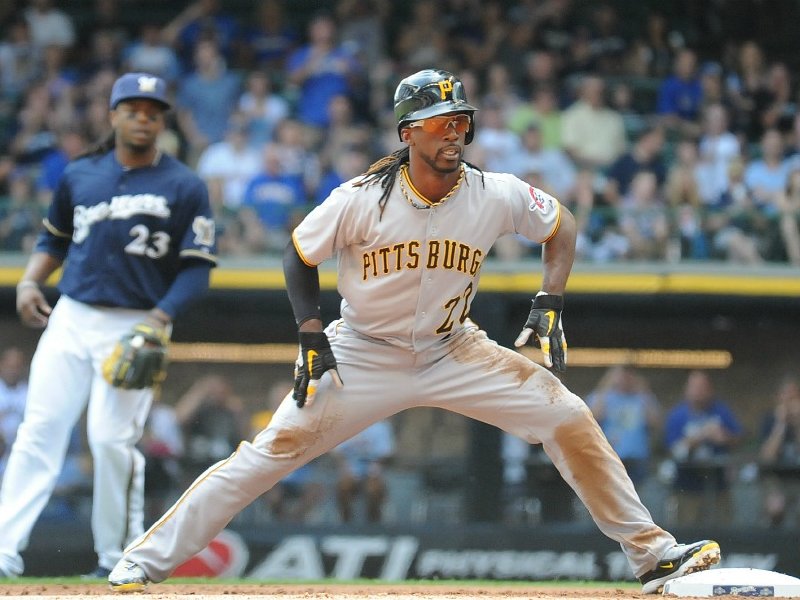 Division catches up with the Brewers
For nearly this entire season – 96 of 99 games played heading into tonight's action – the Milwaukee Brewers have enjoyed a share, or solo grip, on first place of the National League Central.
The shares of the lead back on March 31 and between April 5 and 8 felt a lot different than the share with St. Louis now, however.
Since reaching a high-water mark of 51-32 and 6½ games ahead of the rest of the division on June 28, the Milwaukee Brewers have gone 3-13, scoring 55 runs (3.4 per game) while allowing 88 (5.5).
"I think we have everything in place, and it's up to us on how we're going to go about this and whether guys can get it going again, the guys that were slumping a little bit at the end there, the last two weeks (of the first half)," Brewers manager Ron Roenicke said. "I'm very hopeful that we come out and we come out strong and play good baseball."
They are now tied for first place with the St. Louis Cardinals at 54-45, while Pittsburgh is in second place just 1½ games back and Cincinnati comes into Miller Park in third at 2½ games out.
"We've said it all year – we've got a lot of good teams in this division and teams that are all going to beat each other up to get to the top," Brewers All-Star catcher Jonathan Lucroy said. "I think it's going to be hard to really extend your lead out just because the way these teams are talented, the Cardinals and Reds, and the Reds have our number and the Pirates are hanging around there too.
"It's one of those things that we kind of gotta keep on plugging along and we gotta win as much as we can."
Unfortunately, the Brewers haven't been winning much at all, which have allowed their chasers to get within striking distance.
In the same period that Milwaukee has slumped, from June 28 through July 20, the other three contenders in the N.L. Central have stacked up this way:
Pittsburgh: 11-7
St. Louis: 10-8
Cincinnati: 10-9
"We knew they would (get it going); they're good teams," Brewers manager Ron Roenicke said. "They showed it last year. Basically the same teams and they're starting to show it now."
While those three teams are winning, they haven't exactly been blistering – but this division will likely come down to the game within the game, which are the contests played among the four contending teams within the division.
Heading into tonight's series with Cincinnati, Milwaukee is 22-19 against the Central, which isn't great, but not awful.
It is third, however:
Cincinnati: 28-17
St. Louis: 23-17
Milwaukee: 22-19
Pittsburgh: 22-30
Chicago: 16-28
The Brewers' record is slightly deceiving because of their dominance against the Pirates (10-3). Against the Reds and Cardinals? 7-12. The Brewers are also only 5-4 against the last-place Cubs.
And in this 16-game stretch, the Brewers have gone 2-4 against the Reds and Cardinals.
"You don't want to go through a long period like this – it's going to happen," Brewers starter Kyle Lohse said. "Every team is going to do it. You just try and weather the storm and just try to stay positive."
This series against the Reds at Miller Park will be the last divisional series of the month before the Brewers head south to take on the Cardinals on Aug. 1-3, which begins a two-month stretch during which the Brewers play 32 games against division opponents – including the final 15 games of the year.
Do the Brewers like that fact?
"Well, it depends on how we're playing against them," Roenicke said with a slight smile.
"But anytime you're in control of things, which it sounds like we will be, I think is a good thing. It's hard when you're playing well and you're looking at teams you're either trying to catch or they're trying to catch you and they're playing everybody else and you're never playing them. So, this way, this way it's nice that if you play well you're going to do well."
Talkbacks
Photodavie | July 21, 2014 at 2:19 p.m. (report)
The more unfortunate fact is that Reds, Pirates, Cards, and even Cubs fans are coming out to games with greater numbers than Brewers fans. I get it, our summers are short and there are things to do. But, if you are a Brewers fan, enjoy the fact that we have a winning team, a great stadium, and super affordable tickets (as low as $1!!). Come out and support the team this home-stand. The last series against the Cards was depressing with more Cards fans than Brewers fans.
AndrewJ | July 21, 2014 at 1:32 p.m. (report)
If you're running in a race and the person in front of you trips on their own shoelaces and faceplants, causing you to zoom past them... did you really catch that person, or did they fall down and blow it?
Facebook Comments
Disclaimer: Please note that Facebook comments are posted through Facebook and cannot be approved, edited or declined by OnMilwaukee.com. The opinions expressed in Facebook comments do not necessarily reflect those of OnMilwaukee.com or its staff.