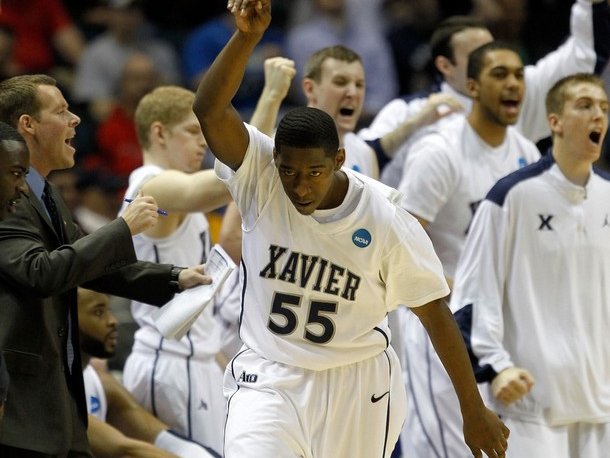 NCAA Notebook: A little bit of peace and tranquility
The parking lots near the Bradley Center, some charging as much as $75 for a spot just 24 hours earlier, sat empty. Old World 3rd Street bars, hopping and packed from 7 a.m. on yesterday, drew just a few folks looking to whet their whistle during Second Round action.
And inside the Bradley Center, things were peaceful, too. The four remaining teams enjoyed a closed practice session while coaches and players met with the media -- many of whom were hunkered down in the press room, working on the next day's stories or watching Villanova fall to St. Mary's.
All in all, it was a quiet ... almost relaxing Saturday in Milwaukee.
Of course, things will change tomorrow when Ohio State and Georgia Tech open Second Round play in Milwaukee. That game tips of at 1:50 p.m. with Xavier and Pittsburgh following approximately 30 minutes later.
Remember me: Xavier's Jordan Crawford made SportsCenter with his 28-performance Thursday against Minnesota. The sophomore guard shot 11-for-21 and added six rebounds and five assists in the Musketeers' 65-54 victory.
Crawford, a third-team All American this year, has drawn the national spotlight before. It was Crawford who reportedly dunked on Cleveland Cavaliers' star LeBron James during a NIKE skills camp last summer.
The incident made headlines because camp organizers and NIKE officials confiscated any and all video evidence of Crawford's dunk, though the clip has made its way to YouTube.
While the notoriety from that event has faded -- at least until now -- Crawford is pleased to see his team earn some national attention.
"We played 33 games and I think all of them have been on TV (or) national TV," Crawford said. "I think the country's seen me play enough this year to know that I can play and that Xavier can play."
Pittsburgh's Jermaine Dixon will spend plenty of time Sunday guarding Crawford. He's seen the dunk. He knows what Crawford can do.
"I guess dunking on LeBron is a big thing, but everybody gets dunked on," Dixon said. "We're going to have to play our defense and try to keep him under control."
Best things in life are free: The Yellow Jackets connected on 24 of 25 free throws in their 64-59 victory over Oklahoma State Thursday. An impressive statistic, considering Georgia Tech came into the tournament shooting about 65 percent from the line.
Head coach Paul Hewitt, to get his team shooting better, has instituted a couple of games. In one contest, players are divided into two teams and have to make three consecutive free throws to get one credit. The first team with 10 credits wins.
"Our guys can shoot free throws," Hewitt said. "They just sometimes can't make them in games."
In other games, players have to hit a "perfect free throw" (no rim) to get a credit. If you miss a shot, you lose a credit.
It can get pretty competitive.
"Sometimes they run, sometimes they don't," Hewitt said. "They talk a little trash with each other about who wins the game."
Home sweet home: Georgia Tech has played five NCAA Tournament games at the Bradley Center and has been victorious each time.
In 1992, the Yellow Jackets made it into the Sweet 16 after James Forrest hit a buzzer-beater -- made memorable by Al McGuire's "Holy mackerel" call on CBS -- and started their run to the 2004 championship game by knocking off Northern Iowa and Boston College.
Looking back: The last time Pittsburgh opened the Tournament in Milwaukee, head coach Jamie Dixon spent a lot of his time answering questions about seeding.
In 2004, the Panthers earned a No. 3 seed and wound up facing Wisconsin the the second round. The Badgers, despite winning the Big Ten Tournament, were given a No. 6 seed, though were sent to Milwaukee for the First and Second Rounds.
"I thought I did a very good job of not getting baited into any answers that could be used down the road against us," Dixon said. "That was the biggest challenge, I thought, that week.
Dixon was happy to have his team sent to Milwaukee this year. His team was here just a month ago to face Marquette and won in a Big East game.
"I wanted to come to Milwaukee when I saw the sites," Dixon said. "I like this arena. We played here well the last game and I thought it would be a good thing as far as being here for us."
Jump shots: Georgia Tech is 2-0 against Oklahoma State in the NCAA Tournament ... UC Santa Barbara limited Ohio State to just 30 first half points, the sixth-lowest first half total for the Buckeyes this season ... Xavier is 3-2 all-time as a No. 6 seed ... Ohio State's Dallas Lauderdale set a school record for blocks in an NCAA Tournament game with eight ... Ohio State is 10-3 all-time against Georgia Tech. The Yellow Jackets won the last meeting, 73-53 in the 2003 ACC-Big Ten Challenege.
Tickets still available: As of 4:30 p.m. Saturday, roughly 200 limited view and single seat tickets were still available for Sunday's Second Round games. Tickets can be purchased through Ticketmaster or by calling (800) 745-3000. Tickets may also be purchased at the Bradley Center ticket office, beginning at 9 a.m. Sunday. Each ticket is $71 and includes both games.
Facebook Comments
Disclaimer: Please note that Facebook comments are posted through Facebook and cannot be approved, edited or declined by OnMilwaukee.com. The opinions expressed in Facebook comments do not necessarily reflect those of OnMilwaukee.com or its staff.