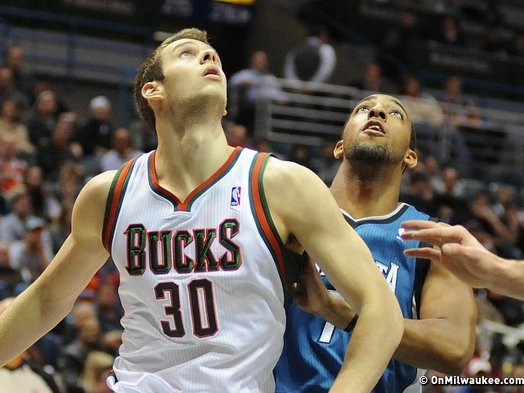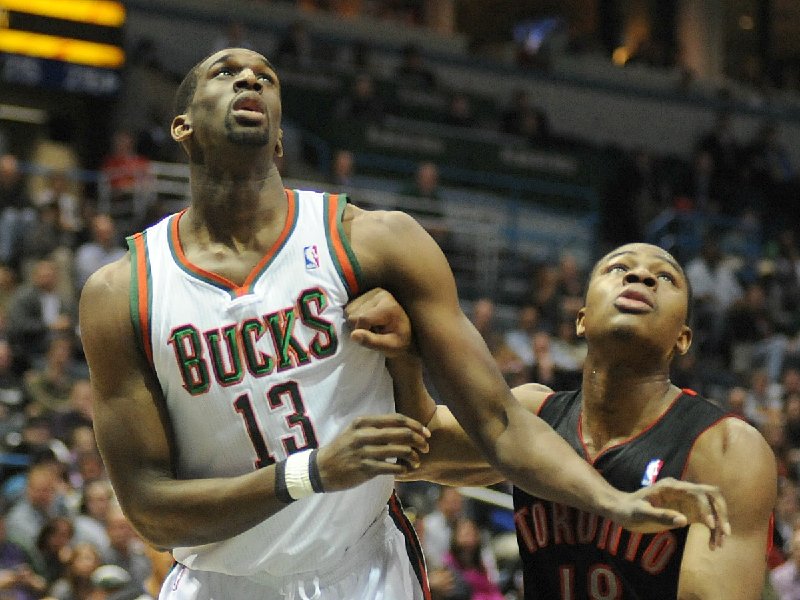 New Bucks reflect on their first time through Milwaukee
Leaning against a wall in the Cousins Center as he packed up his locker following the season, Milwaukee Bucks forward Ekpe Udoh looked back on a truncated regular season as "ugly" from a scheduling perspective and still seemed almost in shock that he was in Milwaukee in the first place.
After all, Udoh was just over a year removed from being a top 10 pick by the Golden State. And he found out about the trade on the ESPN crawl in the Warriors' locker room.
Monta Ellis, the centerpiece of the trade that brought Udoh to Milwaukee for Andrew Bogut, gingerly held his right hand in his left as he talked with reporters, the healing of a deep bone bruise on that hand having already begun.
Around the corner, Bucks rookies Tobias Harris and Jon Leuer got some stretching in and were among the last players to get their things together,
The four were all new to Milwaukee this season, yet the experience wasn't like many of their teammates.
In a regular NBA season, there are offseason appearances to make, a training camp and an longer exhibition season. Players can look ahead on the calendar and pick and choose their time to get adjusted to a city and find out what it had to offer.
Not so for this group.
Leuer perhaps had the most knowledge of Milwaukee and Bucks fans coming in having played his college ball at Wisconsin, but after the draft he went to play in Europe at the first part of the lockout. His transition to the pro game was made easier however because of his career with the Badgers.
"It's been great for me so far, having the crossover from Badgers fans," Leuer said. "They rooted for me for four years in Madison so it makes it a little more special playing in front of them still. Milwaukee as a whole has been a great city for us."
Harris agreed, as the social savvy rookie often found himself up and down Milwaukee Street trying out as many different places to eat as possible.
"I like finding new places, he said. "I don't really like going to the same restaurant over and over again. Milwaukee has been good. It's not the biggest city but the fans really support us and gave us momentum going into these games."
As for the newest of the newcomers, Ellis and Udoh admitted that coming in with about 25 games left in a packed season didn't allow for the type of urban discovery they would have hoped for.
"I mean, I was so out of it," Udoh said. "It's different coming from the bay so I was out of it, man. This summer will be different. I'll be out and about. That'll be good for me. People talk about (Summerfest) so I'll be checking it out."
Ellis, who was beloved in Golden State, said he looks forward to being able to establish that sort of relationship in Milwaukee, even as speculation swirls as to whether or not he'll even be on the roster come training camp, or after the trade deadline, next season.
"I really didn't get a chance to get out and move and see things like I wanted to," Ellis said. "I've got next year, so when I come in during the little time in training camp where I can get out and really branch out and see what Milwaukee really has to offer. So far, it's been a great transition. The fans have been terrific. My stay here has been great, wonderful. And, I came at the right time where there is no snow."
All four players are looking forward to a traditional NBA offseason, with summer league games for the rookies and full training camp for all. Part of that also includes that built in off time to really get into a city that will be their home for the majority of the year.
zzrbudxfeadvxwrvywyefq
Talkbacks
brewcitypaul | May 2, 2012 at 8:14 a.m. (report)
Too bad Skiles has no idea how to develop young players. Leuer & Harris look like a couple of players. But he'd rather play retreads like Delfino & Gooden. Hopefully they are given more of an opportunity next season.
Facebook Comments
Disclaimer: Please note that Facebook comments are posted through Facebook and cannot be approved, edited or declined by OnMilwaukee.com. The opinions expressed in Facebook comments do not necessarily reflect those of OnMilwaukee.com or its staff.