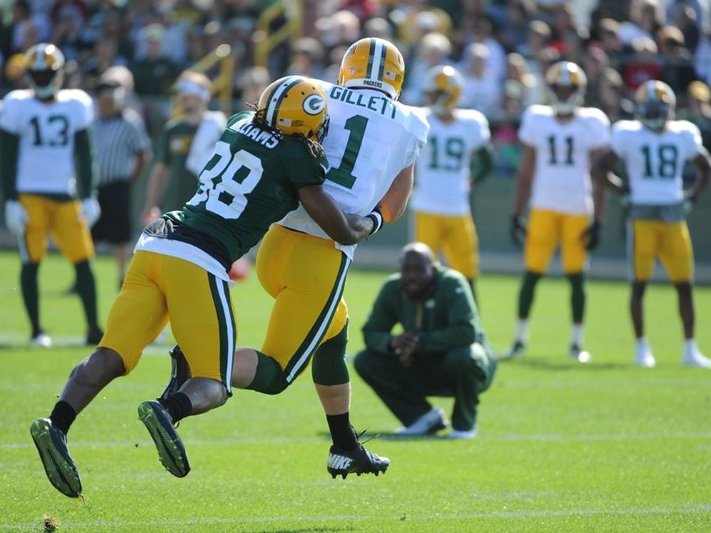 NFL officials emphasis could lead to more points
GREEN BAY – Casey Hayward cocked his head to the side, pulled the molded plastic out of his mouth and spiked it to bright green Field Turf on Ray Nitschke Field next to the yellow flag that lay near his feet. It was only a practice, but the Green Bay Packers defensive back was tired of seeing the officials "emphasizing" the old – and new – rules so much.
This is nothing new for the National Football League, or defensive players for that matter. Unlike basketball and baseball, the rules change annually.
And annually, they change to the advantage of the offense.
"It is what it is at this point – you just gotta continue playing your game," veteran Packers corner Tramon Williams said. "Once you let guys get in your head from that standpoint – it's already offense-oriented, and it's going to become more offense oriented. You just gotta stay in and focus in and do your job."
Interestingly, three of the four actual rule changes heading into 2014 benefit the defense.
Offensive players throwing a cut block will now be called for clipping. Previously, only the back of a defender's legs were protected.
The game clock no longer stops on a sack outside of two minutes in a half.
Dunking the ball over the goal post will earn an unsportsmanlike conduct penalty.
And, outside of an additional set of league eyes on a replay review, there is the final change: the recovery of a loose ball in the field of play is now reviewable.
That last rule change came about due in large part to a defensive play in last year's NFC Championship game in which San Francisco 49ers linebacker NaVorro Bowman recovered a fumble against the Seattle Seahawks, only to lose it when his leg was shattered in the ensuing scrum.
Seattle wound up with possession and then took a 20-17. Seattle, of course, would go on to win the Super Bowl.
No, what the Packers defensive backs were so upset about during referee Ed Hochuli and his crew's visit last week was the actual enforcement of existing rules.
"The rules haven't changed," Packers head coach McCarthy said. "I think it's like anything in life, it's not knowing what not to do but it's about what's being emphasized. It's obviously an emphasis from the NFL officiating department. I think you're going to see it emphasized through the preseason. And just like a lot of things, they're trying to get it to a certain level."
The points of emphasis that concerned the defensive backs were as follows:
Any forcible contact to an opponent's face can be considered a hands to the face infraction.
Illegal contact and defensive holding are under the microscope, especially concerning contact with a receiver beyond the 5-yard bump zone. If the quarterback is still in the pocket when that contact happens, it will be called illegal contact.
The officials are also being instructed to give defenders less leeway in the 5-yard zone.
"We love it – the less you can get touched as a receiver, the better," Packers wide receiver Myles White said. "But, to their defense, you've got to let them play football. That's the name of the game. It's a tough game, a physical game. We don't mind it. We embrace it."
The Packers defensive backs then went out of their way to challenge the refs, and their offensive teammates.
"We figured we'd test the waters and see if they're really going to call these baby fouls, I guess you could say, and they did," Packers cornerback Davon House said.
On the offensive side, officials were looking for:
Blocking more than a yard down the field before the pass is touched by a receiver will be called for offensive pass interference.
Any abrupt movements by offensive linemen are subject to a false start, such as a center looking between his legs before a shotgun snap and then jerking his head back into the upright position. Movements that are smooth and not sudden will still be considered legal.
"At the end of the day you've got to keep playing with good technique," McCarthy said. "We know what the rules are. There's going to be gray area in those type of calls. That's really what it comes down to: when they emphasize it, they make the call when it's in the gray. When it's not a major emphasis, they don't make the call. That's been my experience."
And such emphasis, even in early season games, will likely lead to more points – which has been a trend in the league anyway.
The average points per game scored by NFL teams has increased in each of the last four years, and save for a slight downward ticks in 2005 and 2009, that number has gone up every year the last decade. Total yards per game has increased each of the last five years, total passing each of the last four. The average yards per play has also increased, from 5.0 in 1999 to 5.4.
So, will 2014 be another record-setting year in that regard?
"I think it'll be interesting," Packers quarterback Aaron Rodgers said. "We talked with them (July 31) and there's some areas of emphasis – I think (the media) talked with them as well – with illegal contact and defensive holding but also offensive pass interference. I think you're going to see the passing game reffed a little more tightly this year, which we'll see what happens. Different crews will interpret things differently, obviously."
As for the defensive point of view, "Obviously we have to make adjustments to it and it's going to be an adjustment period, but how much can we really change?," Williams said.
"That's the question."
Facebook Comments
Disclaimer: Please note that Facebook comments are posted through Facebook and cannot be approved, edited or declined by OnMilwaukee.com. The opinions expressed in Facebook comments do not necessarily reflect those of OnMilwaukee.com or its staff.