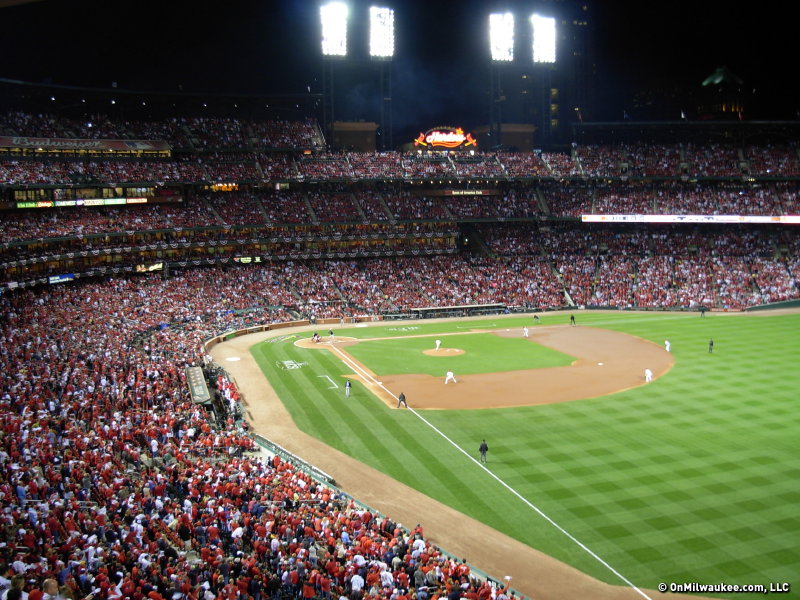 NLCS Game 5: Cards 7, Brewers 1
NOTE: OnMilwaukee.com will have more on the Brewers' Game 5 loss later this evening.
ST. LOUIS – Through the first four games of the National League Championship Series, the Brewers have been plagued by lackluster starting pitching and an inefficient offense.
In Game 5, however, it was the Brewers' defense that did them in.
Milwaukee committed four errors Friday in a 7-1 loss to the Cardinals, making a tough night for Brewers starter Zack Greinke all the more difficult. Greinke labored through 5.2 innings of work, allowing seven hits and two walks. Of the five runs he gave up, only two were earned.
Once again, the Cardinals got on the board first. Lance Berkman, back in the starting lineup after sitting out Game 4, singled to open the second. After Matt Holliday flew out to right, Greinke hit David Freese. Yadier Molina followed with a double to right that Corey Hart missed at the wall. That scored Berkman and gave the Cardinals a 1-0 lead.
Nick Punto lined out to third on a diving catch by Jerry Hairston, Jr. But Hairston quickly went from hero to goat, when he let Garcia's grounder go between his legs into left, scoring Freese and Molina to make it 3-0.
The Cardinals added another run in the fourth, on Allen Craig's pinch-hit groundout to shortstop that scored David Freese. They went up, 5-1, in the sixth thanks to another Milwaukee error.
With two out, Rafael Furcal doubled. John Jay was next and he hit a sharp grounder to Rickie Weeks who rushed the throw to first, getting past Prince Fielder and allowing Furcal to score. Albert Pujols singled and Zack Greinke gave way to Chris Narveson, who ended the inning by getting Lance Berkman to ground out to third on the first pitch.
As has been in the case during this series, the Brewers had their chances but couldn't come through. They managed one run in the fifth after Jonathan Lucroy singled and scored on Hart's two-out RBI double. Jerry Hairston, Jr. followed with a single, putting two on for Ryan Braun.
The situation was similar to the fifth inning of Game 1, when the Brewers exploded for six runs, erasing a 5-2 deficit and coasting to 9-6 victory. This time, Tony La Russa decided to go to his bullpen early, despite an otherwise good effort from starting pitcher Jamie Garcia. He summoned right-hander Octavio Dotel, who struck out Braun ending the threat and the inning.
The Cardinals bullpen kept Milwaukee off the board the rest of the way and Matt Holliday's two-run double in the eighth put the game out of reach and sent the series back to Milwaukee with St. Louis needing just one victory to advance to the World Series.
NOTES: Greinke recorded no strikeouts in a start for the first time since a two-inning outing at New York (AL) June 28 ... No Cardinals starter has recorded an out in the sixth inning during the NLCS ... Rickie Weeks has four errors during the playoffs. All other second basemen in the postseason have a combined two errors ... The Cardinals have scored first in all five games of the NLCS.
Facebook Comments
Disclaimer: Please note that Facebook comments are posted through Facebook and cannot be approved, edited or declined by OnMilwaukee.com. The opinions expressed in Facebook comments do not necessarily reflect those of OnMilwaukee.com or its staff.