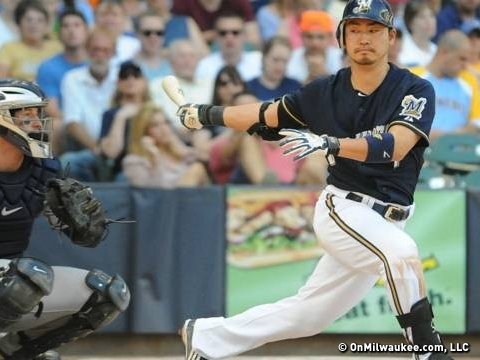 Opening Day leaves some out
If you're not a big fan, Opening Day doesn't have the same appeal it does to friends or family members who consider Major League Baseball their favorite team sport.
Sometimes, you tend to feel left out.
Particularly if you live in Milwaukee where Opening Day is as intense as in other MLB cities with a tradition stretching back for decades. For some Brewers' fans, Opening Day is akin to one of those unofficial holidays where working people take the day off and bosses look the other way.
(Or, as a North Side friend says: "Opening Day is like Juneteenth Day for white folks!")
I'm not a rabid baseball fan, although I did follow the sport as a teenager and young adult growing up in Philadelphia. I can remember watching Dick ("Don't call me Richie!") Allen having a tumultuous relationship with sportswriters along with watching future Hall of Fame third baseman Mike Schmidt struggle so much as a rookie that most thought he would not succeed in the big leagues.
Over the years, baseball was supplanted as my favorite sport by both basketball and football, not just due to the gradual decline of African-American star players in the sport but because it seemed too slow-moving compared to others.
The argument I get from baseball fans - as recently as this week at the local market - is that baseball might be slow, but it's cerebral. "It's like chess," the fan insisted.
Fine; I wouldn't spend three hours watching chess, either.
I actually have plenty of fond memories covering the Brewers as a reporter and columnist for the Milwaukee daily newspapers. During my first year in town, the Brewers went to the World Series against the St. Louis Cardinals. They lost, but I remember talking to a friend back East about my new city and team and suggesting: "The Brewers are probably going to be in it every year now!"
As we now know, that didn't happen.
My first reporting assignment for Opening Day at old Milwaukee County Stadium came back in the days of afternoon newspapers and no modern technology like laptops or cell phones.
I was at Opening Day that morning to talk to tailgaters, soak in the color and write a dispatch for that day's Milwaukee Journal, which usually hit the streets about one in the afternoon. I dictated my 500-word plus story to the newsroom and vividly remember turning around to see about 50 disgruntled fans waiting to use the pay phone.

It took about 25 minutes to finish and I received lots of grief and a few epithets from people in line but when I got back to the newsroom even an editor I didn't like much said I did a good job.
It was a front page story.
Years later, I wrote a column about Bud Selig's resistance to building the new baseball stadium near downtown Milwaukee where more North Side residents would be able to attend and suggested the fear of white suburban fans might have played a part in that.
Selig, who was Brewers owner but not commissioner of MLB yet, called to invite me to the baseball stadium for a talk. After the talk, Selig took me on a tour and I remember meeting just about every African-American who was working for the Brewers that day.
It was an amusing but sincere gesture I remember for the way it showed his genuine concern for maintaining good diversity in the ranks of people employed by the home team.
I also wrote columns about the lack of black players and Latino players on Brewers teams in years past that were virtually all-white and constantly losing. I'm glad to see the gradual addition of star players like Rickie Weeks, the now departed Prince Fielder and several international players who have contributed to making the national image of the Brewers about as diverse as any MLB team.
Like many others who just recede into the background when it's Opening Day in Milwaukee and choose not to join the revelry, baseball season isn't my favorite sport but it can still contribute to the civic pride that comes when a local team has a winning season.
I also recognize the tradition of Opening Day with fans of different generations, particularly fathers and sons who share the same love for an old-time game in a modern world.
So that's why I'm always rooting for the Brewers even if I'm not always 'rooting' for the Brewers, if you know what I mean.
I suspect some of you do.
Talkbacks
AndrewJ | April 5, 2013 at 11:05 a.m. (report)
Holy Moly, Man. One of your qualifications for whether or not you watch a sport is how many people of a certain race play/partake in it? How deep does this obsession of yours go? Will you only drive a certain way to work in the morning because you've noticed too many red cars and not enough blue ones on another particular route? I wonder how just one day of life would feel for you if you woke up and saw people as... people. You know, the whole "content of character, not color of skin" thing...
mikeb | April 5, 2013 at 5:59 a.m. (report)
It has to be deflating to see race in everything. I should probably stop going to Bucks and Marquette games because neither team has many white guys. In fact, Marquette hasn't had a good white player since Steve Novak and Travis Diener. Those teams are really leaving me out.
Photodavie | April 4, 2013 at 3:36 p.m. (report)
I read your article about 4 times. Perhaps it's too cerebral for me to understand it's point, but I don't get it.
Facebook Comments
Disclaimer: Please note that Facebook comments are posted through Facebook and cannot be approved, edited or declined by OnMilwaukee.com. The opinions expressed in Facebook comments do not necessarily reflect those of OnMilwaukee.com or its staff.