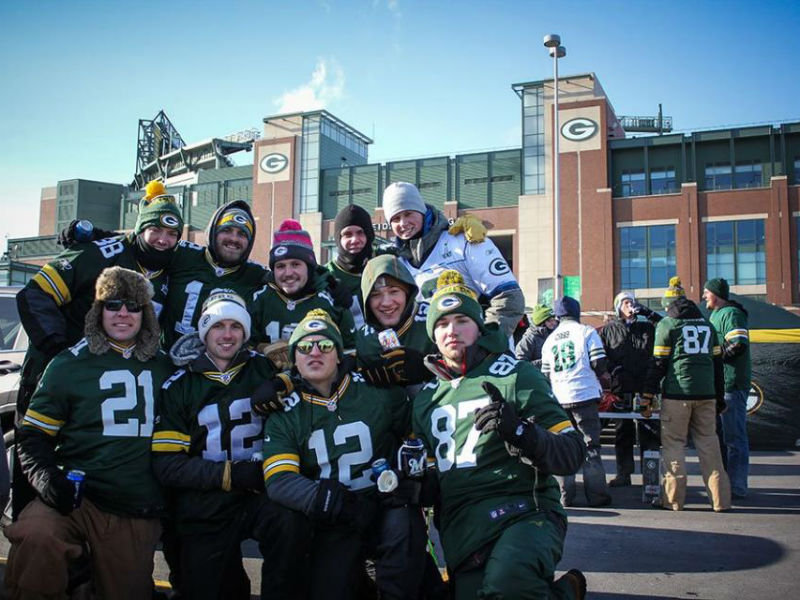 Packers' playoff win over Giants set Lambeau Field record for mobile data usage
What do you get when you combine the last Packers home game of the season, a marquee matchup against a big-time playoff rival, another unbelievable Aaron Rodgers Hail Mary touchdown that exploded the internet, a steady second-half progression toward an eventual good-vibes blowout victory for Green Bay and cell phone ubiquity among all the adoring cheesehead fans eager to share every moment of their experience at football's most hallowed stadium?
Turns out, you get tons – or, more specifically, trillions – of data usage at Lambeau Field.
Sunday's Wild Card Round game between the Packers and Giants shattered the record for the most mobile data ever used at the venue, totaling an astounding 1.2 terabytes – a terabyte is equal to one trillion bytes or 1,000 gigabytes – according to AT&T network statistics. That's an increase of 57.5 percent over the previous single-game high. It is a lot of selfies.
AT&T's in-stadium Distributed Antenna Systems (DAS) – networks that consist of numerous antennas exactly tuned to serve areas that need increased service, boosting mobile broadband coverage and improving reliability in heavy traffic – allowed fans across the NFL to share texts, snaps, photos and social media posts, from tailgate to postgame, with better ease, speed and access. At pro sports venues that installed its DAS networks in 2011, data and voice capacity has more than doubled, according to AT&T.
The company has recently expanded its efforts in Green Bay and tracked the numbers at Packers games. AT&T said fans devoured 5.4 terabytes of mobile data at home games in 2016 – equivalent to approximately 24 million selfies. As we wrote last month, Lambeau Field was the most Instagrammed place in Wisconsin in 2016.
Unsurprisingly, given the continuous rapid growth of mobile technology and Packers' fans ardent love of their team, Sunday's game against the Giants was – by far – the most data ever used at Lambeau Field and surrounding areas. The average per-game usage for the nine home dates in 2016 was approximately 600 gigabytes. During the regular season, the high mark for a single contest was 762 GB in the Week 7 win over the Bears, which was also the previous all-time record; before this year, the high mark for a game at Lambeau was 570 GB, set during the Week 14 victory against the Cowboys on Dec. 13, 2015.
Green Bay plays at AT&T Stadium in Dallas in the Divisional Round of the playoffs this Sunday at 3:40 p.m. CT. The game will be broadcast by FOX Sports, with everyone's favorite announcers Joe Buck and Troy Aikman on the call.
Green and Gold fans certainly like to use their phones at football games, but the Packers weren't among the top NFL teams for mobile data consumption. It's a bit of an odd gauge, but AT&T said that among the eight Wild Card playoff teams this season, the Packers ranked sixth in most data usage during 2016 home games. The highest was the Miami Dolphins with 1.5 TB per game.
Verizon, which has been an NFL partner since 2010, is the league's official wireless service provider. But AT&T, Verizon's closest competitor for overall U.S. market share in the space, has increased its brand awareness among football fans in recent years, working to better serve them with innovations like DAS networks and mobile cells on wheels (COW) sites, and last year acquired DirecTV, which has allowed Sunday Ticket basic plan subscribers to live stream NFL games on their mobile devices.
ybuzataavrwuyaufcaravvdzyut
Facebook Comments
Disclaimer: Please note that Facebook comments are posted through Facebook and cannot be approved, edited or declined by OnMilwaukee.com. The opinions expressed in Facebook comments do not necessarily reflect those of OnMilwaukee.com or its staff.