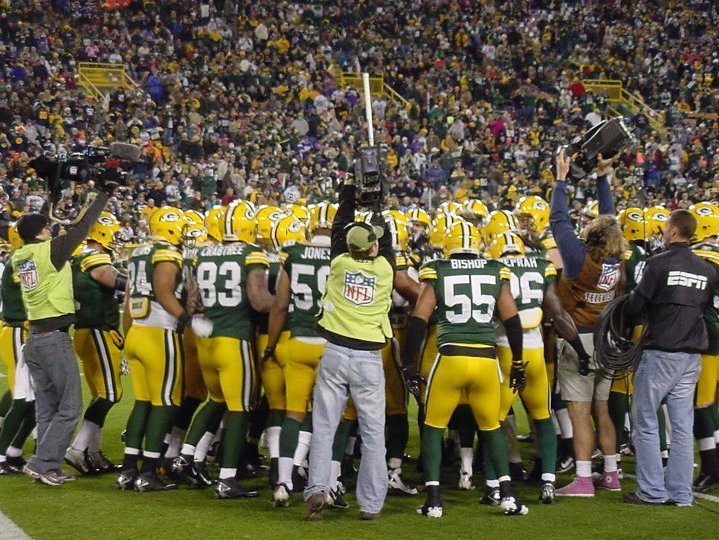 Are you ready for some football?
Another NFL season kicks off Wednesday night at the New Jersey Meadowlands as the defending Super Bowl champion New York Giants host the Dallas Cowboys. Of course, Packers fans had all but penciled in Wednesday night for the re-coronation of the second installment of Dynasty III of the storied history of the most storied team in football history.
So what happened? In short, the Packers could not stop anyone on defense. And while the Green Bay arial attack bailed out the putrid defense time and time again in the regular season, they could no when the offense sputtered once the playoffs began. So began the long offseason of asking where it all went wrong after a 15-1 regular season had Titletown thinking back-to-back.
2012, however, is a new season. A season that looks at what went right, what went wrong, and what new faces can correct the deficiencies:
Quarterbacks: Assuming that Aaron Rodgers stays healthy, the Packers are as good as anyone in football at the most important position on the field.
Backup Graham Harrell had a potential job-saving performance against Kansas City in the final game of the preseason, but otherwise looked out of his league when given the chance to play. If the reigning league MVP stays upright, the Packers will be fine. If Rodgers misses any significant time, they will miss the departed Matt Flynn's steady hand.
Running Backs: The Packers still employ running backs? Sometimes it seems this way with coach Mike McCarthy's high-octane passing game, but every once in a while he likes to mix it up. Gone this year is veteran Ryan Grant, a steady if not spectacular leader and in his place is a rejuvenated Cedric Benson, eager to show that he is not the headache that he has been in career stops in Chicago and Cincinnati. No one disputes his ability; what is in question is whether or not he can hang on to the ball and stay out of trouble at the same time.
Offensive Line: Last season, reporters kept asking Rodgers about LT Marshall Newhouse. Week after week, Rodgers continued to defend his then second-year tackle, saying he was doing a fine job in pass protection. Of course, Rodgers was full of hooey, because the rest of us could plainly see Newhouse was struggling. Simply put, in Newhouse's third season, his protection will have to get better because as No. 12 goes, so go the Green Bay Packers. Newhouse's only job is to keep No. 12 clean.
RG Josh Sitton will need to recapture the consistency he showed in 2010 for Benson to have a chance to rack up another 1,000 yard season. Sitton looked lost for the first half of 2011, leaving many fans to wonder where the Pro Bowl caliber player was from the previous year.
C Jeff Saturday will anchor the line after 12 seasons with the Indianapolis Colts. The five-time Pro Bowl performer is used to high-flying passers having been Peyton Manning's center during their decade of AFC dominance. How much game he has left is the only mystery surrounding one of the most respected players in the game.
LG T.J. Lang and former first round selection RT Bryan Bulaga both remind me of a slightly rusted out jeep. It isn't spectacular, it is certainly nothing to write home about, but it gets the job done most of the time.
What is alarming is the lack of depth the Packers have on the offensive line. Backup Evan Dietrich-Smith can play just about anywhere on the line, particularly in the interior, but after him, the talent level sharply drops off.
Wide Receivers / Tight Ends: Jordy Nelson's breakout season was the most pleasant storyline of the 2011 campaign. His 15 touchdown receptions lead the team and his on-field rapport with Rodgers paced the NFC's most prolific offense.
Donald Driver is a fan favorite, as evidenced by his Wisconsin supporters voting in droves during his recent stint on "Dancing with the Stars." Many did not expect Driver, a borderline Hall of Fame candidate, to return for his 14th season in Green Bay. While Driver can still play in this league, how much impact he will have on its top-ranked offense is questionable.
Pro Bowl performer Greg Jennings will again be Rodgers' other bookend receiver and appears fully recovered from the knee injury that sidelined him for the final three games of the 2011 regular season. However, Jennings was slowed by a concussion suffered in the preseason. Look for him to have a solid 2012 season, as he is looking at a big payday after his contract expires. That payday likely will not come in Green Bay, however.
Randall Cobb will get more chances to show he can be more than a kick returner, James Jones will get opportunities if for no other reason than he can be used as trade bait, and even Jarrett Boykin might get a catch or two.
At tight end, the big question will always be which Jermichael Finley shows up? The one that complains about not being in synch with Rodgers and drops everything in sight, or the Jermichael Finley that Packers fans have seen in spurts – the one where he looks like the best tight end in the NFL. Which one will show up? Unfortunately, that's a toss up question. Finley is easily the biggest enigma surrounding this entire team.
Defensive Line: Ryan Pickett, B.J. Raji, and C.J. Wilson. No one can figure out how Raji made the Pro Bowl last season. After a spectacular initial splash in the first two years of his career, Raji, perhaps missing the presence of Cullen Jenkins, regressed in 2010.
Pickett enters his 11th NFL season as the old man of the Packers interior defense, and while he has never been one to put up big numbers, his presence is desperately needed in the Green Bay rush defense. Even though his days as an every-down lineman are long gone, if he can defy Father Time one more year, Pickett will look like one of the great unheralded free agency pickups Ted Thompson has ever made.
Wilson is serviceable. That's about it. How long that cuts it in Green Bay is anyone's guess, but that is, unfortunately, all Wilson appears capable of being in the NFL.
Jerel Worthy might provide some help in the pass rush game, but any positive contributions from him have to be looked at as unexpected.
Page 1 of 2 (view all on one page)
Next >>
sbqtsrcsbbzdsc
Facebook Comments
Disclaimer: Please note that Facebook comments are posted through Facebook and cannot be approved, edited or declined by OnMilwaukee.com. The opinions expressed in Facebook comments do not necessarily reflect those of OnMilwaukee.com or its staff.