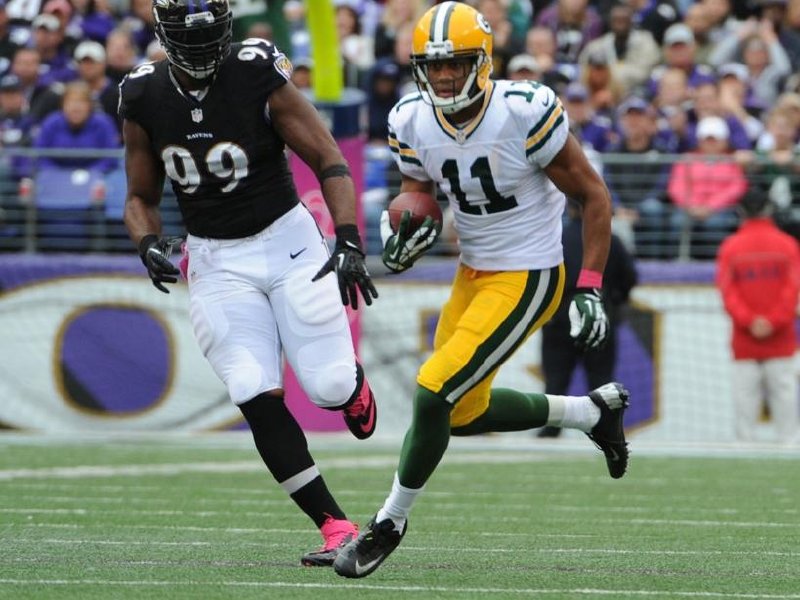 Packers have decisions to make
The Green Bay Packers have 20 free agents, 17 of which are unrestricted, to make decisions on this offseason. Who are they, and do any deserve to be back. We take a look at this group and how their retention, or departure, may affect the team.
Join in the conversation with the OnMilwaukee.com Talkback function, our Facebook page or tweet at Sports Editor Jim Owczarski. Let us know what you think – who do you want back? Who should be back? Who should hit the road?
Unrestricted free agents
Jermichael Finley, tight end
Age: 27 in March
Stats: 25 catches for 300 yards and 3 TDs. Ended the year on injured reserve with a neck injury.
Outlook: Finley is most likely done in Green Bay. He had played 38 straight games prior to his injury but hey may not be medically cleared to resume his career in 2014. Even if he is cleared, the comments about Aaron Rodgers and inconsistent production over the years will likely lead to his departure.
Ryan Pickett, defensive tackle
Age: 35 in October
Stats: Played in all 16 games and made 19 solo tackles.
Outlook: Pickett wants to be back, but his future may depend on what the Packers do with Raji and even third-year pro Jerel Worthy. He's not an impact player and he's reaching an age that being a positive locker room presence isn't worth the money.
B.J. Raji, defensive end
Age: 28 in July
Stats: Made 13 tackles in 16 games.
Outlook: It was reported Raji turned down a high dollar, multi-year contract, which he may come to regret. The Packers defensive line was one of the deeper and healthier groups on the line, and if Dom Capers feels Datone Jones and Mike Daniels can play more often, Raji may become expendable. The franchise tag for defensive ends in 2013 was between $9.15 and $11.17 million.
James Jones, wide receiver
Age: 30 in March
Stats: Caught 59 passes for 817 yards and 3 TDs
Outlook: Missed two games with a knee injury but he revealed he played the last games of 2013 with broken ribs. He's a tough guy, a positive voice in the locker room, and a favorite of Aaron Rodgers. But, third-year pro Jarrett Boykin is the same type of receiver and Boykin caught 49 passes for 681 yards and 3 TD in 8 starts. He may have made Jones expendable.
John Kuhn, fullback
Age: 32 in September
Stats: Had 119 yards of total offense on 23 total touches with 1 TD. Also a key special teams player.
Outlook: This is an interesting one. Few teams use a fullback as it is, and the Packers use him infrequently. He made a base salary of $1.8 million, a number that will have be greatly reduced for him to return. This may strictly be a money play – he wants to be back, and I'm sure the coaching staff does to. But if he gets more years and more money elsewhere, he may walk.
Sam Shields, cornerback
Age: 27 in December
Stats: Had 4 interceptions and 51 solo tackles in 14 games. Ended the year with a knee injury in the playoffs.
Outlook: Shields would be the top priority for the Packers of their own free agents, but what is his value? On the other side, Tramon Williams is due $8.9 million in 2014 ($6.9 base, $2 deferred signing bonus), so Shields' future may hinge on what the team decides to do with Williams, who will be 31 in March. The 2013 franchise tag for cornerbacks was between $9.095 and $10.854 million.
Evan Dietrich-Smith, center
Age: 28 in July
Stats: Played in, but didn't finish, all 16 games. Packers rushed for 2,126 yards and 17 TD while allowing 45 sacks.
Outlook: Guard T.J. Lang served as the backup center and fellow guard Don Barclay has taken snaps at center the last couple years. If Bryan Bulaga is healthy and returns to a tackle spot and the team feels former first round pick Derek Sherrod is ready to contribute, they might consider letting Lang or J.C. Tretter take over. Aaron Rodgers has advocated for "EDS" but he's also had three centers in the last three years, so the Packers are willing to change that spot up.
Seneca Wallace, quarterback
Age: 34 in August
Stats: Threw for 139 yards with an interception on 16 of 24 passing in three games (one start). Ended year on injured reserve.
Outlook: Gone.
Mike Neal, outside linebacker
Age: 27 in July
Stats: Had five sacks, an interception and forced fumble while making 48 tackles in 16 games (10 starts). Ended season with a knee injury in the playoffs.
Outlook: This is another interesting case. He's shown flashes of promise with 9.5 sacks the last two years, and it seems like he's just about to hit his stride as a converted defensive lineman. But, he's had trouble staying healthy. It makes sense to bring him back on a short-term contract.2
Robert Francois, inside linebacker
Age: 29 in May
Stats: Appeared in four games and forced a fumble. A special teams contributor. Ended the year on injured reserve with a blown Achilles.
Outlook: He's had an unspectacular four years in Green Bay and at 29, the Packers can find younger options to backup at linebacker and play on special teams.
Johnny Jolly, defensive tackle
Age: 31 in February
Stats: One sack and 11 solo tackles in 13 games (eight starts). Ended the year on injured reserve with a neck injury.
Outlook: The surprise of the year for the Packers as he returned from two years off to become a vocal leader and a good player. He loves Green Bay, the coaches love him, and the team may decide to stick with Jolly over Raji, depending on just how "significant" Jolly's injury was. It would be shame if it's bad enough that it derails his career.
Marshall Newhouse, tackle
Age: 26 in September
Stats: The Packers offensive line allowed 45 sacks but the running game averaged 4.7 yards per carry.
Outlook: Was beat out at right tackle by Don Barclay and really struggled when he was brought in for injuries or in "jumbo" packages. His time in Green Bay looks up.
Andrew Quarless, tight end
Age: 26 in October
Stats: Caught 32 passes for 2 touchdowns in 16 games (10 starts)
Outlook: He failed to distinguish himself after Jermichael Finley was lost for the year, but he did flash some of the skills that made him an intriguing prospect out of Penn State back in 2010. He isn't the greatest pass blocker, and the Packers may feel that after three full years, they've seen enough. Then again, 2014 will be his second season removed from a major knee injury, so his arrow could be pointing up. It makes sense to bring him back to pair with Brandon Bostick.
James Starks, running back
Age: 28 in February
Stats: Rushed for 493 yards and 3 TD while appearing in 13 games (one start). Also caught 10 passes for 89 yards and a score.
Outlook: Starks will be looking for a payday and a chance to get more carries in what will likely be his last chance at a decent-sized contract. He'll be 28, but only has 322 career carries and 367 career touches in the regular season. He had another 100 touches in the 2010 postseason, but he proved he still has a burst and that there isn't too much "wear on the tires." The Packers may be willing to go with second-year running back Johnathan Franklin or another youngster as Eddie Lacy's backup in 2014.
C.J. Wilson, defensive end
Age: 27 in March
Stats: Appeared in eight games, making five tackles.
Outlook: Wilson is just a guy and was clearly pushed down the depth chart. He could be back, but could easily be let go.
Matt Flynn, quarterback
Age: 29 in June
Stats: Threw for 1,146 yards, 7 TD and 4 INT in five games (four starts) with the Packers for a 86.1 rating. On the year (for three teams) he appeared in 9 games and threw for 1,392 yards, 8 TD and 5 INT and an 85.7 rating.
Outlook: This an interesting case. He didn't play well enough to earn another shot as a starter, but he may be offered more money to backup somewhere else. Then again, he is very comfortable in Green Bay. His future may hinge on how rattled Mike McCarthy and Ted Thompson were with the quarterback situation this year, or if they feel it was just a fluke and decide to go with Scott Tolzien as the backup and sign another young QB.
Kahlil Bell, running back
Age: 28 in December
Stats: Appeared in three games.
Outlook: Was a late-season signing for depth. Gone.
Restricted free agents
Restricted free agents can receive a qualifying offer from the Packers. If the Packers choose not to make an offer, they become an unrestricted free agent. If a player signs an offer sheet with another team, the Packers can match that offer.
Jamari Lattimore, inside linebacker
Age: 26 in October
Stats: Recorded two sacks and forced a fumble in 15 games (4 starts), but is a special teams dynamo.
Outlook: He showed enough while filling in for injured starters that he can be a solid backup in the 3-4. His greatest value (at this point) is on special teams but perhaps he's given an opportunity to win a job on defense. Chances are he's back.
M.D. Jennings, safety
Age: 26 in July
Stats: One sack and one fumble recovery in 16 games.
Outlook: The Packers secondary struggled all year, especially the safeties as a group. Jennings in particular always seemed a step out of place (and behind the action). After four years, it seems like the Packers will be looking to move on.
Exclusive rights free agent
The Packers have the exclusive rights to re-sign this player at the league minimum veteran salary for players with one year experience. If they choose not to, he becomes an unrestricted free agent.
Chris Banjo, safety
Age: 24 in February
Stats: Appeared in all 16 games, made 12 total tackles with two passes defensed. Played on special teams.
Outlook: The rookie signed a one-year deal, so it's the Packers option to determine if he's worth keeping around after he was pressed into duty early due to injury. While he doesn't project to be a star, he fits the model of the Packers developing undrafted players.
Talkbacks
Photodavie | Jan. 13, 2014 at 2:27 p.m. (report)
Nice breakdown. LOTS of decisions to be made. However, take Raji and Finley off the table and there's a lot of money to go around. It will be interesting to see how the roster pans out by next season.
Facebook Comments
Disclaimer: Please note that Facebook comments are posted through Facebook and cannot be approved, edited or declined by OnMilwaukee.com. The opinions expressed in Facebook comments do not necessarily reflect those of OnMilwaukee.com or its staff.