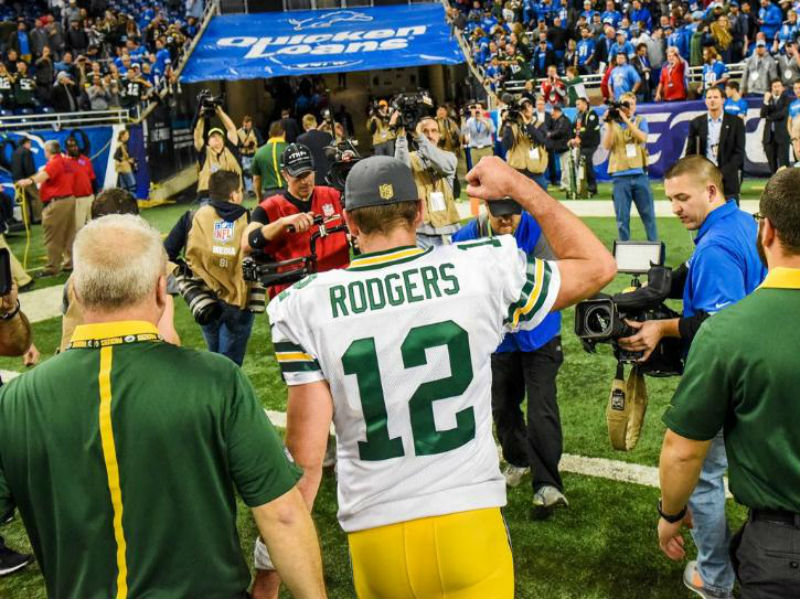 5 biggest takeaways from the Packers' 27-23 win over the Lions
It was a highlight play that will be shown for years to come. So let's get right down to it. Here are the five biggest takeaways from the Packers' 27-23 win in Detroit.
1. An ending for the ages
Is it possible for an NFL team to win in regulation despite not leading at all for the entire 60 minutes? When there's a defensive penalty with zero seconds left, though still incredibly unlikely, it sure is possible. And that's exactly what happened Thursday night.
The face-mask penalty that was called on Detroit after time had expired gave the Packers one last chance at a miracle. With the Lions foolishly employing a three-man rush, and for some reason deciding to put defenders near both sidelines even when stopping the clock was obviously not in Green Bay's plans, Aaron Rodgers was able to launch a high-arcing 61-yard bomb to an inconceivably open Richard Rodgers in the end zone.
Few quarterbacks have the arm strength to make that throw in that fashion, and the trajectory of the ball gave the receivers a better chance at tracking it and catching it.
Most importantly for the Packers, it was a potentially season-saving play. With a loss, Green Bay would have lost five of its last six games, falling to 7-5 and getting dangerously close to finding itself on the wrong side of the playoff race. Instead, the 8-4 Packers are now a Vikings loss this weekend away from re-taking the division lead.
2. But still ...
Green Bay had no business winning this game. And by no means should anyone think that everything is suddenly cured for this struggling team.
Detroit led 17-0 at halftime and built its lead to 20-0 in the third quarter. The first Packers touchdown came as a result of James Starks fumbling into the end zone and Randall Cobb just happening to be in the right place at the right time.
So, one touchdown came on a fumble drill and another on a Hail Mary. That's not exactly a recipe for sustained success.
3. Offensive line down to its last man
When David Bakhtiari left the game temporarily in the fourth quarter and Josh Walker entered, Green Bay didn't have another healthy offensive lineman left. Bryan Bulaga and T.J. Lang were both inactive due to injury, Corey Linsley exited early and then Bakhtiari got hurt.
The Packers are very fortunate to have a mini-bye week after their difficult Thursday-to-Thursday stretch. By the time they're back on the field Dec. 13 against Dallas, perhaps the entire starting group will be back together.
But with four regular-season games left, and with what Green Bay hopes is four postseason games (assuming the unlikelihood of obtaining a first-round bye) still to be played, the health of the offensive line down the stretch will be of critical importance.
4. Eddie Lacy's strange season continues
The exact reason is unknown, but Mike McCarthy seemed to send a message to Lacy. After two consecutive 100-yard games, Lacy was handed the ball only five times and gained just four yards.
McCarthy commented in his post-game press conference that Lacy had a bad week of practice. What that more specifically entails is not yet publicly known.
Lacy was benched as the stater in mid-November in favor of James Starks. Soon after, though, Lacy reasserted his dominance and looked like any slump was behind him. But now this happens.
The unpredictable nature of Lacy's 2015 season makes it difficult to project how far the Packers can go in the playoffs. When Lacy is good, he's really good. However, it's been revealed this season that Lacy also has several layers of reasons for struggling.
5. Second-half defensive improvement
It wasn't an all-around great showing from Green Bay's defense, but Dom Capers' group held Detroit to three points over the final 24 minutes of the game.
Julius Peppers' strip-sack of Matthew Stafford gave the Packers the ball in the red zone, and it became a pivotal turning point in the game. A touchdown pass to Davante Adams later and Green Bay had quickly turned a 20-0 deficit into 20-14.
The rest of the way, the Packers defense performed well enough to give Rodgers and the offense one shot at a miracle. And that turned out to be just what was needed to help give Green Bay a much-needed win.
Facebook Comments
Disclaimer: Please note that Facebook comments are posted through Facebook and cannot be approved, edited or declined by OnMilwaukee.com. The opinions expressed in Facebook comments do not necessarily reflect those of OnMilwaukee.com or its staff.