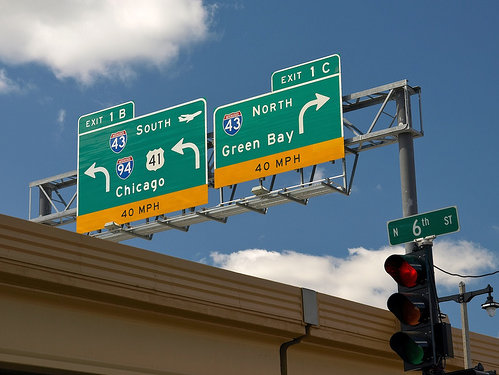 Packers-Bears hype overshadows recent history
Rumor has it, there is a big football game scheduled for this weekend. But for those of you already sick of the hype surrounding the NFC Championship game, sorry ... it's almost over.
Anyway, on to the notes...
Rivalry week: You can't turn a corner without hearing about the upcoming NFC Championship Game and as is often the case when these two teams meet, the national media is fawning over the NFL's oldest rivalry.
ESPN.com's Wayne Drehs weighs in with this look, through the eyes of fans while Judy Keen and Mike Dodd of USA Today offer up a fan story of their own.
FOX Sports' Joe Buck and Troy Aikman will call their fourth Packers game in a row and you can expect that those two will also spend a good deal of time fawning over the story of the two longtime foes, just as ESPN has done all week long.
Despite the extra attention and the raised stakes riding on the 182nd Packers-Bears meeting, the historical venom and hatred seems to have given way to a sense of arrogance and bravado on both sides.
Instead of hearing about hatred for one team or the other, you hear more about how that team and / or its fans "suck." Maybe that's just a sign of the times but maybe its because the Packers-Bears rivalry has lacked importance over the years.
Both teams have had long, extended stretches of success but rarely, if ever, have both been good – let alone this good – at the same time. While the Bears were a NFC power in the '80s, the Packers were a laughingstock.
When the Packers were rising from the ashes in the '90s, the Bears were an average lot at best, making the playoffs just once between 1992-2004. During that time, competitive rivalries between the Packers and Dallas Cowboys, an annual thorn in the side, and Minnesota Vikings began to grow in prominence.
The grudge matches that defined the rivalry in the 1980s (see: Martin, Charles; Instant Replay Game...) gave way to the Packers taking complete control of the series started in 1992, when they won 20 of 24 meetings.
The Packers had been so dominant against Chicago that when head coach Lovie Smith was hired to lead the Bears in 2004, he announced at his first press conference that his No. 1 goal was to beat the Packers. (For the record, Smith's first victory came at Green Bay, snapping the Packers' seven-game winning streak in the series).
None of that matters though on Sunday, when Green Bay and Chicago face off for a trip to the Super Bowl.
Where it rates: Since we're talking about the rivalry anyway, let's keep going. Some have compared this series to the famed Yankees-Red Sox or Michigan-Ohio State rivalries, which are famous for their "no middle ground" nature.
Packers linebacker A.J. Hawk played at Ohio State and was asked to compare the two rivalries.
"It's pretty similar," he said earlier in the week. "When I first got here, I noticed that the feeling throughout the week of each time we played the Bears was really how it was when we were playing Michigan, even growing up in Ohio, being around the game before I was even in college, middle school, high school, just the feel you kind of have for around time, it's the same thing. This one is obviously amped up a little bit more being a championship game."
Big guy, bigger paycheck: Prince Fielder made history this week when he agreed to terms with the Brewers on a one-year deal worth $15.5 million dollars – the highest one-year contract in franchise history and the richest one-year deal for a non-free agent player in arbitration.
The contract is another sign that Fielder is on his way out. With rumors that he and agent Scott Boras are seeking a $200 million deal, there's just no way the Brewers could or should try to lock themselves into that kind of a financial commitment.
One thing that stands out, though, is you never hear from Fielder about any kind of desire to remain in Milwaukee – not even lip service. Many players will say they enjoy where they are, hope things work out but in the end, it's all business.
Fielder? All he's said is he's under team control for 2011, plans to return and that's about it.
With Fielder in the fold and the pitching upgraded, the Brewers are making a run at a championship. Make no mistake about it, Prince will be gone when 2012 comes along. Enjoy it while you can.
Blast from the past: The first 5,000 people through the Bradley Center turnstiles Saturday night will receive a Darren Pang bobblehead, courtesy of Potawatomi Bingo Casino.
Pang, currently the color commentator on St. Louis Blues broadcasts and a rinkside reporter for NHL on NBC broadcasts began his professional career in 1984 with the Admirals.
He played in 53 that season and enjoyed a one-game call-up to the NHL Chicago Blackhawks. He would later spend two seasons with Chicago, appearing in 86 games between 1987 and 1989.
Finally, some good news: Forward Carlos Delfino joined the Bucks on their trip to Cleveland, where they face the Cavaliers tonight. Delfino, out since Nov. 6 with symptoms related to a concussion, practiced Thursday with the team and is expected to see limited game action tonight.
Oops: From time to time, we get the occasional Talkback pointing out a proofreading error or two. It's always a little uncomfortable but the beauty of the internet is, once it's fixed it's fixed.That's not the case in print, when an error can last a lifetime, depending on the story. Copy editors everywhere had to cringe a little when they saw this Monday morning headline in the Green Bay Press-Gazette.
Larry King Lounge: The Brewers released the schedule for their annual "On Deck" event, set for next Sunday at the Frontier Airlines Center ... Bucks point guard Brandon Jennings, still recovering from a broken foot, has withdrawn from the NBA All-Star Slam Dunk Contest. Toronto's DeMar DeRozan will take his place ... The UW Board of Regents is expected to approve new contracts for head coach Bret Bielema and offensive coordinator Paul Chryst when it meets next month. The money will come from the UW Foundation ... The sales tax used to fund the 2003 renovation of Lambeau Field is expected to be retired later this year. For the record, the Miller Park sales tax being levied in Milwaukee, Waukesha, Washington, Ozaukee and Racine Counties, is expected to continue until at least 2016 ... Milwaukee's AFL franchise is dropping the "Milwaukee Iron" name and instead, resurrecting the "Mustangs" monicker used by the city's Arena Football team from 1994-2001 ... If you thought the Bucks have had problems shooting this year, UW-Eau Claire missed 21 of its first 24 shots in a 92-37 loss to UW-Stevens Point Wednesday night ... Granted, DePaul isn't exactly a player when it comes to the Big East championship race, but throttling the Blue Devils, 94-64, after blowing a big lead at Louisville last weekend is a step in the right direction for Marquette.
Facebook Comments
Disclaimer: Please note that Facebook comments are posted through Facebook and cannot be approved, edited or declined by OnMilwaukee.com. The opinions expressed in Facebook comments do not necessarily reflect those of OnMilwaukee.com or its staff.