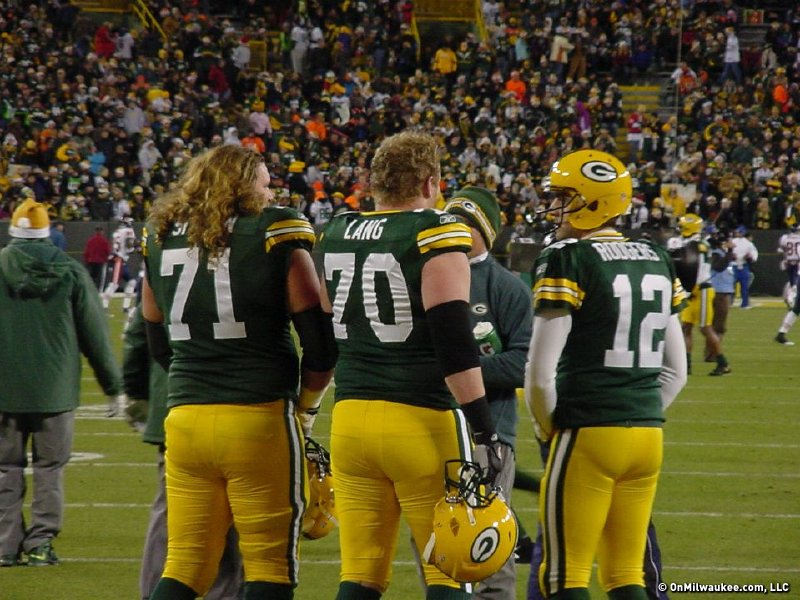 Packers 35, Bears 21: The good, the bad, and the ugly
If the Packers advance to the Super Bowl, the next road game they play will be Feb. 5 at Lucas Oil Stadium.
As the road to Indianapolis now goes through Green Bay for the rest of the NFC, the question now becomes what will this week look like in Titletown? Will key players like Aaron Rodgers, Jordy Nelson, or Charles Woodson play beyond a few snaps? Should they even suit up at all?
It certainly is a nice problem to have, as the Packers wrapped up the No. 1 seed in the NFC playoffs by dominating the third quarter en route to a relatively easy 35-21 victory at Lambeau Field Christmas night.
"I think that's going to be up to Mike (McCarthy)," Rodgers said of what this week will look like at practice. "Depending on how he wants to play it, we'll fall in line. I think as a close friend of Matt's (Flynn), I wouldn't mind seeing him get an opportunity to play a little bit, but I'll definitely do what Mike says."
As for the Packers head coach, it sounds like this week is a mystery to him as well. When asked about what is left to accomplish next week, he replied, "Well, that's a great question." After waxing poetic about how special it was to have won their 14th game of the season, McCarthy continued, "We'll look at all our options. I'm not going to stand here and tell you we want to give away opportunities to win a game. We're going to play to win the game next week."
Expect this sound byte to be repeated ad nauseam this week; for it truly is the only one that matters as Green Bay winds down the regular season with an utterly meaningless intra-division game against a foe they very well could see in the playoffs.
Other questions about the Packers that cropped up last week seemed to be answered, despite the offensive lull they had for the better part of the first half. Thus we begin our weekly look at the Packers we call the good, the bad, and the ugly.
The Good
Aaron Rodgers was just about as good as you could ask him to be. After last week's stinker in Kansas City, he came out of the chute firing, marching the Packers down the field 80 yards for an opening possession score.
After Rodgers engineered a nifty seven-play, 65-yard drive in the two-minute drill to end the first half, Green Bay went into the intermission both with a 14-3 lead, and needing to make adjustments.
In the third quarter, Rodgers' evening went from "pretty good" to "record-breaking" in seemingly the blink of an eye.
The Packers third offensive play from scrimmage was a perfectly-designed pitch and catch to Jordy Nelson, who was wide open for a 55-yard score.
"I just had plenty of time, raised and kind of had a spot on the field I wanted to hit – the far hash – and I put the kind of throw I wanted to on it and Jordy did a nice job running underneath it," Rodgers explained after the game.
In each of Green Bay's next two possessions, Rodgers found the end zone as well.
First, the Green Bay signal-caller engineered a long, sustained, 12-play, 75-yard drive that probably demoralized whatever was left of the Chicago defense. To cap it off, Rodgers found James Jones from seven yards out for his fourth touchdown pass of the evening. Finally, after a Charlie Peprah interception that gave Green Bay the ball at the Chicago 33, the seventh-year pro from Cal finished his night with a quick strike, two yard toss to Jordy Nelson for touchdown pass No. 5.
In all, Rodgers was 21-29 passing for 283 yards and a career-high five touchdowns. In addition, he broke Lynn Dickey's franchise-record mark for passing yards in a single season (4,643), and with a passer rating of 142.7, Rodgers matched the single-season all-time NFL record with his fourth game going over 140.
In a nutshell, Sunday night Aaron Rodgers was good. Very, very good.
Sunday night also marked the 300th consecutive sellout at Lambeau Field, playoffs included. Allegedly. No one in the Packers public relations department really had an exact date of the last non-sellout, so I had to do some investigating on my own.
Considering the strike-shortened years (the Packers only played one regular season game at Lambeau in 1982, for example) and the many games played at Milwaukee County Stadium, that 300 number dates back to the 1960 season. However, with capacity of Lambeau Field (then known as City Stadium) just over 32,000, all of the games played there that year had crowds at that number.
In 1959, the Packers played one game at Lambeau with a crowd of 31,853. Using today's standards, with a small give and take margin of error, that too would be considered by most to be a sellout. The other three games played in Green Bay were all the official capacity crowd of 32,150.
Getting back to that margin of error for just a moment; today the official capacity of the stadium is 73,128. However, Sunday's crowd of 70,574 is considered a sellout; as is any game over 70,000. So if a game with a crowd 2,554 fewer than capacity is considered a sold out game in 2011, do you mean to tell me a crowd of just 297 below capacity in 1959 isn't?
You would have to go back to 1958's final Green Bay contest and its crowd of 28,051 to find the last game that you might not consider a sellout. In fact, considering the stadium opened in 1957 with every game at capacity, by modern day standards the only game in the history of Lambeau Field that did not sell out was played on Nov. 16, 1958. That game was a 20-7 loss to the Los Angeles Rams during a season in where the Packers went 1-10-1. Even still, the one game in the 54-year history of Lambeau Field that did not sell out was still more than 87 percent full, however.
That's a stunning achievement.
Overall, the Packers are 186-107-4 at Lambeau Field during the regular season; 13-3 there in the postseason; and 199-110-4 at Lambeau Field overall in 313 games played at the venerable old yard. For what it's worth, in another 10 years or so, Lambeau will pass old Giants Stadium in the Meadowlands for most NFL games played in (the stadium had dual occupancy with both the Giants and Jets from 1984-2009, enabling it to reach that status very quickly).
But I digress. 312 sellouts in 313 games played there is pretty impressive. For the streak to "officially" reach 300 deserves a "good" from me in the ratings.
There were two other major "goods" for me. No. 1, the offensive line played their best game of the season. Simply put, Aaron Rodgers did not get touched the entire game. The Packers have been just getting blasted at the line of scrimmage while on offense lately, but Sunday night the entire unit was exceptional.
Also exceptional, and for that matter darn near unprecedented, were the number of penalties. Zero. For the first time since 1990, the Packers did not draw one single solitary flag.
That rates beyond just good – that's phenomenal.
One final good – the special teams coverage on Devin Hester. Hester did get off a nice 35-yard kick return on his final one of the evening, but was held in check most of the game.
The Bad
Broken record time. The defense, again, was atrocious. Not in a "bend but don't break" way; but in a "total inability to stop the run" way. Shoddy arm tackling, a total lack of pressure on the quarterback, and getting gashed for almost 200 yards on the ground from a terrible offense's third and fourth running backs will get the Packers bounced in the playoffs early.
Let me repeat that, because this is a reality that needs to sink in.
The way the Packers are playing defense right now, they won't make it to the NFC Championship Game, much less the Super Bowl.
Kahlil Bell is not supposed to ever rumble for 121 yards on 23 carries (5.3 yards per carry average). Armando Allen ran 11 times for 40 yards. Armando Allen should be on a practice squad, not averaging 3.6 yards per carry against the Super Bowl champions.
Bottom line, the defense must improve if Green Bay has their sights set on the Super Bowl.
The Ugly
Dear Josh McCown: One of the first rules of sport is that when you are getting whipped, don't make a spectacle of yourself when you actually do something well.
Spiking the ball over the goalpost after a two point conversion when you are still trailing by 17 points in the fourth quarter doesn't impress us with your vertical leap; it makes us pity you for behaving in such a foolish and childish way.
You don't even have to act like you have been there before; just don't act like you just scored the winning touchdown during a game in where you in reality are getting faced by the team you are attempting to celebrate in front of. They spent the previous two quarters mocking and ridiculing you with their play. But as is the case in life, it is also in sport: to the victor go the spoils. They've earned their chance to crow. You've earned the right to try to cut the deficit you helped create to fewer than three scores.
Don't worry. We still love 'ya for 2003, though.
Up next: Week 17, vs. Detroit
Facebook Comments
Disclaimer: Please note that Facebook comments are posted through Facebook and cannot be approved, edited or declined by OnMilwaukee.com. The opinions expressed in Facebook comments do not necessarily reflect those of OnMilwaukee.com or its staff.