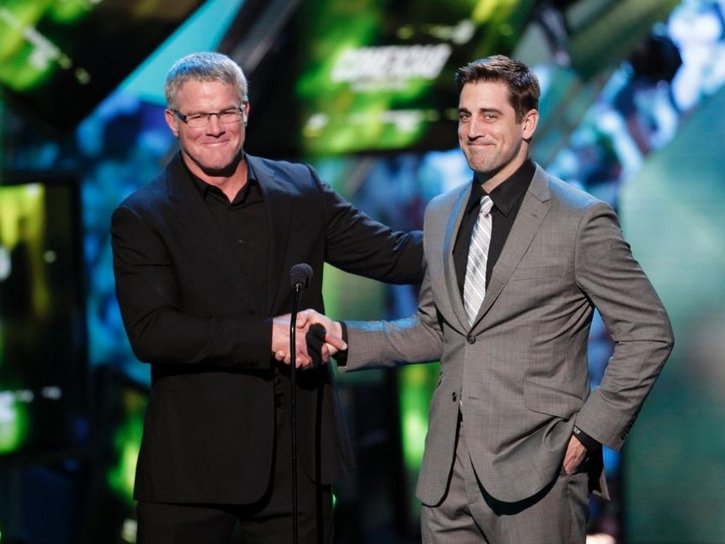 Wisconsin's nightmare is over: Favre returns to Green Bay
A little after 7 p.m. on Sunday night, the Green Bay Packers sent out a news release simply titled "Green Bay Packers Hall of Fame, Inc., Packers to make joint announcement regarding Brett Favre" this afternoon in the Lambeau Field Atrium.
It was a vague note, but you could guess what it meant.
Favre spilled the beans later on his web site, saying "I will be returning to Green Bay, Wisconsin in 2015 for induction into the Green Bay Packers Hall of Fame and retirement of my jersey."
So much for secrecy – think of it as his last throw into double coverage.
Anyway, Favre will make additional comments via conference call this afternoon, while Packers president Mark Murphy will help detail the process along with Packers Hall of Fame Inc. president Perry Kidder and Bob Harlan, the former Packers CEO and chairman of the board and current member of the Packers Hall of Fame Inc. executive committee.
All of Wisconsin will wait with baited breath for their words, and then the reaction to the words.
This is the fourth act of this drama, with one more to go before the curtain finally falls sometime in 2015.
Thank God. No, thank Murphy. (And Ted Thompson, Aaron Rodgers, Mike McCarthy, LeRoy Butler and whatever else or whoever else we need to at this point.)
I've only been in Milwaukee for a little over two years, and I've already written too much about a guy who last played a game in this state on Jan. 20, 2008.
The Packers have gone 61-34-1 since that time, won a Super Bowl, and have another Most Valuable Player throwing the ball around Lambeau.
Yet these questions have dominated nearly every summer since he was intercepted by Corey Webster that cold night in 2008: When will Favre be "welcomed back" to the organization? When will he forgive Ted Thompson? When will Thompson forgive him? When will he go into the Packers Hall of Fame?
When will his jersey be retired!!!!???
Maybe it's because the Packers rarely make splashy offseason player acquisition news that this topic dominated conversation most summers, but it was tiring; played out.
As a result, this doesn't feel like a celebration – it feels like Muhammed Ali crawling into the ring with Larry Holmes. And the Packers are Holmes.
An organization is always going to win the long game over a player. Players come and go. The great ones aren't forgotten, but they're definitely pushed aside. It's a cruel fact that many struggle with long after they leave the game for good.
Favre was the one who needed this, not the Packers. The Packers could've waited another 20 years if they wanted.

But, Favre's looming induction into Canton (he'll be voted in first ballot in 2016) did sort of force the franchise's hand – it would look somewhat silly if he's the Pro Football Hall of Fame but doesn't have a plaque in the Lambeau atrium next to Ahman Green.
So, here we are, ready to bask in the sunshine and rainbows of the Favre-Packers armistice.
This whole thing has fascinated me.
I started coming to Milwaukee regularly right at the end of Favre's tenure in Wisconsin, and I became a resident before his final season in Minnesota.
As a dispassionate observer, it's been something to behold.
You could say the fault lied with the Packers – that in the interests of their fans, they should've retired Favre's number right away.
For example: The earth's greatest basketball player, Michael Jordan, retired twice, and his number was retired twice. He did not end his career on good terms with the front office of the Chicago Bulls. He even came back and played for another team.
Frank Thomas, who was just inducted into baseball's Hall of Fame and is considered one of the top 10 (if not top five) right-handed hitters in the history of baseball, traded verbal assaults with Chicago White Sox management on his way out the door and played for two other teams.
None of the fans of Chicago cared. And if there was any ill will on the part of Bulls and White Sox owner Jerry Reinsdorf toward those two guys, he got it. Number retirements and a "welcome back" are for the fans, not front offices.
Organizations should know that players are egotistical and emotional. Their words, in the heat of the moment, or as they grasp at the fraying ends of their careers, really shouldn't hold much water long-term.
But, you have Rodgers and McCarthy. I venture to say the pair did play a role in this only in the fact that they're both still here.
If John Fox and Peyton Manning came to Lambeau two years ago, this would've been done already. An organization does have to protect the feelings and interests of its current staff – those are the guys you need to be all-in to win this year. Especially after winning the Super Bowl in 2010 and going 15-1 in 2011, you're not going to willfully smear the shine those two created.
Anyway, it's here. It will happen. This talking point now has a period. It's over. Thank God.
Facebook Comments
Disclaimer: Please note that Facebook comments are posted through Facebook and cannot be approved, edited or declined by OnMilwaukee.com. The opinions expressed in Facebook comments do not necessarily reflect those of OnMilwaukee.com or its staff.