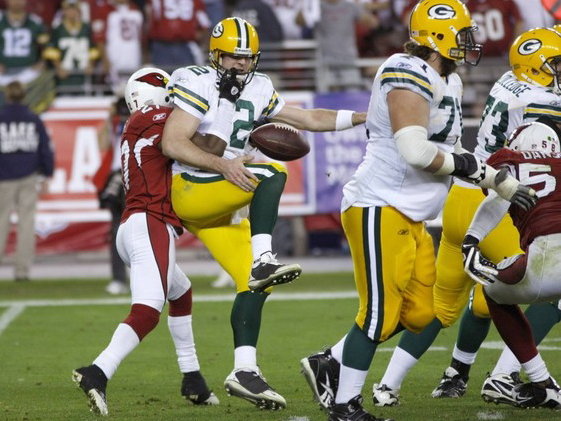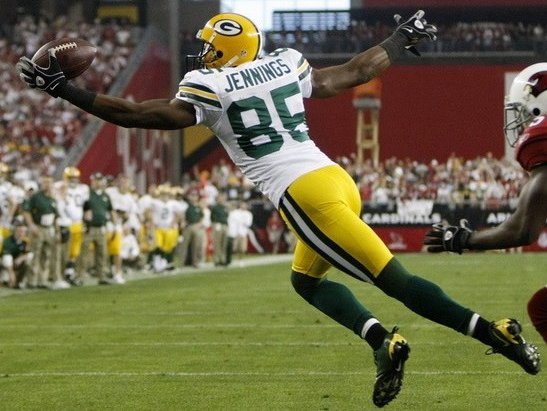 Green Bay Replay: Cardinals 51, Packers 45
Podcast:
Aaron Rodgers reflects on what he learned during his first playoff experience
Subscribe
to OnMilwaukee.com Podcasts
Fans throughout Wisconsin felt forlorn and quite queasy when the Packers lost a shootout on the final play three weeks ago in Pittsburgh.
Sigh ...
Those were the good ol' days.
When Steelers wide receiver Mike Wallace caught that tiptoe touchdown pass in the corner of the end zone, there was more football to be played.
There is no such solace now.
Green Bay's 2009 season ended with a punch to the solar plexus. The Packers' wrenching 51-45 overtime loss to Arizona in a wild-card playoff game Sunday at University of Phoenix Stadium, capped by Karlos Dansby's 17-yard fumble return, will go down in the record books as the highest-scoring playoff game in league history.
After looking nearly comatose in the opening minutes, the Packers rallied from a 21-point deficit to tie the game and force overtime in a game dominated by Arizona quarterback Kurt Warner and his counterpart, Aaron Rodgers.
Neutral observers from across the nation will treasure it as one of those "do you remember where you were?" affairs that make sports so compelling. Plenty of fans will deem it an "instant classic" and check out the highlights on DVR and the Internet for years to come.
Not in these parts.
Do you think fans from Muncie Central ever gathered to watch a tape of their state championship game against Milan?
Do Russian hockey fans watch the "Miracle on Ice?" Does Greg Norman have a copy of Larry Mize's chip in the 1987 Masters? Do Dallas fans appreciate Dwight Clark's leap just before "The Catch?"
None of spectacular highlights, twists and turns that made Sunday's affair a "game for the ages" will matter during the rest of a long, cold Wisconsin winter. The Packers, led by Rodgers, Greg Jennings, Jermichael Finley and Charles Woodson, had the ingredients to bring a new Vince Lombardi Trophy back to Lambeau Field.
They didn't do it.
You can moan about the defense, rip Mason Crosby for missing another kick and chastise the referees for sins of omission, but it won't change the fact that the Packers had a precious opportunity to make a healthy run through the NFL's harrowing playoff obstacle course and they let it slip away.
This playoff exit, like many others, was marked by shaky pass protection, shoddy tackling, a key penalty, poor thrust from the defensive line and -- above all else -- an inability to prevent Warner from finding open receivers in the middle of the field.
Just as in Pittsburgh, Green Bay's defensive unit, which ranked second in the NFL during the regular season, was ineffective. The Cardinals punted once in the game. Warner threw more touchdown passes (5) than incompletions (4), and finished with 379 yards a 154.1 passer rating (158.3 is perfect). Though they were without standout wideout Anquan Boldin, the Cardinals moved the ball on the ground (6.8 yards per carry).
That mix, coupled with a Rodgers' jittery start, was too much to overcome.
The Packers probably should have lost the game in regulation, but Neil Rackers missed a chip-shot field goal. (Bet you didn't think the Cardinals would be cursing their kicker in crunch time).
Green Bay had a chance to win the game in overtime, but Rodgers overthrew Greg Jennings, who was open in the middle of the field. A holding penalty by Daryn Colledge set the stage for the final play.
Rodgers dropped to pass on third and 5. As he looked for receivers, Michael Adams -- one of the cornerbacks he had abused all day -- charged unblocked into the backfield and launched himself at Rodgers, who was trying to recoil.
The ball came loose, hit Rodgers in the foot and bounced to Dansby, who waltzed into the end zone and sent the stunned Packers into the off-season, where general manager Ted Thompson will search for help on the offensive line, outside linebacker and the defensive backfield.
Instead of reveling in Rodgers' guile, Jennings' athleticism, a historic comeback and a matchup with New Orleans, Packers fans will have to focus on next year and hope that Brett Favre and the Vikings don't make a disappointing finish even worse in the cold weeks ahead.
Facebook Comments
Disclaimer: Please note that Facebook comments are posted through Facebook and cannot be approved, edited or declined by OnMilwaukee.com. The opinions expressed in Facebook comments do not necessarily reflect those of OnMilwaukee.com or its staff.