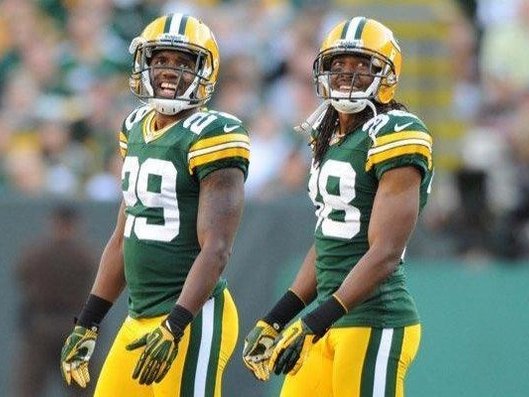 Packers' Hayward goes back to school
GREEN BAY – A year ago Casey Hayward was a relatively unknown cornerback coming out of Vanderbilt University, though Green Bay Packers general manager Ted Thompson felt highly enough about the 6-foot defensive back to trade third and fifth round picks to the New England Patriots to move up in the second round of the 2012 NFL Draft.
A year ago, Hayward was a relatively unknown cornerback trying to earn playing time in a defensive backfield that featured a future Hall of Famer in Charles Woodson, a Pro Bowler in Tramon Williams, a 7-year veteran in Jarrett Bush and a developing corner in Sam Shields who had recorded six interceptions in his first two seasons.
A year later, much has changed.
Hayward played in all 16 games and started in seven, intercepting six passes and forcing one fumble. He was the NFL Defensive Rookie of the Month in October and finished third in the NFL Defensive Rookie of the Year voting.
He hasn't quite sewn up a starting spot just yet, but it is clear that the Packers coaching staff expects him to elevate his game.
To do so, he was sent back to school this offseason, told to study certain defensive backs. He had to learn from a player the Packers coaches felt was distinct from Hayward, and two they felt was similar. The former was Arizona Cardinals All-Pro corner Patrick Peterson, a two-time Pro Bowler who intercepted seven passes last year.
"Fast guy, natural guy," Hayward said. "He does a lot of things well."
And the players the Packers felt Hayward most resembled? They can be found in Denver in cornerbacks Chris Harris and Future Hall of Famer Champ Bailey.
The Denver cornerback is entering his 16th season this year and has 52 career interceptions and has made 12 straight Pro Bowls.
"Harris plays a lot in the slot, he does a lot of good things," Hayward said. "I think he's one of the better corners out there just watching film on him."
As for the Bailey comparison, Hayward felt proud that the organization would do such a thing, but then also saw it as a challenge to meet that expectation.
"No doubt," he said. "Just being compared to guys like that from my coach (Joe Whitt, Jr.), it's an honor. But, at the same time, his career has been so (long), he's been doing it for many years. I'm just at the start of my career. Hopefully I can get to the point where he's at –a multiple Pro Bowl guy, a Hall of Fame guy. But I've got to take it one year at a time, one game at a time, and hopefully I can continue to get better."
Starter or not, Hayward's growth is necessary for the Packers to have success. This season, the Packers' schedule is littered with upper-tier quarterbacks :
Super Bowl MVP – 2
Super Bowl champion – 3
Super Bowl appearance – 4
Thrown for 4,000 yards in a season – 6
Named to Pro Bowl – 8
Won a playoff game – 8
Started a playoff game – 12
Last year, it was reasonable to expect Hayward to see his share of passes, what with proven defensive backs like Woodson (when healthy) and Williams on the field. Now, he will see action because of the number of playmaking quarterbacks and receivers on the schedule, as well as the fact that one year does not a reputation make.
"I'm just trying work harder than I did last year," he said. "I had to make sure I worked on my craft. That's what I'm doing now, just taking my craft to a different level, my play to a different level. Any negative thing I do on the field people are going to look at it because of what I did last year so I tried not to (regress) and hopefully I can just continue to get better."
In between his study of the Packers defensive playbook and the take-home assignment he received from the coaches, Hayward also took the time to complete the final 13 credit hours, a full semester, he needed to earn a sociology degree at Vanderbilt.
He had promised his coaches and his parents he would finish it, and knew the longer he stayed in the league without going back the harder it would be. So, he just got all of his homework out of the way this summer.
Now, he and the Packers hope he'll pass whatever tests are thrown his way this season – or at least keep them from getting to their intended target.
"Interceptions are hard to come by," he said with a smile. "If I get my hands on the ball hopefully I can come up with more interceptions than I did last year, but I just want to get better. Statistics don't show it all the time that somebody's actually doing pretty well. So, if I can get better and also get a lot of picks, then I'd be very happy.
"I'd be happy with whatever number comes as long as we're playing well and my team is winning. That's the ultimate goal. Of course you want to have one of the top defenses in the league. If we can get the No. 1 defense, that means everybody's playing well."
Facebook Comments
Disclaimer: Please note that Facebook comments are posted through Facebook and cannot be approved, edited or declined by OnMilwaukee.com. The opinions expressed in Facebook comments do not necessarily reflect those of OnMilwaukee.com or its staff.