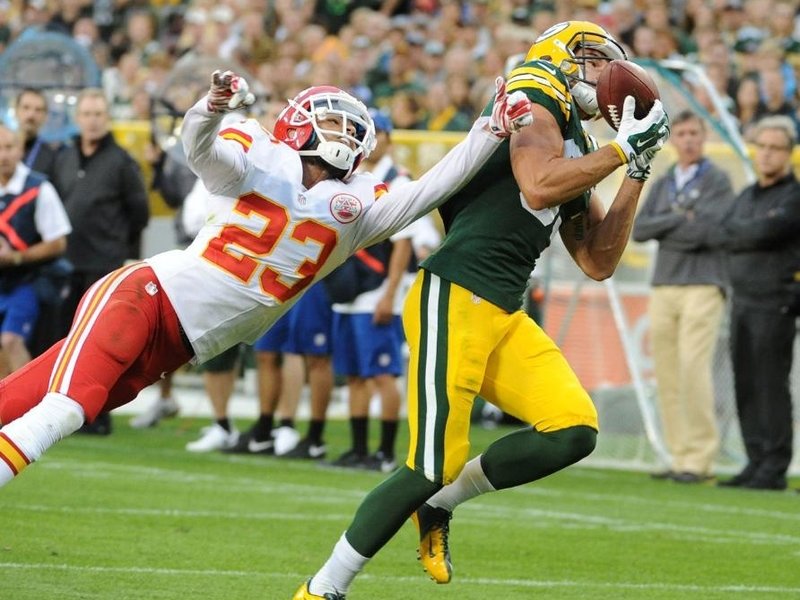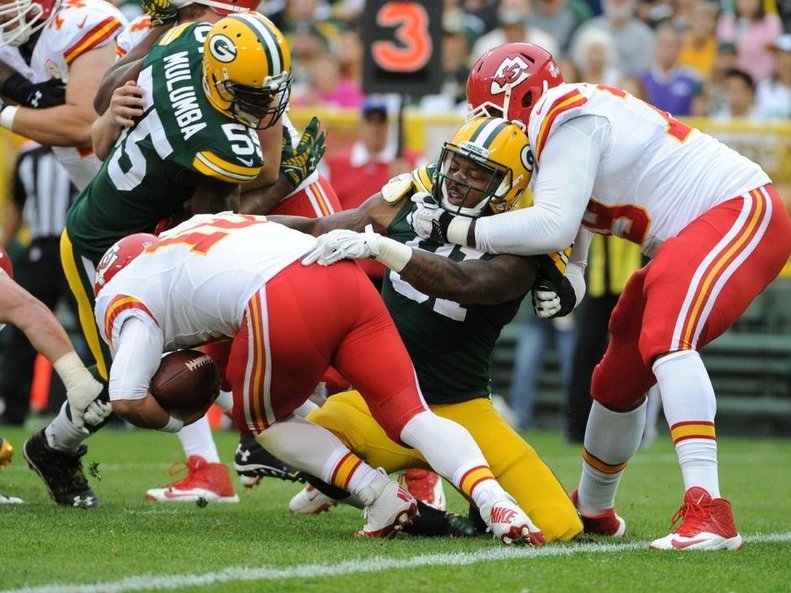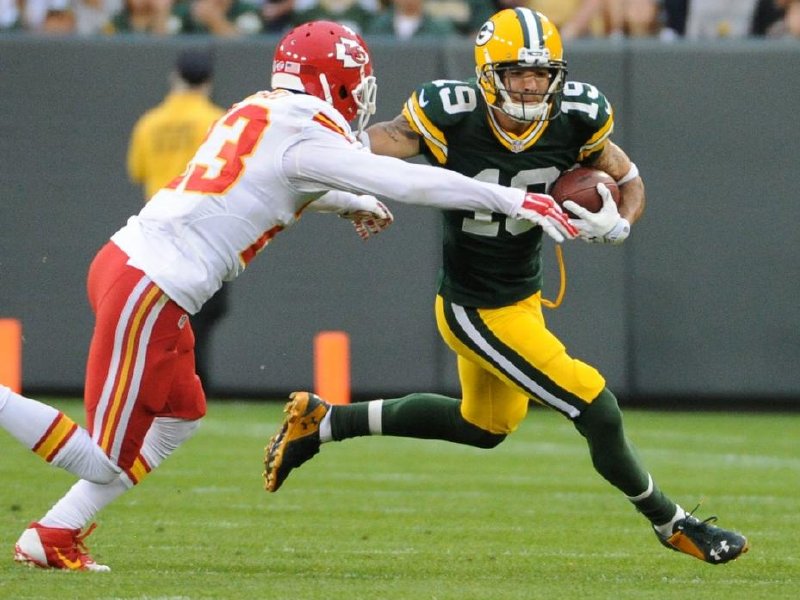 Busting the bubble: Players state their case in Packers win over Chiefs
GREEN BAY – Myles White was open.
He separated from his Kansas City defender as he broke to the corner of the end zone, but when he turned to look for the ball, Matt Flynn's pass was falling fruitlessly out of bounds.
Jeff Janis was barely open.
Streaking downfield, he had a step – but the throw had to be perfect. Scott Tolzien was, dropping a spiral over the shoulder of the Chiefs corner and Janis burst into the end zone and into the stands for his first "Lambeau Leap."
This is what the fourth preseason game in the National Football League is. This is what is being evaluated. You can look at each player, individually, but they are always joined at the hip by another. Is White going to be rated higher on that play because his route was sharp?
Or at the end of the day, is Janis remembered because he scored spectacularly, again?
The fact that the Green Bay Packers beat the Chiefs 34-14 Thursday night at Lambeau Field is of little consequence. The individual plays within that game, were.
The NFL requires its teams to cut its roster down to 53 men by 3 p.m. on Saturday, and while the Packers are one of handful of teams that knows its starting offensive and defensive units, Thursday was the final audition for those hoping to fill the gaps at the end of their respective position groups.
It becomes a numbers game, and whether a ball falls into the cameramen or into the hands of a wide receiver may, indeed, matter.
Because practice is one thing, and doing it on the field of play is another – even if the majority of the men on it aren't long for the league.
Take Jayrone Elliott.
On paper, the undrafted outside linebacker out of the University of Toledo seemed to have the odds stacked against him once camp opened. Julius Peppers was moved to that spot once he signed as a free agent. Then you have Clay Matthews, of course. Former first round pick Nick Perry plays outside as well, as does Mike Neal.
So, Elliott shined on the field.
He entered Thursday night with four sacks in three preseason games. Then, in his final audition, he added another (and was held on another near-sack) and wound up commanding double-teams by the Chiefs.
"I just tried to go out there and play with great effort, be smart out there and try to know my keys out there," Elliott said. "Hopefully I did (enough to make the team) but I feel like I can bring more to the table than just getting sacks, as far as being a guy on the special teams unit. Because right now, you have Clay Matthews and Julius Peppers – you don't need, really, that many sacks from me. Hopefully them guys have a great season and hopefully I'm here to be a part of it."
As for Janis, the rookie speedster had two balls thrown his way, and made the one catch. He was then thrown into the kick return spot in the fourth quarter and returned it 62 yards.
"I knew coming into this game I had to showcase a little bit more and I think I did pretty well," he said. "There was quite a bit (of pressure) and like I said, I knew that I had to perform and show once again what I could do so I feel really good about the game and I'm just going to hope for the best."
White did get his touchdown, late, when Tolzien saw him split two defenders and hit him for a six-yard touchdown. White caught four of the five passes thrown his way and made a special teams tackle.
"It was nice, man, it was fun to do the Lambeau Leap and fun to tack on another score," White said. "I felt like I did good. My main thing tonight was to put my name in the hat and just make it a tough decision on whatever they do and I felt like I accomplished that. Film wise I have to look at it specifically, play to play, but for the most part I felt like I had a productive day."
The coaches have felt that way, too, about the 75 players on the current roster.
Head coach Mike McCarthy said the organization will "absolutely" use all of the allotted time to make its final decisions.
"The most important thing we have in front of us is picking this roster," he said.
As for those on the brink, some players will head to the solitude of their apartments and wait for a call that may or may not come.
Tolzien called them the "two worst days of the year."
Flynn said he wasn't sure if he would sleep well, focusing on the plays he left out on the field as opposed to his final state line of 7 for 15 for 102 yards and a 108.9 quarterback rating.
White, on the other hand, felt differently.
"The good thing about tonight that will let me sleep easy is the fact that I felt like I gave it my best shot," he said. "I felt like I made plays where they put me, in special teams and at receiver. It's all up to (general manager) Ted (Thompson) to make the decision."
Janis said he's going to go to the movies – and may end up sitting there all day if he's not asked to get ready for Seattle on Sept. 4. Elliott said he's probably going to see one as well.
"Whatever happens, happens," Elliott said. "The one thing I wanted to do when I came here was to leave everything I had and just get better every day – and I feel like I accomplished that."
Facebook Comments
Disclaimer: Please note that Facebook comments are posted through Facebook and cannot be approved, edited or declined by OnMilwaukee.com. The opinions expressed in Facebook comments do not necessarily reflect those of OnMilwaukee.com or its staff.