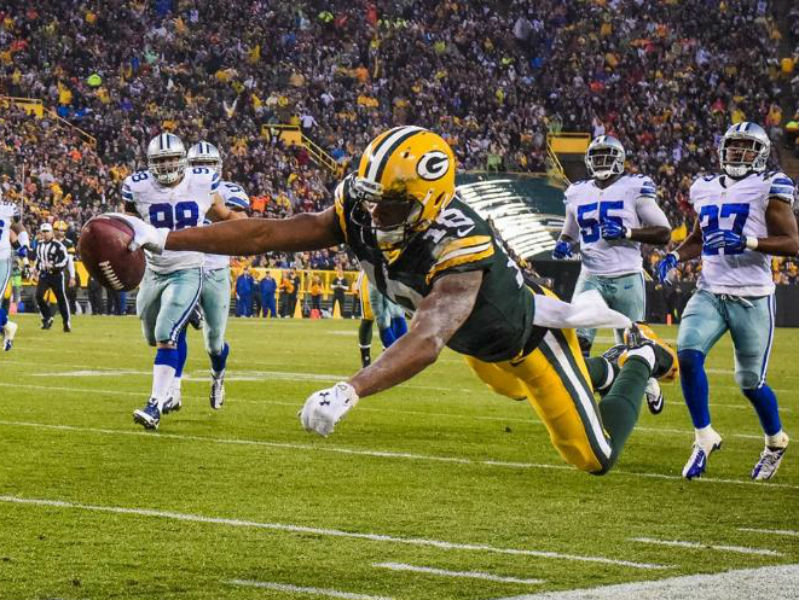 5 biggest takeaways from the Packers' 28-7 win over the Cowboys
Winning their Week 13 game on a 61-yard Hail Mary pass was obviously a very exciting moment for the Packers. But in many ways, what took place Sunday at Lambeau Field was far more important for Green Bay's outlook considering that anything short of a Super Bowl appearance this season will register as a failure.
Here are the five biggest takeaways from the Packers' 28-7 win over the Dallas Cowboys:
1. Mike McCarthy's change of heart
As Green Bay's offense continued to sputter this season, McCarthy remained publicly adamant that he was not going to revert back to his old job responsibility of calling offensive plays. McCarthy wanted to stick to his offseason decision in which he entrusted Tom Clements with those duties.
This week, though, McCarthy decided he couldn't sit back and watch the once-prolific Packers offense rank in the bottom half of the league statistics any longer.
For the first time this season, McCarthy had the play sheet back in his hands and sent the calls into Aaron Rodgers' headset. Dallas entered this week as the NFL's sixth-ranked defense in yards allowed per game, so McCarthy knew there was going to be a challenge in front of him.
Green Bay didn't suddenly look like its 2011 self again (when the offense averaged 35 points per game), but it was a big step in the right direction. McCarthy pounded the ball on the ground and dominated time of possession. There was a sharpness to the offense, especially in the first half, that had mostly been lacking in recent months.
McCarthy admitted after the game how difficult the decision was to make on a person level, but he also acknowledged the responsibility he felt. This was certainly the right decision by McCarthy – and one that he was wise not to wait any longer to make.
2. A "rejuvenated" Eddie Lacy
Lacy recently described his season as a "rollercoaster." And that was before he missed curfew in Detroit and got benched to the tune of five carries in that game.
Lacy's possible weight issues have been a theme in 2015, and his commitment to the game had even started to come into question by some. After a mini-bye week following the Packers' win over the Lions, McCarthy described Lacy as "rejuvenated." Boy, was McCarthy right about that.
Lacy was every bit of his 2013 and 2014 self, and then some. He was running over would-be tacklers and dragging defenders behind him as he chugged ahead for additional yardage. The emotion Lacy showed after a couple of his big runs displayed exactly how much it meant to him to have a major bounce-back performance.
Lacy got the ball early (he started over James Starks) and often (24 times), and he delivered with 124 yards and one touchdown. McCarthy even made sure to give him the ball at the 1-yard line late in the fourth quarter so Lacy could score a touchdown.
With Lacy running it like this, it takes a lot of pressure off of Rodgers and the passing game.
3. Let's not forget Starks
Starks showed why he's the perfect backup running back in the NFL. The best-possible No. 2 option in a one-two punch.
When Lacy got a breather on the sideline, the running game didn't miss a beat. Starks was handed the ball 11 times and rushed for 71 yards (6.5 average). Starks also scored a touchdown and reeled off a team-high 30-yard gain on one play.
Not to be forgotten in the statistics is the way in which Starks was Lacy's biggest fan during the game. Starks was smiling, high-fiving and congratulating Lacy at every turn. The two of them are teammates, yes, but they're also competing for snaps and for their livelihood.
Starks not only performed very well on the field, he strongly supported his teammate during a game that was clearly an emotional one for Lacy.
4. The run defense needs work
Darren McFadden made it look far too easy against Green Bay's defense on two separate occasions Sunday. First, McFadden jolted free for 50 yards. Then in the second half, he exploded for a 45-yard gain that set up the Cowboys' only touchdown.
On the first big run, Ha Ha Clinton-Dix missed a tackle near the line of scrimmage. On the second, there was a hole opened up that any decent running back could have hit.
With Matt Cassel running the show in Dallas during Tony Romo's absence, the Cowboys offense is fairly one-dimensional – especially in wet weather conditions. Cassel averaged a measly 3.9 yards per pass attempt, yet the Packers gave up two explosive plays on the ground.
The next time Green Bay plays a balanced offense, two running plays equaling nearly 100 yards will create a lot more damage than it did Sunday.
5. Frustrating Dez Bryant
Bryant has shown in the past that adversity can get to him. In the first half, he dropped two passes. In the second half, he dropped another. By the end of the game, his frustration had turned to emotional expressions and gestures on the field that made his displeasure quite clear.
When Sam Shields exited the game early with a reported concussion, that could have opened the door for Bryant to begin dissecting the Packers' defense. Instead, the talented rookie duo of Damarious Randall and Quinten Rollins, along with fourth-year player Casey Hayward, teamed up to keep Bryant from making any impact whatsoever.
Bryant, whose last appearance at Lambeau Field concluded with his controversial non-catch, finished with only one catch for nine yards. Cassel wouldn't be Bryant's first choice for who throws him the ball, but nonetheless, it's a credit to the way Green Bay's young secondary played against an established star receiver.
uwdsxdvrdavbfxwqaasvdv
Facebook Comments
Disclaimer: Please note that Facebook comments are posted through Facebook and cannot be approved, edited or declined by OnMilwaukee.com. The opinions expressed in Facebook comments do not necessarily reflect those of OnMilwaukee.com or its staff.