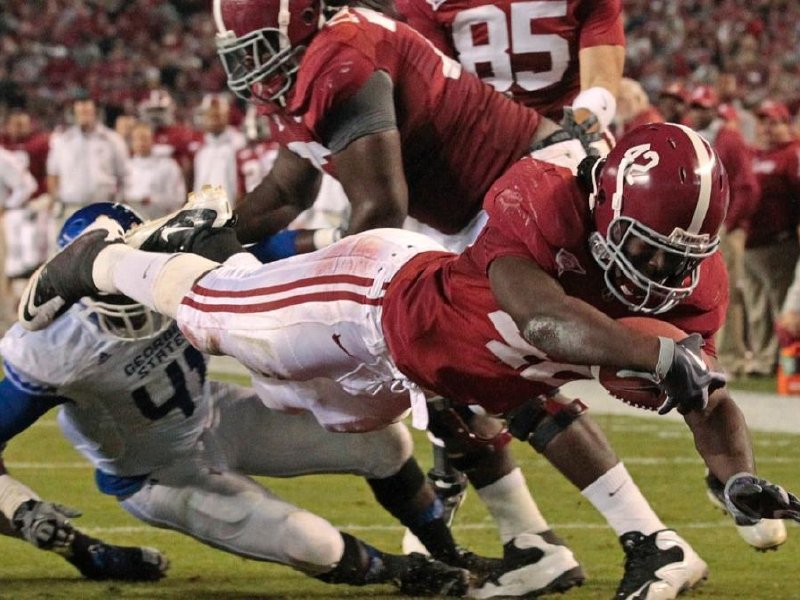 Packers hope Eddie Lacy can get healthy in the NFL
Football isn't a contact sport; it's a collision sport. Dancing is a contact sport. – Vince Lombardi
It's sort of amusing to read that quote long attributed to one of the National Football League's signature voices, considering how successful the Green Bay Packers have been lately at winning collisions on the field and moving about so deftly on the dance floor.
But it's an excellent reminder for jubilant Packers fans that once the hitting begins (perhaps even beforehand) the excitement surrounding the drafting of University of Alabama running back Eddie Lacy may fade to frustration and disappointment.
To the delight of many, the Packers selected Lacy in the second round of last month's NFL Draft, sticking to their tried and true system of selecting the best player available, regardless of position, need or – clearly – injury history.
This has always fascinated me about the draft.
You just don't "get healthy" once you get to the NFL.
I realize there are only so many draft picks in a given year, and only so many players that can be selected. I understand each pick in each round is assigned a certain value, and that it's nearly impossible for a general manager to "reach" if he the values on his board don't match the values assigned with his current spot on the board. (Just look at the Packers' rival to the south – the Chicago Bears have been killed for selecting Kyle Long in the first round when he was assigned a lower "value.")
I understand that it's a results-driven business. Win, or lose your job. This goes for players first, then coaches, then general managers. So, it's up to the front offices to supply the coaches with the best available talent – even if that talent isn't quite what it could be due to the very nature of the sport.
This is why you have situations like the Packers taking Lacy.
The talent is there. You see it, spinning around and running away from defenders. His nickname is "Circle Button" for a reason. You can't pass talent like that up once you get to a certain point, even though you probably should.
This goes back to Lombardi's quote. Football is a violent game that permanently damages the bodies of those who play it.
Everyone knows this.
No player, I imagine, is ever 100-percent healthy. There is assumed risk on all sides.
But it's impossible to think that, at some point, Lacy won't miss large chunks of camps, practice and games due to some sort of ailment.
It was reported the Packers reluctantly took Lacy due to the laundry list of structural (toe, hand) and muscular (pectoral, hamstring) maladies that date back to his senior year of high school.
As good as the Packers medical staff is, damage is damage. All of those ailments aren't going away, or getting better.
Honestly, I would've given the Packers more credit if they decided it just wasn't worth it rather than picking the "best player available."
Then again, the value was there – how do you pass it up?
The odds are slim Lacy will become a Packers Hall of Famer, let alone one of the all-time league greats. It's possible of course, but for Thompson and the Packers, the important part of his selection is that if Lacy can affect even a handful of games in a positive manner, help the Packers win just one extra game in 2013, it will be worth it.
After all, 2012 only reinforced how much that one win can matter in the end.
Just don't expect the world out of a kid who began showing the effects of this collision sport years ago.
Talkbacks
bigspiker | May 6, 2013 at 7:04 p.m. (report)
I remember an oft injured guy in college that the vikes picked top 5. A Peterson. How did that work out? Let's just see how the season goes.. stop with all the fake- self created- drama....
Daus | May 6, 2013 at 4:01 p.m. (report)
Err.. Lacy was picked in the second round. The guy hasnt missed a practice or game... Let it go already. People just keep re-writing the same article.
Facebook Comments
Disclaimer: Please note that Facebook comments are posted through Facebook and cannot be approved, edited or declined by OnMilwaukee.com. The opinions expressed in Facebook comments do not necessarily reflect those of OnMilwaukee.com or its staff.