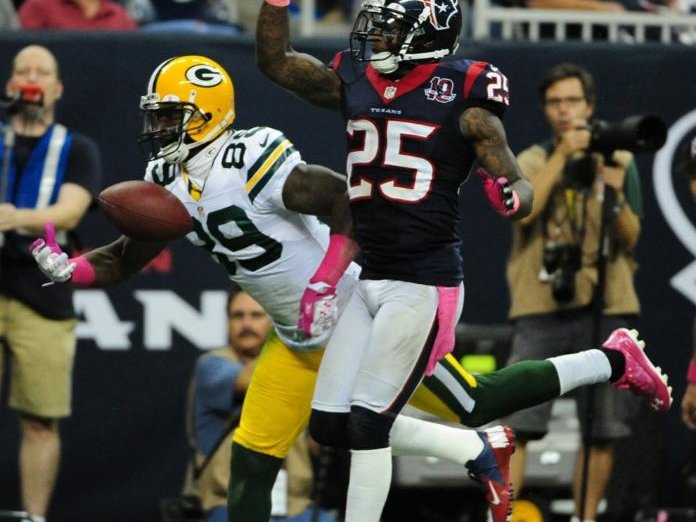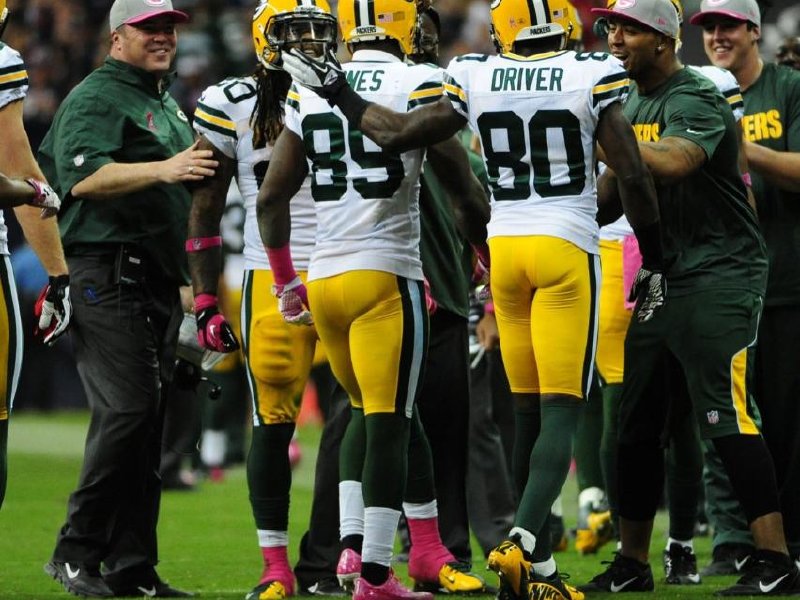 Practice pays off for Packers receiver James Jones
GREEN BAY – It seems like ages ago, "The Incident."
National television cameras zeroed in on Green Bay Packers quarterback Aaron Rodgers as he sought out receiver James Jones on the sideline during the Packers' Week 2 game against the Chicago Bears. Rodgers gesticulated and yelled at Jones, the sixth-year receiver, following a hesitant route that led to a Bears interception.
The Packers won the game relatively easily, but the topic of discussion in the locker room the next week was the "low-hanging fruit" of Rodgers' leadership and Jones' rapport with his quarterback.
Both sloughed it off and now – seven weeks later – it's long forgotten.
The Packers are 6-3, winners of four straight heading into Sunday's contest at Detroit and Jones has emerged as the team's primary red zone threat out of the receiving corps, catching seven of his eight scores inside the 20.
"It's that type of season, I guess," the 28-year-old receiver said. "As far as finding me in the red zone, there's no magic to it. It's no plays being called for me – it's the regular offense, regular plays. We're connecting on the balls that we throw in the red zone."
At 6-feet, 1-inch and 208 pounds, Jones isn't exactly the type of player that can dominate a defensive back physically in such tight quarters. And, he has had a long history of drops that has kept him solidly behind teammates Greg Jennings, Jordy Nelson, Donald Driver and Jermichael Finley over the years.
Something changed in 2012 however.
Jones has already surpassed last season's career high of seven touchdown catches, and is well on his way of topping his career high of 50 catches set two years ago. He is tied for second on the team in receptions with 40 and is finally living up to the potential the Packers saw in him when he was drafted in the third round of the 2007 draft out of San Jose State.
Why?
"I think the way he's playing is a direct correlation to the way that he's practicing," Rodgers said. "He's making a lot of those plays in practice. He's got improved practice habits. I think that confidence that he's been getting in practice because he's been getting the ball thrown his way because he's been working hard is transferring over in to the game. He's getting more opportunities and making the most of them."
Offensive coordinator Tom Clements sees it, too.
"You have to give him credit for focusing and concentrating and making the routine catches as well as the difficult catches," Clements said. "It's something we stress as an offense. We have different ball drills every day. They work catching the ball from the JUGS before practice, after practice, and James always had good hands it's just one of those things that occasionally he would drop one once in a while. He's having an outstanding year and he's performing well."
"Focus" and "concentration" are words that long seemed to follow Jones, but in a negative way. It's something he began addressing consistently this season, even during games.
"My thing is I just want to make the most of the opportunity," Jones said. "There are so many weapons on this team you don't want to let one of those opportunities slip by. When a ball comes your way my mindset is to make the most of it, whether it's five a game or one a game, to make the most of those. Basically just stay focused because it can come at any time in the game."
The Packers have been able to weather a storm of injuries at the skill positions, most notably by Jennings and Nelson, because of Jones' emergence.
And, as the weeks have rolled by, Jones entertains a crowd around his locker because of his performance rather than lack thereof.
"He's having a good year," Clements said. "He's catching the ball very well, making difficult catches. He's always there in practice and in games. It shows what being able to practice all the time can do for you. James is a guy who works at it."
Facebook Comments
Disclaimer: Please note that Facebook comments are posted through Facebook and cannot be approved, edited or declined by OnMilwaukee.com. The opinions expressed in Facebook comments do not necessarily reflect those of OnMilwaukee.com or its staff.