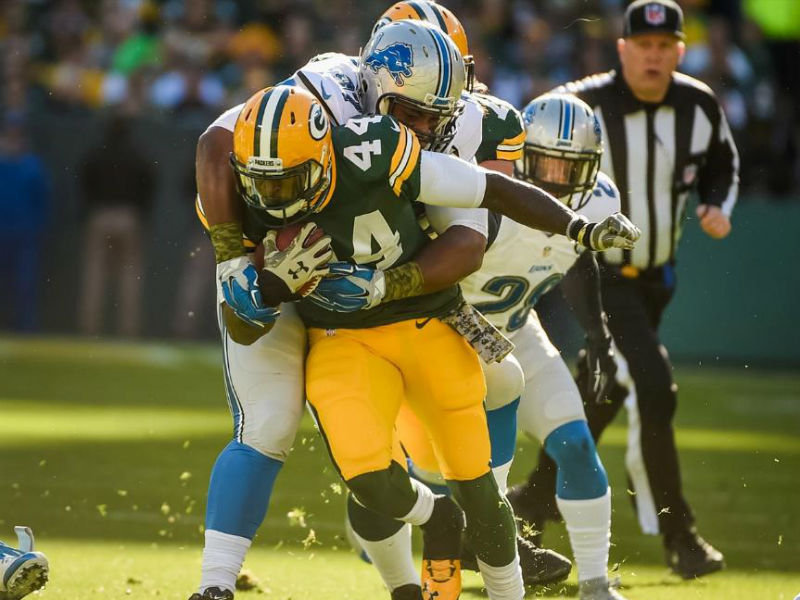 5 biggest takeaways from the Packers' 18-16 loss to the Lions
It was one thing for the Green Bay Packers to go on the road and lose to the then-undefeated Denver Broncos and Carolina Panthers. But the Packers officially hit rock bottom Sunday afternoon.
Here are the five biggest takeaways from the Packers' 18-16 loss to the Detroit Lions:
1. The curious case of Aaron Rodgers
Rodgers threw a career-high 61 passes in this game. He never previously had more than 48 passing attempts in any single game.
Yet despite the quantity, Rodgers' day lacked quality, as he averaged 5.45 yards per attempt. In his career as the Packers' starting quarterback, Rodgers' season averages have ranged between 7.53 and 9.25 yards per pass attempt, so this was a significant break from the norm.
Rodgers had more time to operate in the pocket Sunday than he had in the previous two games. It wasn't a great performance from the offensive line, but it was an improvement for that group.
So was this a case of Rodgers struggling, or his receivers not getting open? It's a combination of both. But seeing numbers like these from Rodgers – throwing that many attempts and not having a lot to show for it – is another striking indication of why Green Bay's offense isn't clicking.
2. Davante Adams' record-breaking day ... but did he play well?
Adams was targeted 21 times in this game. If that sounds like a lot, that's because it is. Adams is now the single-game record-holder in that category in franchise history.
However, Adams dropped between two and four passes, depending on how strict of a grading scale is being applied. Plus, his longest reception of the game only went for 18 yards. Being thrown to as many times as Adams was and coming away with anything more than an 18-yard gain is unlikely, if not a bit alarming, as well.
ProFootballFocus graded out Adams in the negative overall in this game.
Adams' 15-yard penalty in the fourth quarter for unsportsmanlike conduct also didn't allow Mike McCarthy to go for it on fourth-and-short. The aggressive coverage on Adams – and the officials' willingness to let it go uncalled – clearly got under his skin.
3. James Starks fails in starting role
McCarthy named Starks the starting running back heading into this game, even before it was known that Eddie Lacy would be out due to injury. The reasoning was simple: Starks had been playing very well, while Lacy had not been.
But in some cases, it's one thing to be plugged in and play at a high level, and it's another to be the starter and have defenses specifically game-plan for that player's running style.
Starks didn't play well as the starter in this game. He carried the ball 15 times for 42 yards (2.7 average). He didn't break a single tackle, either. When a defender made first contact with Starks, he went down.
Starks was playing better than Lacy in recent weeks. But it's obvious how much the Packers need Lacy back to playing like he did in 2013 and 2014, because Starks is obviously better suited to come in off the bench as a change-of-pace back.
4. No defensive sacks ... again
Green Bay did get some pressure on Matthew Stafford, finishing with three official quarterback hits. But for the third consecutive game, the Packers didn't record a single sack.
Since the bye week, Peyton Manning, Cam Newton and Stafford have all finished the game unscathed against Green Bay's defense.
Mike Daniels had positive pass-rush moments in this game, but he didn't get enough help. Somehow, defensive coordinator Dom Capers is going to have to find some way of dialing up plays that will take down quarterbacks.
5. Big picture now looks even worse
The No. 1 seed in the NFC playoffs is even less possible for Green Bay now. Carolina improved to 9-0 and holds the head-to-head tiebreaker over the 6-3 Packers. In order for Green Bay to claim home-field advantage until the Super Bowl, the Packers would have to go undefeated and the Panthers 3-4 the rest of the way. That is an unlikely scenario.
But now, Green Bay even finds itself currently out of the running to get a single home playoff game. With their win Sunday, the Vikings lead the NFC North at 7-2. The Packers go to Minnesota this Sunday in a game that will go a long way in deciding where these two teams end up come January.
For as much as players love getting to play at Lambeau Field, if the postseason started today, Green Bay wouldn't even host a wild-card round game.
Facebook Comments
Disclaimer: Please note that Facebook comments are posted through Facebook and cannot be approved, edited or declined by OnMilwaukee.com. The opinions expressed in Facebook comments do not necessarily reflect those of OnMilwaukee.com or its staff.