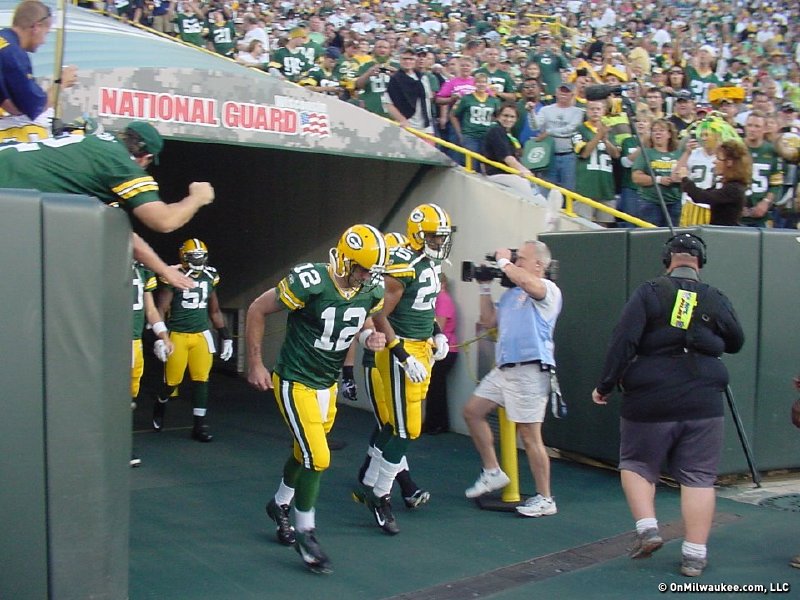 Packers vs. Giants: NFL Divisional Playoffs
Podcast:
Packers vs. Giants - Playoff preview
Subscribe
to OnMilwaukee.com Podcasts
It has been a long, sad week in Green Bay, as the Packers have to simultaneously deal with the death of offensive coordinator Joe Philbin's 21-year old son, Michael, while preparing for the most important game of their season.
The good news for the Packers is that they are the No. 1 seed in the NFC playoffs. The bad news is that historically, that means almost nothing in terms of who advances and who does not. Only one No. 1 seed has won any of the last seven Super Bowls. As Green Bay proved last year, it does not matter how you get to the playoffs, just so long as you do get to the playoffs.
Six weeks ago, the Packers won a thrilling, come-from-behind contest at MetLife Stadium in where Green Bay quarterback Aaron Rodgers threw for 369 yards and four touchdowns; Rodgers' New York counterpart, Eli Manning, threw for 347 yards and three scores.
It is a game the Giants feel they should have won, and let Green Bay off the hook.
"We wanted to see them again, but we realized in seeing them again it would be in a playoff game like this, so obviously we wanted to see them again," defensive end Justin Tuck told reporters this week. "But yeah, we felt like we let one slip through our hands."
Three key matchups:
New York quarterback Eli Manning vs. Green Bay's defensive secondary. I'll put bluntly. When Eli Manning turns the ball over, the Giants lose. When he does not turn the ball over, the Giants win. The lone game that Green Bay lost this year was the only contest in which they did not create any turnovers. This season, Manning threw 16 interceptions (along with 29 touchdowns) and will be going up against the most helter skelter defense perhaps in football history. While the Packers would become the first team to rank dead last to play in a Super Bowl should they win their next two games, they also led the NFL in interceptions with 31. Their opportunism has kept them in games; their risk taking has led to a reliance on their potent offense to just outscore their opponents, no matter how many points are needed to get the job done.
Green Bay's offensive line vs. New York defensive ends Justin Tuck and Jason Pierre-Paul. The Packers offensive line is as healthy as they have been all year, with the return of Chad Clifton and Bryan Bulaga at the tackles. If either one falters, Marshall Newhouse is ready to step in at any moment after having started 13 games this season. However, if Newhouse is pressed into action, that might not be a good thing, as he struggled mightily at times, forcing Rodgers out of the pocket and into some sacks. Pierre-Paul is headed to the Pro Bowl after having a breakout season registering 16.5 sacks. When Pierre-Paul needs a breather, Osi Umenyiora may get a few snaps. He missed seven games this season and is dealing with a bad ankle. However, in the nine games he did play in, Umenyiora still got to the quarterback nine times.
Green Bay's offensive coaches vs. New York defensive coordinator Perry Fewell. The sad truth of the death of 21-year old Michael Philbin is that while his father grieves, the nature of the NFL is to still plan as hard as you can against your opponent. That isn't something that Fewell and his boss, Tom Coughlin should apologize for; that is just the way it is. After the fate of the younger Philbin was discovered, Packers head coach Mike McCarthy said he was ready to assume Joe Philbin's game planning duties. However, when his other offensive assistants came to the boss and asked him to trust them to handle their coordinator's duties in absentia to allow McCarthy to concentrate on being the leader of the team, he relented. No one wants to think about the football consequences of Michael Philbin's death. We will see on Sunday whether or not there were any.
NFL Team Ranks:
Total offense: Packers, 3 - Giants, 8
Passing offense: Packers, 3 - Giants, 5
Rushing offense: Packers, 27 - Giants, 32
3rd down offense: Packers, 3 - Giants, 14
Total points scored: Packers, 1 - Giants, 9
Total defense: Packers, 32 - Giants, 27
Passing defense: Packers, 32 - Giants, 29
Rushing defense: Packers, 14 - Giants, 19
3rd down defense: Packers, 26 - Giants, 17
Total points allowed: Packers, 19 - Giants, 25
Page 1 of 2 (view all on one page)
Next >>
Facebook Comments
Disclaimer: Please note that Facebook comments are posted through Facebook and cannot be approved, edited or declined by OnMilwaukee.com. The opinions expressed in Facebook comments do not necessarily reflect those of OnMilwaukee.com or its staff.