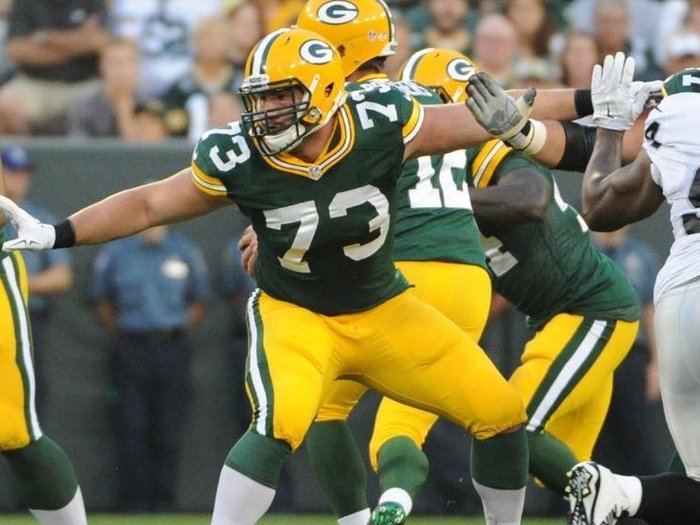 Lessons learned in Packers preseason game
I was reminded of something late Friday night – well, at various points over the weekend – that you should never assume anything. That is especially true in the sports reporting business, and more so when it comes to the National Football League.
I was up in Green Bay for the Packers 31-21 preseason victory over the Oakland Raiders, and I noted how the Packers escaped the game "unscathed" when it came to major injury, comparing them to the Raiders, who lost three starters on defense (two concussions and a severe neck injury).
Defensive tackle B.J. Raji had left the game with an "arm" injury, and we had seen linebacker Brad Jones (quadriceps) get his leg worked on – but I had also seen him move around without the aid of the training staff for the rest of the game.
We later come to find out Raji tore a biceps, and will miss the season.
Then, more damaging to the team, we learned starting center J.C. Tretter fractured his knee and could miss around six weeks.
Talk about a facepalm.
I could take some solace in Rob Demovsky's reporting that Tretter played every snap with Aaron Rodgers and the first team offense Friday night, only taking a moment to have his left knee examined in the first quarter.
That I remember – but seeing a player jump on and off the training table isn't anything new in the NFL.
No matter – the result was two starters on the interior of the lines are now gone for substantial lengths of team. That is hardly "unscathed." It's preseason for a reason, even for me, so I've been reminded to avoid making such proclamations. Sometimes your eyes do deceive you.
A good look
The first team offense gave fans a good look at what to expect all year with 22 points, 43 offensive plays and 211 total net yards of offense in the first half – but also the three consecutive drives that included 12 plays, seven yards, three punts and one first down.
When the clock strikes zero at the end of any particular game, the offense will likely have produced enough yards and points to win – but people will have to understand that defenders are paid, too, and the juggernaut that head coach Mike McCarthy rolls out on offense behind Aaron Rodgers will have its valleys.
The key will be, in those moments, that the defense can get off the field just as quickly as they did against Oakland.
"I think our number one defense, we had that one big play that we gave up (the 40-yard touchdown run to Maurice Jones-Drew), but other than that, I thought we dominated the line of scrimmage," McCarthy said postgame. "Three-and-outs speak for themselves so I was very pleased with the first unit."
Lacy may have a bigger year
As a rookie, running back Eddie Lacy rushed for 1,178 yards and 11 touchdowns on 4.2 yards per carry and made the Pro Bowl, despite a dip in production in the seven full games he played without Rodgers.
In his first seven games (he missed one due to concussion) – which also includes the one carry he had against Washington before being hurt and the full game against Chicago in which Rodgers was knocked out after two passes – Lacy averaged 19.1 carries and 85.1 yards per game.
In the seven full games Rodgers was on the sidelines, Lacy averaged 18.4 carries and 73.7 yards per game.
It makes sense – by the time Rodgers was injured, opponents knew about Lacy and could play him more than the passing game.
Now, with a year of experience under his belt and the likelihood that Rodgers plays a full season for the sixth time in seven years, Lacy could truly explode. In limited preseason action against St. Louis and Oakland, Lacy has rushed 11 times for 61 yards (5.5 yards per carry) with a touchdown. He's had long runs of 17 and 13 yards as well.
But, he knows he won't know for sure until the games count for real.
"I've had success in the – well, my only two drives in the preseason so far – but it's just preseason," Lacy said with a smile. "Week one I'll be able to tell if it's different this year versus last year."
What a difference a year makes
It seems like only yesterday (right?) that place kicker Mason Crosby's job was on the line. The Packers brought in kickers to compete against the veteran last preseason, and Crosby got a lot of work in during the exhibition games.
In the second preseason game last year, Crosby attempted three field goals in St. Louis and Giorgio Tavecchio attempted two. Crosby got another attempt in during the third preseason game and another two to end the preseason.
This preseason it's been business as usual for the eighth year veteran. He's gotten his work in, but the issue hasn't been forced (four field goal attempts over the three games) and McCarthy even decided to bypass extra point attempts on Friday to work on his 2-point conversion packages.
Facebook Comments
Disclaimer: Please note that Facebook comments are posted through Facebook and cannot be approved, edited or declined by OnMilwaukee.com. The opinions expressed in Facebook comments do not necessarily reflect those of OnMilwaukee.com or its staff.