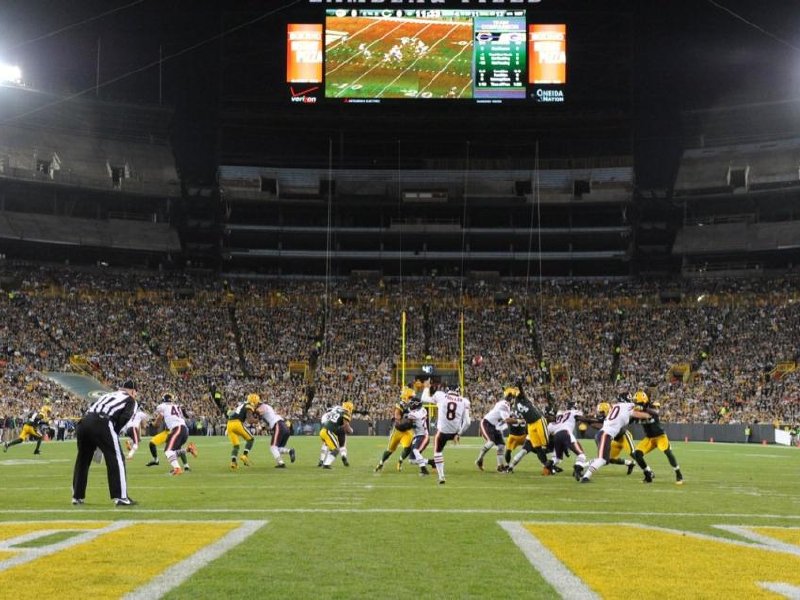 The art of the punt return
GREEN BAY – Nearly as soon as Andy Lee's foot dispatched the ball high into the afternoon sky, Shawn Slocum knew.
As it began its descent, Randall Cobb knew.
Originally positioned near his own 37-yard line, Cobb has to back up to his 25 to receive the punt. As Cobb angled right to start his return, half of the San Francisco 49ers coverage unit was to his left. He received a couple of blocks, and out-raced Lee down the sideline for the second punt return touchdown of his career.
Afterward, Cobb noted how Lee out-kicked his coverage. It's a mistake Slocum, the Green Bay Packers Special Teams Coordinator, recognized immediately and knew it could lead to something special.
"If our returner has space when he gets started, I think we have a great chance to have an explosive return," Slocum said. "When I see the ball come off the punter's foot, based on film study and knowing what style of punt it's going to be, I start saying 'OK, this one right here is a long punt, he's out-kicking the coverage and we have a chance to get started.' And with Randall, if he can get there, he can set blocks and we can have an explosive return."
One of Cobb's particular strengths is his ability to set a block – even though that blocker may not actually know he's being positioned to do so.
On Cobb's 80-yard punt return touchdown off Minnesota Vikings punter Chris Kluwe last year, he retreated to his own 20 and again veered to the right off the spot. As he did, two Vikings closed off the sideline. Only Cobb turned his shoulders up the hash mark, leading one to rush past him and set the other up for a crushing block that sprung Cobb up the middle of the field.
Cobb then had to get through some traffic and made two Vikings miss on his own, but that block gave him the room to make a move into the exposed heart of the Vikings coverage and eventually break away.
"The thing that makes Randall a very good returner is his ability to catch the ball and get off the spot quickly," Slocum said. "He does a good job of seeing. Good returners have good vision because they can see and anticipate where they need to set a block. They can actually set a block up to make it happen. I see him doing that."
Slocum calls it option hole running, a concept where the blockers block where Cobb is running as opposed to forcing him into a particular lane. Cobb's blockers have an idea of where he might go, or where the blocks are designed to be thrown, but a punt return is more about what Cobb calls a "learned instinct."
The combination of scheme and instincts ranked Cobb seventh in the NFL in punt return average last year (11.3). Through five games this year, he is averaging 11.5 yards per return – good for fourth among players with at least 10 returns.
"Obviously we try to block the guys as best as we can," Packers tight end Ryan Taylor said. "We kind of have an idea of Randall's running style being with him for a year and some change. We have an idea of what he's going to do, but mainly we try to get in the way and let him do what he does. He's obviously a great returner and he does some great stuff with the ball, so we just let him go and kind of just get in the way of people and see how it turns out."
Cobb says his only mindset when he sets up his return is to score, and to do so he falls back on practice and what he has seen coverage units do throughout his career in football – including remembering how he set up opponents years ago.
"It's something I've seen maybe back in high school or college, and being able to set up a defender and realizing what kind of response I'm going to get from them from doing a certain move or from certain leverage (point) or something like that," Cobb said. "It's being able to see that and understand it and know it and go out there and try to do it."
It is also a skill that can be sharpened in practice. Cobb says he often uses the Packers coverage unit to learn tendencies he can exploit on an opponent.
"That's why you want to practice like you play," Cobb said. "You want to try to treat practice like it's a game. That learned instinct, with setting up blocks, that's something you don't have to be full speed at either. You can do it going 70, 80 percent and still be able to see the difference that it makes."
Facebook Comments
Disclaimer: Please note that Facebook comments are posted through Facebook and cannot be approved, edited or declined by OnMilwaukee.com. The opinions expressed in Facebook comments do not necessarily reflect those of OnMilwaukee.com or its staff.