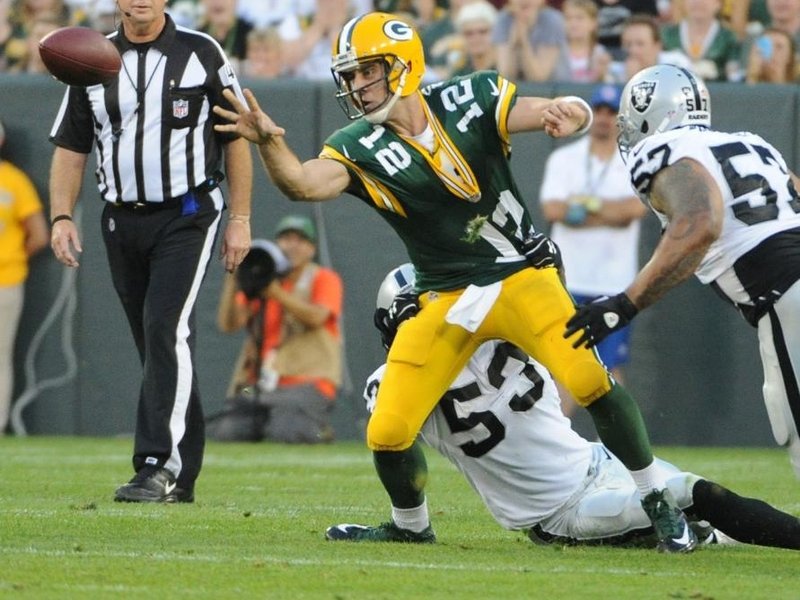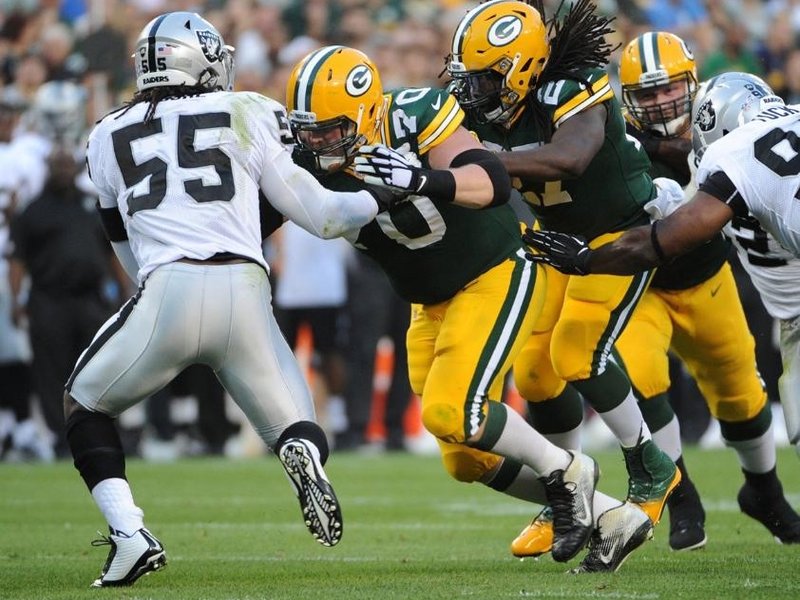 Packers put together complete game in victory
GREEN BAY – Aaron Rodgers won't like the fact he completed 45 percent of his passes. Randall Cobb won't like that he dropped two of Rodgers' offerings. Richard Rodgers and Andrew Quarless will be disappointed they were blown up during run blocks.
But on its whole, the first team offense proved its potency again in the quick tempo, no-huddle to tear apart the Oakland Raiders with three touchdowns on six first half possessions in a 31-21 victory Friday night at Lambeau Field.
In front of just under 74,000 fans, Rodgers directed 39 plays for 223 yards in 16 minutes, 12 seconds of total drive time. He finished just 9 of 20 passing and was sacked once for a loss of six yards, but he also threw two touchdowns and posted a quarterback rating of 101.9.
"We had some adversity at times with some poor execution but we still put 20 points on the board and had three scoring drives and a lot of plays in the first half," Rodgers said. "We had a lot of things we wanted to hit."
The majority of the offensive damage was inflicted on the ground, as the trio of Eddie Lacy, James Starks and DuJuan Harris combined for 18 carries and 77 yards (4.3 yards per rush) during their time with Rodgers.
"I think it's great because we have three backs that are able to play at any time," said Lacy, who rushed for 36 yards and a touchdown in just one series of work. "I think going through the season – it's a long season – so with us three back there we should be able to stay fresher and be able to go fast the whole season."
Green Bay made three trips into the Oakland red zone and scored a touchdown each time, and after each touchdown Packers head coach Mike McCarthy decided to eschew any point-after attempts, choosing to work on 2-point conversions. The Packers went 2 for 3 on those plays.
The offense was allowed to work out those kinks thanks to the first team defense, which didn't allow the Raiders a single yard of offense in the five drives they defended following Oakland's game-opening scoring drive, which was capped by a 40-yard touchdown run by Maurice Jones-Drew.
It's important to note, especially because during that stretch the Packers' first team offense had a trio of drives that lasted just 12 plays, gained 17 yards and resulted in three punts.
After each of those busted drives, the Packers forced the Raiders into three-and-outs, highlighted by a sack from Julius Peppers, a tackle for loss by Micah Hyde, and Tramon Williams and Davon House teaming up to stop a pass play for no gain.
"We need it," Packers inside linebacker A.J. Hawk said. "We didn't want to give up that touchdown, that 40 yarder, but they have two really solid tailbacks in Maurice Jones-Drew and (Darren) McFadden in there and they made a play, but yeah, we need to find a way to bounce back. And we always talk about that, handling adversity and sudden change-type situations and we could've laid down but we have guys step up and make a play."
That stinginess allowed the Packers offense to recalibrate and score two second quarter touchdowns and build a 22-7 lead with the first teamers.
"You know when it's going like that because you come off the field real quick and you really feel like you ain't doing anything out there so, anytime it feel like you're not really doing anything out there it's a good sign," Williams said. "I kind of felt it. I didn't know how many drives it was that we got off the field (with) three-and-outs but I knew we was doing a good job."
In his most significant time of the preseason, Peppers was moved all over the front seven, switching sides and playing with his hand both on the ground and standing up. He finished with three tackles (two for loss) including his sack and took advantage of the decision by the Raiders to not double-team him on several occasions.
On the other side, Clay Matthews didn't record a sack or tackle, but did have one hurry that Peppers helped facilitate with his own pressure.
"I thought it was decent, I thought the performance was decent," Peppers said. "It could be a lot better, so we're going to look to improve and apply more pressure in the coming weeks."
Late in the first half, former first round pick Nick Perry flashed with a sack of Raiders starting quarterback Matt Schaub, which forced a fumble. In the second half, safety Sean Richardson continued his standout play in the preseason with a forced fumble.
Considering that most of the team's premier players will likely sit out the preseason finale next Thursday, the biggest victory for the Packers has to be the fact that no significant injuries were suffered.
The Raiders watched three defensive starters leave the game with head or neck injuries, including linebacker Sio Moore, who was carted off the field on a backboard. He was taken to an area hospital for further evaluation, but an Oakland television reporter said Moore was back at Lambeau Field at the end of the game and x-rays were negative.
The Packers did have defensive tackle B.J. Raji (arm) leave the game for good early, but for the most part the team escaped unscathed.
Now, the team begins preparing – essentially –for Seattle on Sept. 4.
"Obviously, history will show you we probably won't get a whole lot of playing time together next Thursday," Packers guard T.J. Lang said. "But we're going to have to make sure that we're continuing to work hard and get better in practice because that's really the only training we're going to get together throughout the next week and a half."
A Lambeau homecoming
Oakland Raiders safety Charles Woodson and wide receiver James Jones were recognized on the Lambeau Field scoreboard and applauded by Packers fans in their first trip back to Green Bay following their departures from the organization.
"There was a lot of love out there and I could feel it," said Woodson, who blew a kiss to the crowd when he was shown on the jumbotron. "There were a lot of people chanting my name. I could still see a lot of '21' jerseys. It felt good to go out there and receive that kind of welcome. It was exactly what I felt like it would be because the fans here understand that when I went out there, I left it all on the field every week."
Facebook Comments
Disclaimer: Please note that Facebook comments are posted through Facebook and cannot be approved, edited or declined by OnMilwaukee.com. The opinions expressed in Facebook comments do not necessarily reflect those of OnMilwaukee.com or its staff.