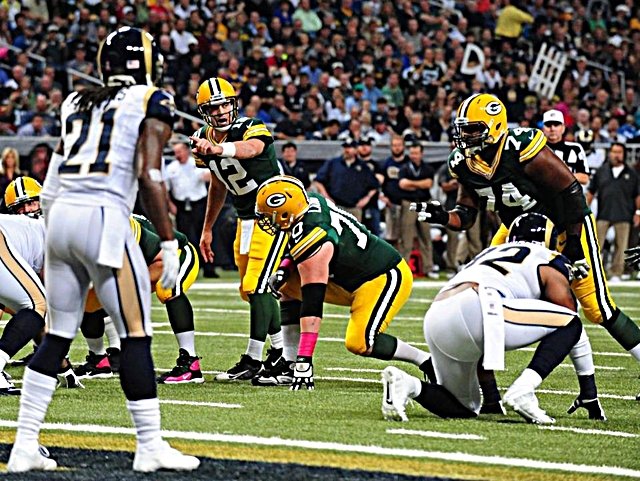 Packers are excelling in the red zone
GREEN BAY – With just over eight minutes left in the third quarter of Sunday's contest in St. Louis, the Green Bay Packers once again displayed what kind of living nightmare they can be for opponents in the red zone.
Alex Green set up off the right shoulder of Aaron Rodgers at the Rams 6-yard line with four receivers split wide. Off to Rodgers far left was Jordy Nelson, who caught one short touchdown pass earlier in the game.
At the snap, Nelson broke upfield, and then cut hard in toward the hash marks.
Rodgers pumped.
Two St. Louis defenders crashed down on Nelson, and Rams rookie cornerback Janoris Jenkins turned his head to see where his teammates were moving to.
In that moment, Randall Cobb twisted around Jenkins from his pattern that ran behind Nelson's and found himself wide open in the end zone for an easy score.
It was the second red zone touchdown conversion of the day for the Packers in their 30-20 victory on Sunday, and the team finished a respectable 2-for-3 on the day.
Through seven games, the Packers are scoring touchdowns at an incredible rate once they reach the opponent's 20-yard line – 76.2 percent of the time. It's a margin that easily leads the NFL. Over their last three games, the Packers are scoring touchdowns at an 88.9 percent clip. Perhaps more amazingly, they convert a touchdown 81.8 percent of the time on the road.
The numbers are otherworldly. The team knows it, and has a hard time explaining exactly why.
"It's a good question," tight end Tom Crabtree said. "It's nothing more than executing when we get down there, whether it's play calling or guys doing their job. It's everybody being on the same page and making plays once we get down there. I don't know how to explain it. I don't know. It's not like we sit down and talk about (it). I don't really know how to explain it other than we just execute. Some of it are plays we use all over the field."
At one point, Crabtree used the word "motivation" when trying to capture the feeling once the red zone is breached, but he wasn't sure that was the right descriptor. After all, they are "motivated" to score on every possession. His teammates agreed that there is something different, however, when they're that close to the end zone.
"I think the game plan and just guys being hungry to get in the end zone," said Cobb, choosing a different adjective. "We've got a lot of athletes, a lot of great talent and we want to score. And when we get the opportunity in the red zone – we always want to score – but the closer you get to it the easier it's going to be. Just being hungry."
Does it mean the routes are crisper? Is Rodgers more accurate? Are blocks held longer?
"I don't know what it is," guard T.J. Lang said. "We keep the same game plan we always have. It's just a matter of, I think, the urgency goes up when you get down there. It's not really a good feeling when you're driving the ball down there and you settle for a field goal."
Tackle Bryan Bulaga agreed that perhaps the fact that seven points, as opposed to three, are so close to being had that the focus is sharpened even more.
"Field goals are great, points in general are great, but when we're in the red zone, its touchdowns," he said. "That's the bottom line. It's putting seven points on the board and making sure we help our defense in that way. It's just important. You've got to have the mentality and the mindset that once you get in there, it's seven."
Cobb did allow for the fact that because touchdowns are hard to come by – the Packers scored six on 70 plays against Houston two weeks ago – the skill players want to give Rodgers a reason to get them the ball.
"I think we all have the confidence level throughout the game regardless of where we are on the field but definitely in the red zone, we all want touchdowns. We all want to score," he said. "That's part of being an offensive player. Being a skill player on offense you want to score touchdowns, so especially when you get in that red zone you get a little bit hungry for it."
This isn't something entirely new for this group. The Packers finished third in the NFL last year converting touchdowns 65.2 percent of the time. That followed up a fourth place finish (62.7) in 2010, seventh in 2009 (56.9) and fifth in 2008 (60.4).
But to put in context just how incredible the current pace is only four teams over the last 10 years have finished the season converting 70 percent of the time, the last being the 2007 New Orleans Saints.
"We've been hot lately," Packers offensive coordinator Tom Clements said. "We work on it quite a bit. I think we have a lot of options down there and really when you get in the red zone your guys have to make plays. That's what it comes down to because the defense has less field to defend, things happen quicker and when you have a quick decision maker at the quarterback position, which we do, and guys that make plays, you'll generally have some success."
Cobb's touchdown highlighted those options. The play before, fullback John Kuhn was on the field. Crabtree, primarily used as a blocker, has enough catches on film to be respected as a threat. Then there are the receivers, from Nelson to James Jones to Donald Driver. Tight end Jermichael Finley can be lined up on the line of scrimmage, or split wide to create a mismatch.
Along with Rodgers' decision making that versatility means as much to the Packers success than anything else.
"Oh yeah. Absolutely. Absolutely," Bulaga affirmed. "It's very helpful when Randall Cobb can line up in the backfield and come out as a scat back or do the different things that he does. All the receivers are great route runners. They can find holes in zone defense. They can get off man coverage. They can get open. Even if it's in a tight, three-yard window, Aaron can get the ball in there. That's just what makes it so effective in the red zone is we have guys that can get open."
That circles back to "why" the team is so successful. Those players are deployed in similar formations at any point on the field, and sometimes the same play is run. Perhaps it's as simple as the fact that a 10-yard-completion in the red zone can be a touchdown, rather than just another first down.
Clements says it is as simple as making a defense pick its poison in coverage. In man, Rodgers can go right to a receiver – like the quick back shoulder throw to Nelson in the first quarter on Sunday. In zone, Rodgers has gaps to find receivers. Or, if coverage is good, Rodgers has the ability to move out of the pocket to create throwing lanes.
"It's kind of hard to put it on one thing," Crabtree said. "It's just a combination of things. The defense might be tired, the offense has some momentum, you get in a rhythm and you just get down there and you keep rolling I guess."
Facebook Comments
Disclaimer: Please note that Facebook comments are posted through Facebook and cannot be approved, edited or declined by OnMilwaukee.com. The opinions expressed in Facebook comments do not necessarily reflect those of OnMilwaukee.com or its staff.