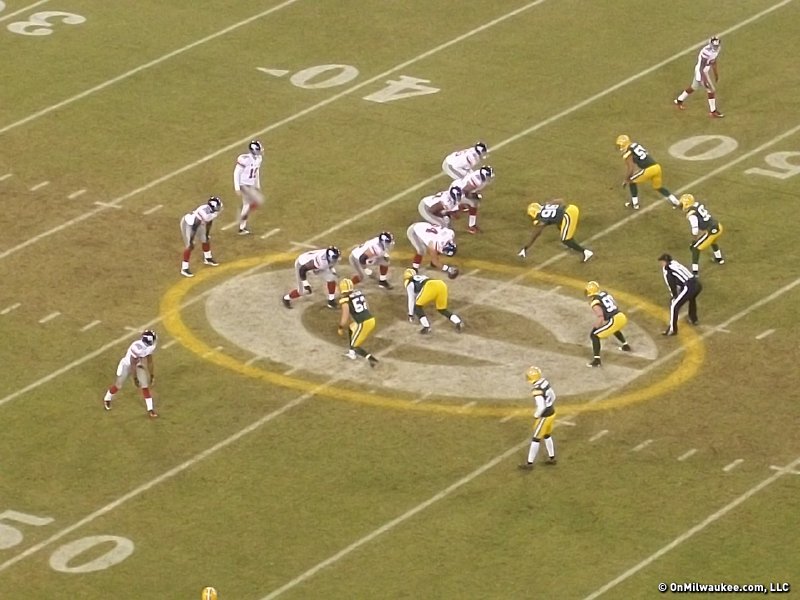 Giants 37, Packers 20: The good, the bad, and the ugly
Podcast:
Giants 37, Packers 20
Subscribe
to OnMilwaukee.com Podcasts
GREEN BAY – The Packers coronation as the first back-to-back champions since the 2003-04 New England Patriots came to a screeching thud Sunday evening at Lambeau Field, with the New York Giants dominating nearly every phase of their NFC Divisional game, 37-20.
"We just turned the ball over too many times to win," Packers quarterback Aaron Rodgers explained afterward. "You've got to give them credit, they played well on defense. We had a lot of chances to execute and we didn't do it. We put our defense in a tough spot and that's why our season is over."
Rodgers was not his characteristically sharp self on the field, completing 26 of 46 passes for just 264 yards, but was also severely hurt by several dropped balls. Rodgers only threw one interception on his final pass of the season, a desperation heave on third-and-16 that was picked off by New York's Deon Grant.
Couple that with three lost fumbles (there should have been a fourth if not for a terrible mistake by referee Bill Leavy in the first quarter) and it was a long, frustrating day for the defending Super Bowl champions.
So, for the final time during the 2011 NFL season, I present to you my weekly look at the Green Bay Packers: The good, the bad and the ugly.
The Good
Not much to choose from here. The post-game pizza in the press box was a delightful treat. One of those baked-to-perfection, just crisp enough, just doughy enough to hit the spot kind of pie. It was a nice touch.
Oh, and I suppose the blocked field goal than Brad Jones had in the second quarter. That was good.
The Packers won't lose in the Super Bowl. I mean, getting there and losing just leaves everyone dejected and flat, right? No worry of that happening now.
Oh, and the New York Giants. They were good. Very, very good. The Packers certainly helped the Giants along in their quest to advance to the NFC Championship Game, but the Giants came out with a plan of attack and they executed.
The Bad
Oh, goodness, where do we begin here?
So many things went so disastrously wrong for the Packers on Sunday it is hard to pinpoint exactly where this game was lost.
For starters, the case of the dropsies began on a play that was actually reversed in favor of Green Bay. When Randall Cobb put the ball on the ground just 6:27 into the game, you got your first inkling that this might not be a very fired up Green Bay Packers team. But, the call did get reversed on a Mike McCarthy challenge. Eventually the Packers would get a field goal out of that possession.
From there, it was just a thorough domination by a better team on this particular Sunday. The Giants said they wanted a rematch; they took advantage of that opportunity.
"We did not play very well today," McCarthy admitted after the game. "I think that is stating the obvious."
The Packers were soundly dominated in every phase of the game, yet still only trailed by three points until the final play of the first half. In a play that gave Wisconsin Badgers fans flashback nightmares, Eli Manning's "Hail Mary" pass landed in the hands of Hakeem Nicks 37 yards away.
"It's obviously a play you practice on both sides of the ball," McCarthy said afterward. "The defensive call was the right call. It's about making plays. It's about big play opportunities in big games. It was a big play for the Giants."
The Nicks catch is what will make the highlight reel, but it was only made possible by shoddy tackling on Ahmad Bradshaw's 23-yard run into Packers territory to give Manning a much closer shot at it.
Speaking of shoddy tackling, Charlie Peprah's attempted tackle on Nicks on New York's first touchdown was a sorry excuse for a NFL play. Peprah thought he could just hit the 6-1 208-pound Nicks and he would crumple to the turf. Instead, Nicks simply bounced outside and scampered down the field for an easy six points.
Page 1 of 2 (view all on one page)
Next >>
Facebook Comments
Disclaimer: Please note that Facebook comments are posted through Facebook and cannot be approved, edited or declined by OnMilwaukee.com. The opinions expressed in Facebook comments do not necessarily reflect those of OnMilwaukee.com or its staff.