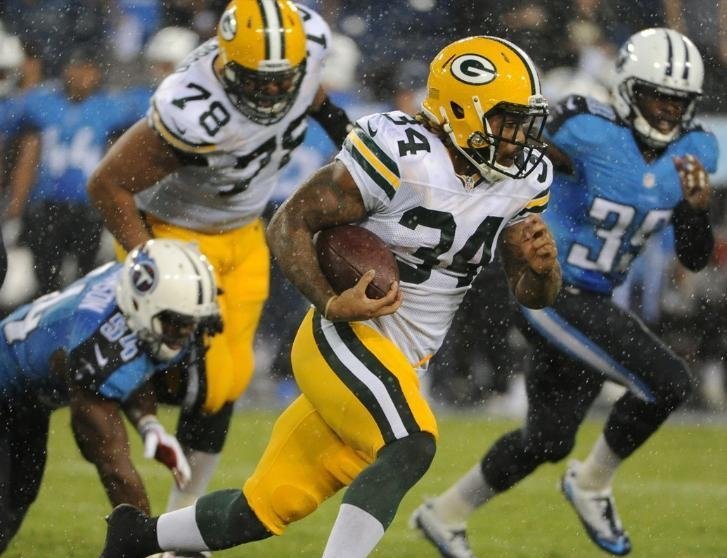 Making a splash: All Packers players looking to impress
GREEN BAY – This offseason, the Green Bay Packers general manager Ted Thompson made retaining Sam Shields one of his priorities. The fifth-year cornerback had four interceptions in 14 games last year, and has come up with 13 in his career after being an undrafted discovery out of the University of Miami.
In March, Thompson locked Shields up with a four-year, $39 million contract, including a $12.5 million signing bonus.
One could say that Shields has "made it" – that his spot on the Packers defense is solidified for years to come.
But that's not how he looks at it this preseason.
"It's an evaluation," he said. "The coaches are still evaluating. You've still got other players that's competing and trying to get your spot. It's all a competition out there. My thing is it's just like a regular season game. You've got to make the plays when you're out there. I don't take it no different than from a regular season game. You've just got to go hard like you do in the regular season."
Not all players fall into the category of Aaron Rodgers and Eddie Lacy, who sat out Saturday's preseason opener in Tennessee. Other high profile players like Shields started – especially on the defensive side of the ball – though they didn't see much time.
It's accurate to say players like Shields don't have to impress as much as the rookies in camp drills or even in a preseason game, but they do want to continue to prove their value.
Multiply that feeling for rookies and young players who are, perhaps, reaching the make-or-break point in their Packers career.
"I think it's not just the preseason (games), it's every day in practice," second year safety Micah Hyde said. "The first day I got here (Packers secondary coach) Joe Whitt mentioned to me you've got to have a splash play every day so you're in everyone's mind every day. I think that's what kind of stuck with me. That's what I told the young guys: You've got to make a splash play every day so people remember you.
"Then you get in these preseason games and you're going to be playing, basically, the whole game, so you've got to go out there and just make splash plays. That's what I tried to do last year, and that's what I try to do every day here."
Head coach Mike McCarthy went into last week's preseason opener looking for one thing:
"Players to jump out," he said last week.
"I want someone to jump out and do exactly what they're supposed to do with the energy and the efficiency that you say hey, I've got to give that young man more opportunities."
The players looked at that way, too.
"You can make plays in practice and then don't make them in a game, then what good does it do you?," said safety Sean Richardson, who is looking to secure a spot in his first truly healthy season in the NFL.
"At the same time, I just go out and work on the techniques, the things I've been taught to do, and do my assignment and let my athleticism and my ability and my experience help me out with making plays."
It's why Rodgers, Lacy and Jordy Nelson didn't play at all, and why the likes of undrafted rookie running backs Rajion Neal (5 carries, 39 yards, TD) and LaDarius Perkins (10 carries, 18 yards) and second-year wide receivers Kevin Dorsey (5 targets, 3 catches, 23 yards) and Chris Harper (3 targets, 2 catches, 55 yards) were given ample time to show out for the coaches.
"When your number's called, you make the play," said second-year tight end Brandon Bostick, who caught the one pass thrown to him against the Titans. "And on special teams, I guess you have to go down there and make a tackle and just show the coaches what you can do and show your abilities."
It's a necessary part of an unforgiving business, especially for those looking to fill in the back end of a game day roster.
"We want to make sure we're getting as much information and creating as much opportunities for these guys that we pick the best 53 players for the Green Bay Packers," McCarthy said. "It's not going to be the, as I've stated, the most talented 53, but it'll be the best 53 that we feel gives us the best chance to win a championship."
Facebook Comments
Disclaimer: Please note that Facebook comments are posted through Facebook and cannot be approved, edited or declined by OnMilwaukee.com. The opinions expressed in Facebook comments do not necessarily reflect those of OnMilwaukee.com or its staff.