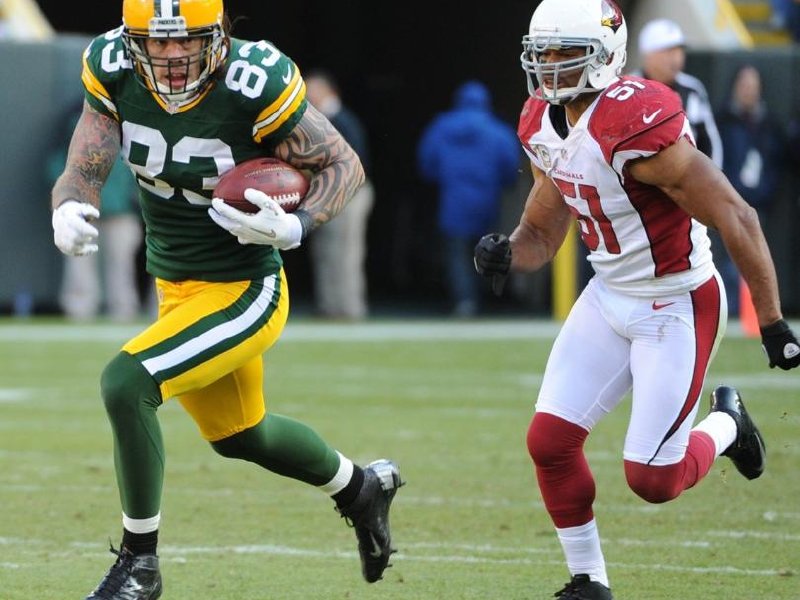 Crabtree is having fun and making big impact for Packers
GREEN BAY – There was a palpable excitement through the concourses at Lambeau Field on Nov. 4 as fans streamed out into the parking lots. The Green Bay Packers had just ran out the clock on a 31-17 victory over the Arizona Cardinals to win their fourth straight, the running game exploded for 176 yards and Aaron Rodgers threw four more touchdowns.
What is easily forgotten, however, was the game was still in doubt late in the third quarter when Rodgers brought the Packers to the line at their own 28. A Jay Feely field goal had just moved the Cardinals to within a score at 24-17 and – despite the three TD tosses to that point – Rodgers was having an off day.
With time winding down in the quarter, Packers coach Mike McCarthy anticipated a defensive look from the Cardinals on 2-and-4 and got it – resulting in a play call that sealed that game.
Rodgers faked a handoff, which caused the Cardinals linebackers to advance and freeze for just a second, allowing tight end Tom Crabtree to shoot upfield uncovered. Rodgers hit him in stride, and the third year tight end beat two defenders to the end zone for a 72-yard score that proved to be the final score of the game.
"We ran the play as called," Crabtree said. "We didn't really check anything at the line. It was kind of a thing where we knew I could come wide open on that which I did. But if not he had other options. I just ran a straight line, like many of my touchdowns."
He paused.
"Or, not many – but the last couple this year."
Such deadpan is why Crabtree has become a fan favorite, even though he only has 16 career catches and four career touchdowns – three of which have come this season.
His teammates couldn't help but have a little fun at his expense after the game.
"Tom in the open field looked pretty fast," said Rodgers, who didn't try too hard to conceal a wide grin.
"He was probably about a 4.9 right there," Randall Cobb said of Crabtree's 40-yard dash time on the catch. "He made a great play. He was wide open. I was trying to chase him down and I couldn't catch him. So he was moving a little faster than you think."
When told of Cobb's compliment, Crabtree raised his eyebrows.
"I appreciate that," he said. "He was probably just jogging. He wasn't really trying. I was trying really hard."
Unfortunately for Crabtree, that effort resulted in one of the worst Lambeau Leaps of the season.
"It was terrible," he said with a smile. "I'll admit. It was awful. It was my worst one. I've only had a couple but they've been successful in the past. This was my worst. I'll probably hear about it. But, I was exhausted. I'm fine with that. I was tired. I haven't run that far ... I don't know the last time I ran about 80 yards was. So, I have an excuse. I'm going to make an excuse."
The postgame scene around his locker was the second time the home crowd was treated to a big play by the 27-year-old from Ohio. In Week 2, he was on the receiving end of a fake field goal that went 27 yards for a touchdown and gave the Packers a 10-0 lead in an eventual 23-10 victory over the Chicago Bears.
He also had a 48-yard touchdown against Houston, a victory that started this recent hot streak for the Packers.
"I'm just happy to be able to make those plays when our teams need it," he said. "It seems like in the Chicago game it was a big play when the team needed it and that's what's important. That's the way I look at it. I care about everybody in this locker room and I'm just looking for any way to help this team out and put us over the top."
Crabtree deflected the spotlight as best he could, saying the coaching staff and Rodgers don't just have trust in him to make big plays when few expect it.
"I think that's across the board with every guy on this team," he said. "Whatever your role is there is a level of trust for you to do your job and the coaches see that in everybody. Each guy's got a role and can be trusted to do something.
Interact with us: Crabtree called his Lambeau Leap following his 72-yard touchdown against the Cardinals "terrible." You can judge his two leaps this year yourself and let him know how he did @TCrabtree83. (He gave it up for a while during training camp, but couldn't quite stay away).
Notice the strength of the Leap at the end of this 27-yard touchdown against the Bears...
... compared to the effort here after his 72-yard score against the Cardinals. Was it as bad as Tom thinks it was?
Facebook Comments
Disclaimer: Please note that Facebook comments are posted through Facebook and cannot be approved, edited or declined by OnMilwaukee.com. The opinions expressed in Facebook comments do not necessarily reflect those of OnMilwaukee.com or its staff.