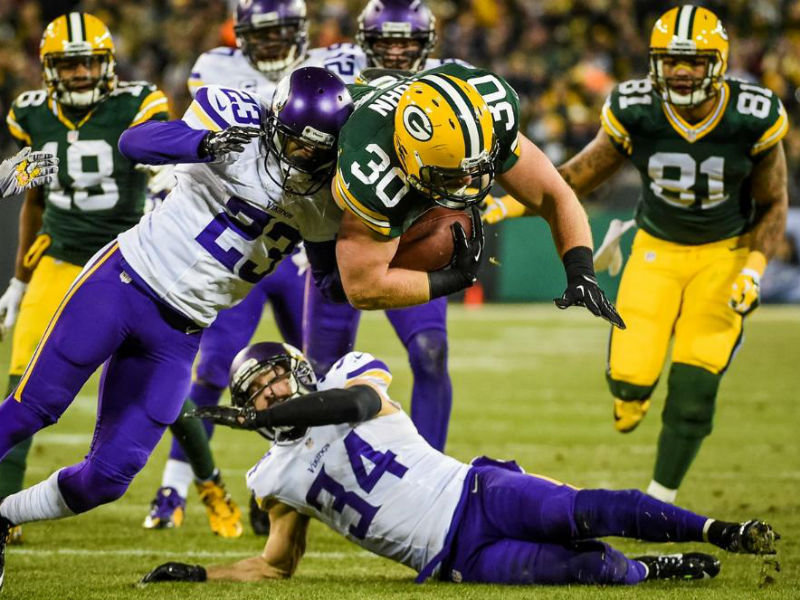 5 biggest takeaways from the Packers' 20-13 loss to the Vikings
GREEN BAY – The NFL's 2015 regular season concluded with the Green Bay Packers losing six of their final 10 games. That's not exactly the way that any team wants to head into the playoffs.
Here are the five biggest takeaways from the Packers' 20-13 loss to the Vikings.
1. Playing like the 23rd-ranked offense
That's where Green Bay finished the season: as the league's 23rd-best offense. That is a significant falloff from a team that had only once finished worse than ninth overall in total offense since Aaron Rodgers took over as starting quarterback in 2008.
From the statistical perspective of total yards gained, this was actually a good game from the Packers. They outgained Minnesota by 108 yards and controlled time of possession. However, as has far too often happened in the second half of the season, Green Bay couldn't consistently turn yardage into points. An offense with 350 total yards is supposed to finish with more than 13 points.
The Packers had a 15-play, 70-yard drive in the first quarter that took 8:43 off the clock, but it only netted three points. Still, all things considered, it showed Green Bay's ability to move the ball in this game. For some reason, though, play-calling head coach Mike McCarthy went away from what worked well on that series. Eddie Lacy had seven carries during that drive, yet it was John Kuhn who was given significantly more on-field time as the game continued.
2. Rodgers still isn't playing like Rodgers
Rodgers finished the regular season with a 92.7 passer rating, which is a career-worst for him. It's even lower than his first year as a starter, when he had a 93.8 passer rating. Between 2008 and 2015, Rodgers was never below a 100.0 passer rating.
Take away the first six games of Green Bay's season, and Rodgers' passer rating would be significantly worse. Four of the Packers' first six games featured Rodgers over a 100.0 passer rating. Since returning from the bye on Nov. 1, Rodgers hasn't eclipsed that number once.
A quarterback has many factors in play that determine whether he struggles or achieves greatness. The offensive line has to block for him, and the skill players – wide receivers, running backs, tight ends – need to make catches and gain yards after contact. McCarthy insisted as recently as last week that this year's Packers offensive line is still the best he's ever coached. The group of receivers without Jordy Nelson has clearly been a problem area. Richard Rodgers is a nice complementary player, but Jermichael Finley he is not.
Still, to ignore the frequency of Rodgers' missed throws this season would be ignorant. He's misfired several times in the majority of recent games, an occurrence that was incredibly rare in his past. Pending a run to the Super Bowl, this will be a season Rodgers will forever want to forget – and one from which he'll have to improve upon if Green Bay is to recover from this down year.
3. David Bakhtiari's notable absence
There's little debate that when the entire starting offensive line is healthy, Bakhtiari would be considered the weak link. That's not a discredit to him as much as it is a compliment to how good the rest of the starters are at their particular positions (when compared to others league-wide).
With Bakhtiari sidelined the past two weeks, though, he showed perhaps more than ever before how valuable he is to the offense. Don Barclay started against Arizona and was the culprit for at least four of the nine sacks allowed in that game. McCarthy was left with no other good alternative in Week 17 and opted to move his best lineman, Josh Sitton, to left tackle. Sitton is easily one of the NFL's five-best guards, but switching to left tackle on less than a week's notice is asking a lot, even for a great player.
Bakhtiari was on the brink of being medically cleared to play against Minnesota, so seven days later it stands to reason that he'll get healthier and likely play in the wild-card round. Rodgers, as well as Sitton, will certainly welcome back the third-year left tackle with open arms.
4. A defense that deserves better
A quick glance at recent final scores would suggest Green Bay hasn't exactly had a shutdown defense. The Cardinals scored 38 points, and the Vikings had 20. But don't forget that Arizona scored two defensive touchdowns off of Rodgers fumbles, and Minnesota ran back a fumble for a touchdown Sunday night.
The Packers' defense hasn't been perfect, that's for sure. But they're holding their own and have mostly kept opposing teams to low enough point totals that a Rodgers-led offense should be able to score more than.
Teddy Bridgewater had just 99 passing yards and threw an interception. That was enough to give Bridgewater a 45.7 passer rating. That alone shows one heck of a defensive performance. On 19 carries, Adrian Peterson finished with only 67 yards (a 3.5 average). It's the second time this season that Green Bay held Peterson in check, which is a great accomplishment against the NFL's leading rusher.
This isn't to say that the Packers have a perfect defense, or even a top-10 defense. But all things considered, Dom Capers' group has had a good season and put together another strong performance against Minnesota. Yet, those players don't get to walk away with a victory, mostly due to Green Bay's offensive deficiencies.
5. On to Washington ...
The Packers find themselves where 20 other teams wish they were: in the playoffs.
Ultimately, the goal is to get into the postseason and play your best football at that point. Green Bay got in, but it would take quite the leap of faith to presume the Packers are in a spot in which they can get hot right now.
As it stands with six days before the matchup in Washington, Green Bay is a one-point underdog. It's hard to believe, considering where these two teams were three months ago (Washington had a 2-4 record to begin the season) that the Packers' struggles have led to them not being favored. But it makes sense considering Washington's four-game winning streak and Green Bay's back-to-back losses.
That game kicks off Sunday, Jan. 10 at 3:40 p.m. CT.
Facebook Comments
Disclaimer: Please note that Facebook comments are posted through Facebook and cannot be approved, edited or declined by OnMilwaukee.com. The opinions expressed in Facebook comments do not necessarily reflect those of OnMilwaukee.com or its staff.