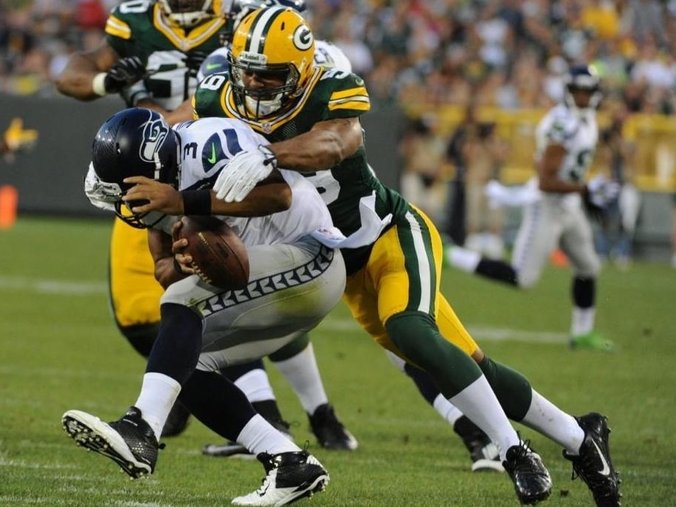 Study pays off for Packers defense
GREEN BAY – The Seattle Seahawks moved the ball up and down the field for the better part of the first quarter Friday night in a 17-10 victory at Lambeau Field, running 17 plays for 125 yards. Russell Wilson was an impressive 6-for-6 for 90 yards through the air and combined with Marshawn Lynch and Robert Turbin for 6.2 yards per carry on the ground.
When the scoreboard flipped to the second quarter however, a Steven Hauschka field goal was all the Seahawks had to show for it.
Then, in the second quarter, Wilson completed more passes to Green Bay Packers (two) than his own team (one). Wilson, Turbin and Lynch worked their way to just 2.5 yards per carry.
Halftime came and went, and three points remained on the Seattle side of the scoreboard.
"We said a lot – bend, but don't break," safety M.D. Jennings said. "Teams will get in the red zone, but just don't let 'em in. If they do, force 'em to a field goal."
True, Wilson was on the field when third string running back Christine Michael ran 43 yards unmolested to the end zone to make it 10-3 Seattle in the third quarter, but the statement had already been made: the Packers starters on defense are ready.
All offseason, and through training camp, the defense has been questioned. Are they tough enough? More importantly, had they learned how to stop mobile quarterbacks and flexible offensive systems? This would be their first, and really only, test of that knowledge before Week 1 at San Francisco.
At first, it seemed as if they failed in answering both questions.
Seattle made it look extremely easy early, moving from its own 20-yard line to the Packers' 9 in just 10 plays. Despite giving up plays of 13, 11, 17 and 27, the Seahawks didn't shake loose for a touchdown.
The Packers defense remained on the field. Sometimes, that's all you need.
Then, on 2nd-and-goal, Clay Matthews blew through an attempted block by Turbin to sack Wilson back to the 21. Turbin followed with a 12-yard gain, but the Seahawks were forced to attempt a field goal.
Fellow linebacker Brad Jones followed with a sack of Wilson on the Seahawks' first possession after that, pushing Seattle back to its own 11 and setting up an eventual punt.
"We've got a lot of playmakers," Jennings said. "We've got a lot of guys up front getting after the quarterbacks."
Before leaving the game, Jones made his presence known as the new middle linebacker in Dom Capers' 3-4 defense with five tackles and a quarterback hurry. On that initial Seattle drive, he forced a 3rd-and-8 by bringing Turbin down after just a 3-yard gain on a Wilson dump off.
He then stuffed Turbin for no gain on the play ahead of Matthews' sack.
"I just think he's an athlete that can kind of do it all," linebacker A.J. Hawk said of Jones earlier in camp. "I don't think there is a prototype inside or outside 'backer these days. If you can run you can play anywhere and they'll find a spot for you. Brad's one of those guys."
In the second quarter, linebacker Nick Perry deflected a Wilson pass that Casey Hayward intercepted. Jerron McMillian added a second interception later in the quarter.
"Obviously that was a big emphasis for us last year and even more so this year, is limiting his ability to create plays by running out of the pocket," Matthews said of Wilson. "He's going to make his plays, but I felt for the most part, not only myself, but as a rushing unit, we did a good job of keeping him bottled up in the pocket, forcing some errant throws and getting after him."
Matthews said they need to improve at getting off the field on third downs, but after going 2 for 3 in the first quarter, the Seahawks converted just 3 of their next 9 third down opportunities.
"Aside from the first drive, which we'll take a look at and improve upon, I thought we did a good job," he said. "That's what's most important – that you're improving going into the regular season. We feel good. We'll have one final tuneup game (Thursday night at Kansas City) and get ready for the 49ers."
rstywtavrxcwx
Facebook Comments
Disclaimer: Please note that Facebook comments are posted through Facebook and cannot be approved, edited or declined by OnMilwaukee.com. The opinions expressed in Facebook comments do not necessarily reflect those of OnMilwaukee.com or its staff.