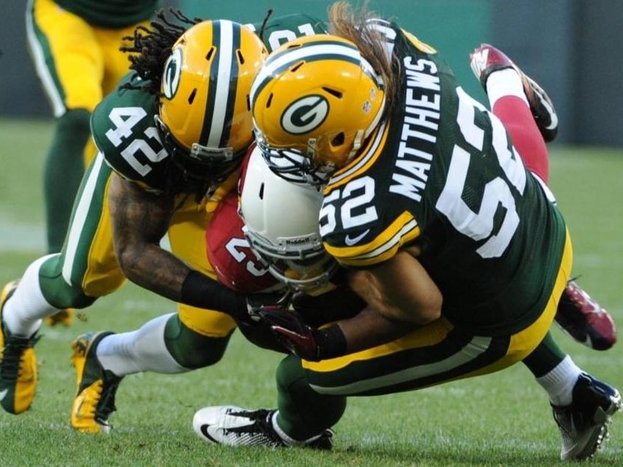 No time for defensive growing pains
GREEN BAY – Davon House stood in front of his locker a week ago and talked about not being exactly sure what went wrong, coverage wise, on his part during the Green Bay Packers' 17-0 loss to the Arizona Cardinals in the first preseason game of the year.
He insisted he'd have to look at the film, but admitted that he was set up for a double-move that resulted in a touchdown by a deep out earlier in the game. He knew he needed to watch it, and correct it.
On one hand, one could expect a mistake like that. House is in his third season, and is 24 years old. Yet he's also competing for a starting spot in the defensive backfield of a team that is coming off back-to-back disappointing postseason losses. With an MVP quarterback that is beginning his ninth season, the window isn't closing in Green Bay, but there is a need to win now – if not an expectation.
Yet on the defensive side of the ball, the Packers are incredibly young and inexperienced, creating a unique dynamic. On the current two-deep, the 11 listed starters have an average age of 26.6 years and an average experience level of 5.09 years. And that's including 13-year veteran Ryan Pickett, who is 33.
Gone are veterans Desmond Bishop and Charles Woodson, leaving linebacker A.J. Hawk as the longest tenured linebacker at eight years. Brad Jones and Clay Matthews are in their fifth year while Nick Perry is in his second. Behind them on the depth chart are rookie Andy Mulumba, Robert Francois (four years), Jamari Lattimore (three) and Dezman Moses (two).
Despite what the averages are, Hawk doesn't feel his group is young at all.
"With how our (linebacking) room is set up, there's no more young guys anymore," he said. "Our team is young and obviously I'm definitely one of the older guys, but I feel like even if a guy doesn't have any – like Sam (Barrington), he's the only guy in the room I guess with no real reps in a regular season game – he doesn't feel like a young guy, though. He's been here. With the offseason program and everything we do, no one feels young. Everyone knows what they're doing. And you have four preseason games to get it right, too."
The secondary is even younger. Cornerback Tramon Williams is 30 years old and in his seventh season. Then you have Morgan Burnett and Sam Shields (four years) and M.D. Jennings (three). They know they will undoubtedly make mistakes, but can't lean on their youth as a crutch.
"You just gotta understand your job, stay in the playbook, stay focused," Jennings said. "Don't just be out there lost. We just gotta stay focused, read your keys and see the whole field. Just don't get tunnel vision. You just gotta understand that this is your job and you gotta be a professional and just basically, grow up fast."
Believe it or not, the second 11 on the defensive depth chart are younger, with an average age of 24.5 years and an average experience level of just 2.09 years.
To a man, they all feel that one word is what will help them minimize the mistakes they do make: Communication.
"We talk about it as a group all the time, about everybody on the back end being on the same page," Jennings said of the secondary.
"As long as all of us are on the same page and don't give up anything over the top. If we give up a little hitch route or something like that, we can make a tackle and get back in the huddle. But if you give up something deep, it's a touchdown. So, we make sure everyone on the back end is on the same page with verbal communication and using our hand signals."
As for the linebackers in Dom Capers' 3-4, Moses added: "Like A.J. said, we have played and we've played together. One of the things that we really emphasized and made a point to do is communicate, no matter what the look is. As long as everyone is on the same page, it allows you to play together. It may not be the perfect call, but if all 11 people on defense can do it at the same time and be where they need to be then things tend to work out that way. I think that's what he meant by we still gel and work together, all units, I think it's going to allow us to be a pretty good defense this year."
Moses continued: "You're going to make mistakes, you just really want to keep those to a minimum. Whether it's a 7-yard gain, you want to obviously keep those to a minimum. Ten yard gain to even more of a minimum.
"But you always want to live to play another down. If you can get a guy down, whether it's a big play or not, you can move on to the next play and make a play. Our defense tends to get a lot of turnovers, so if you can just live to play another down and we have a chance to make a play and still be successful on that drive."
Facebook Comments
Disclaimer: Please note that Facebook comments are posted through Facebook and cannot be approved, edited or declined by OnMilwaukee.com. The opinions expressed in Facebook comments do not necessarily reflect those of OnMilwaukee.com or its staff.