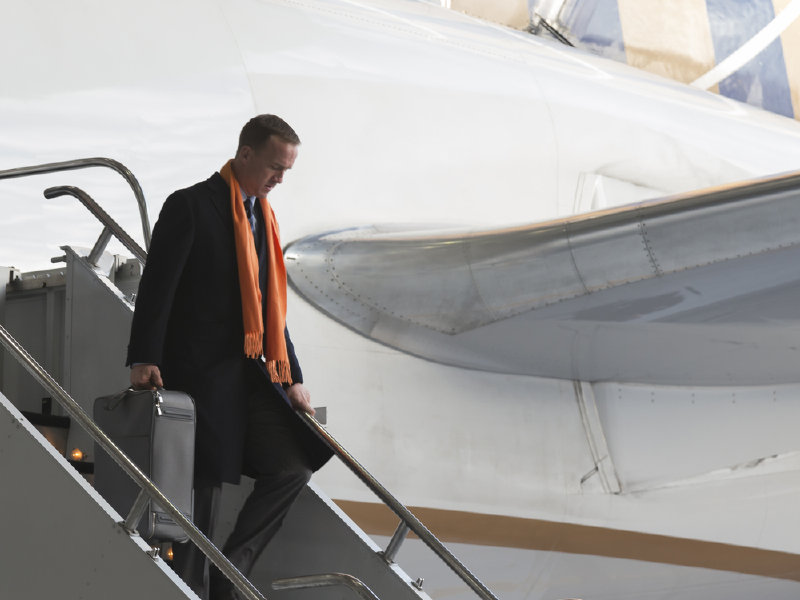 Manning's legacy cemented
Rushing around the right edge of the Denver Broncos' offensive line, Cliff Avril got pushed up into the pocket. Peyton Manning's right arm never rotated, his eyes closing and a wide grimace spreading across his face as Avril's left arm swung into Manning's own arm path.
The ball fluttered in space. Malcolm Smith cut in front of a stationary Knowshon Moreno to intercept it and return it 69 yards for the backbreaking score in Seattle's stunning 43-8 victory over Manning's Broncos in Super Bowl XLVIII at MetLife Stadium in East Rutherford, N.J., Sunday night.
It might be the lasting image of future highlights of that Super Bowl, especially since Smith went home with Most Valuable Player honors.
It is the lasting image for those trolling the Twitterverse, the instant GIF makers, the Facebook proselytizers.
But they are wrong in saying it's the defining image of Manning and his career.
Simply, Manning is the greatest quarterback in National Football League history.
A second Super Bowl loss in his third trip does not remove the one Lombardi Trophy he hoisted out the histories. The records he set this past season (and will continue to set should he keep playing) aren't rendered meaningless.
There are reasons why Seattle destroyed the Broncos Sunday night. The way they affected Manning was one of them.
It doesn't alter the 37-year-old's legacy.
This was one of the biggest talking points leading up to Sunday; the "what if" elements of winning and losing.
Well here we are. It's over. Manning quarterbacked a losing team. Its impact is the same as if he had won the MVP for the winning team.
Greatness is not solely measured on championships. It's an appropriate tie breaker.
For instance, when LeBron James' career is over, people will wonder if he's the greatest player of all time. His body of work over his career, the way he dominated, will match closely with that of Michael Jordan. So then you need a tie-breaker. Who won the most titles?
Who was better, John Elway or Brett Favre? They were similarly-outfitted gunslingers, mobile quarterbacks before that became a "thing," holders of cannons, lifting teams to great heights. Favre retired with the important passing records. Ah, but Elway went to five Super Bowls and won two. Favre? Well, that ends that debate.
See, championships aren't the end all, be all.
Jim Kelly appeared in more Super Bowls than Manning. Is he better? No.
Eli Manning, Jim Plunkett, Bart Starr, Roger Staubach and Bob Griese each have won one more Super Bowl than Peyton Manning. Are they better? No.
So what are we talking about here? We're talking about Peyton Manning "against" Elway, Tom Brady, Troy Aikman and Joe Montana.
While Manning never possessed the physical gifts of Elway, he is without question the better quarterback. The things we bestow upon Montana, Brady and Aikman – the great poise, the precise accuracy, the innate ability to lead teams to victory – Manning is better than all of them.
First, he passes the eye test over the three.
Second, the numbers back it up.
Aikman: He doesn't belong in this conversation, but his three rings force him into it. He was great, but also was part of great teams. He only led 16 fourth quarter comebacks and 21 game-winning drives in his career. His career rating is just 81.6, and for all the talk of his touch, he completed only 61.5 percent of his passes. Very, very good – but not on par with Manning, Brady and Montana.
Montana: He was my all-time No. 1 for as long as I can remember. He was great, but time has made him greater than he actually was. He never threw for 4,000 yards (he got close, once). He only threw 30 touchdowns once. He only played four complete seasons (I consider that 15 or 16 games) as a starter five times in 15 years. His completion percentage and rating are lower than Manning's. And, he played many of his years in the non-free agency era. The 49ers were built to be great, and they stayed that way for much of his injury-plagued career.
Brady: Ah, Manning's nemesis. They play in the same era. Brady seems dominant, yes? Yet they've gone 2-2 against each other in the playoffs. That's not a landslide, folks. You say Brady has been to five Super Bowls, and won three. True. But his career doesn't stack up. Brady completes fewer passes (65.5 to 63.4 percent), his rating is lower (97.2 to 95.7) and Manning has led his team to more fourth quarter comebacks (40 to 31) and game-winning drives (51 to 42).
Brady is a Hall of Famer (though I must note that the Patriots have not won a Super Bowl since they were caught in one of the greatest cheating scandals in American sports history, and since that was discovered, the Brady-led offense has puttered along in his two Super Bowl losses without that advantage) but that doesn't knock Manning's legacy.
If anything, it enhances it.
Since Manning's rookie year in 1998 – 16 years ago – only eight AFC quarterbacks have led their team to a Super Bowl. Since the 2002 season, only four have done it – Manning, Brady, Roethlisberger and Joe Flacco. Only three have gone to multiple title games. You know who they are.
Manning is playing the era of quarterbacks. The game is now tailored that way. But, unlike say, Aaron Rodgers, Manning was the bridge to the past when receivers and quarterbacks could be hit, to the game that it is today.
Elway's last year was Manning's first. Dan Marino, Steve Young and Aikman were still in the league, too. Brett Favre was in his prime.
Manning helped change the game over the better part of two decades. His longevity, the fact that he won league MVP's at the ages of 27, 28, 32, 33 and 37 bears that out.
And, he did win one Super Bowl. Only 31 quarterbacks can say that. He's appeared in three. Only nine can say that. (Oh, he's also played in five AFC Championship games).
He passes the eye test. He passes the numbers test. And the cherry on top is the one ring he does have. Peyton Manning. Greatest of all time.
Talkbacks
TosaJim | Feb. 3, 2014 at 2:51 p.m. (report)
He's a great quarterback and a pretty decent human being too...I only wish he'd retire before he get injured again and ends up crippled for life.
Facebook Comments
Disclaimer: Please note that Facebook comments are posted through Facebook and cannot be approved, edited or declined by OnMilwaukee.com. The opinions expressed in Facebook comments do not necessarily reflect those of OnMilwaukee.com or its staff.