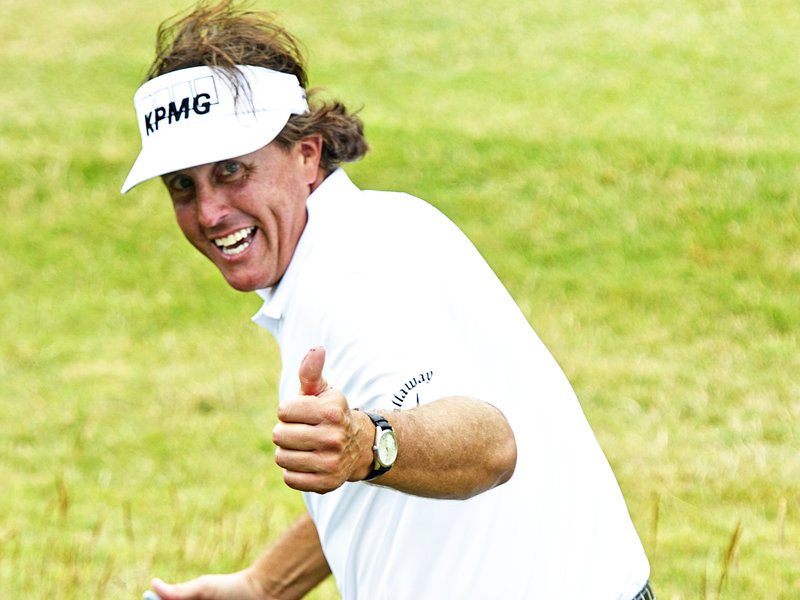 Mickelson's U.S. Open quest great theater
It's interesting what you miss when you're late the party.
Perhaps it's the inside joke that's already circulated, or the funny story. As time goes on, you get bits and pieces of it, enough to know the gist of it and fake a laugh and nod in agreement if referenced, but you don't quite get it until a friend fills you in later.
I feel that way about Phil Mickelson's quest to win a U.S. Open.
I didn't really get hooked on the game of golf, as a fan and a player, until 2000 when Tiger Woods won nearly every tournament he played, and becoming the only play to hold all four major championship titles at one time.
I freely admit that I was a casual fan, tuning in only to watch him beat everyone's brains in. But, because of Woods' dominance, I began to learn more about the tragic figure in the shadow, Mickelson – The Best Golfer Without A Major.
I didn't watch the 1999 U.S. Open at Pinehurst No. 2 live, where Payne Stewart simultaneously broke Mickelson's heart and lifted his spirit with that iconic moment on the 18th green.
But, I've seen it so often in replays now that I feel that I have.
So much has changed since then.
It was Mickelson's first U.S. Open runner-up, and it would take him nearly five more years before he finally did get his major. He's won four more, since, though he has piled on an additional five runner-ups at the U.S. Open.
Woods has been a non-factor in majors since the 2009 PGA Championship, and hasn't won since '08. He is missing this tournament following back surgery.
The best players in the world are younger, and frankly better, than those two.
Yet here we are, and all eyes are on Mickelson.
With all the run up to this week, which really began immediately after his surprising British Open victory last July, one might think he is still the best player to never have won a major. It's almost like his other five don't count, in a way.
I get it. I mean, he's lost so many U.S. Opens in such spectacular and improbable fashions that those failures, really, overshadow his tremendous success between the ages of 34-43.
And that's what has made him, and this chase of his, a far more compelling storyline than Woods' prenatally determined path to Jack Nicklaus' record of 18 majors.
Woods is the greatest golfer of all time, without debate. Time will prove that his body failed him, preventing him from winning 19 majors – much like one lost season to injury and three intermittent retirements kept Michael Jordan from rising to the top of any statistical category in the NBA.
Look it up. Jordan doesn't hold any real substantial career records, but no one doubts he's the greatest of all time. Woods is in that category.
Then there's Mickelson.
He was never Woods' foil, or rival. He, along with Ernie Els, are the other great players of the era. Their major totals might well be doubled if not for Woods. In many ways, he was considered an underdog when in any other era he'd be the Alpha.
All of that plays into why his quest for this one particular trophy, this one particular tournament, has been a far more compelling story to watch develop over the last two decades than anything else in sports.
It's all the pressure he puts on himself. It's about him playing so brilliantly, and then so stupidly. It's about losing, and handling it with such class publicly. It's about the near misses (pick one) and the lost causes (remember no driver in 2008?).
What this week has proven – and what next week will illustrate should he win – that it was never about Mickelson winning a major. It's been about Mickelson winning this major.
Today's notable tee times:
11:52 a.m. – Mark Wilson, Joe Ogilvie, Ken Duke
12:03 p.m. – Steve Stricker, Jim Furyk, Bill Haas
1:36 p.m. – Phil Mickelson, Justin Rose, Matthew Fitzpatrick (a)
Facebook Comments
Disclaimer: Please note that Facebook comments are posted through Facebook and cannot be approved, edited or declined by OnMilwaukee.com. The opinions expressed in Facebook comments do not necessarily reflect those of OnMilwaukee.com or its staff.