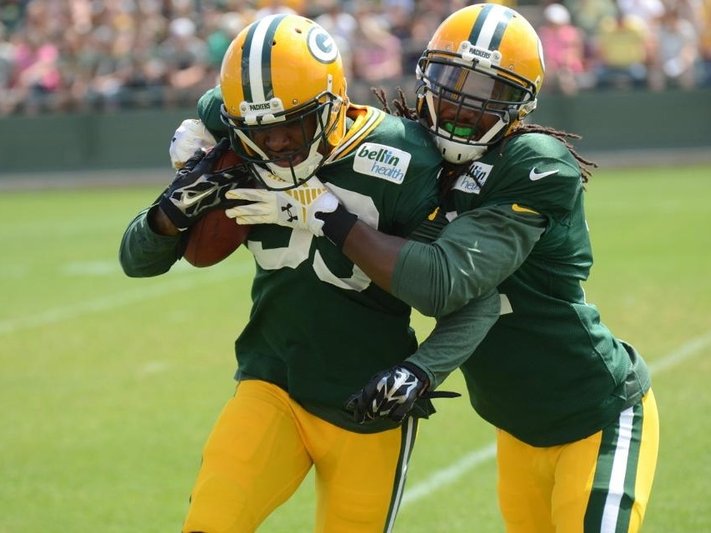 Packers players, coaches, looking forward to preseason opener
GREEN BAY – Defenders focus on their technique, visualizing a ball carrier in the 15 pound, foam stuffed pad a teammate dragged sideways to simulate a ball carrier moving laterally across the line of scrimmage. Their arms spread, they wrapped quickly and spun over the top of the pad – ideally exposing the imaginary football for a potential fumble being forced.
In pads, in live action however, technique has to be forgotten somewhat.
Linemen work on hand and feet technique – but not too aggressively – and would-be tacklers need to remember to "thud up" in the shoulder pads rather than bring down.
"That's what camp's about," Packers corner back Tramon Williams said. "Great competition both sides of the ball. Everyone's competitive. We going after each other. That's what it's about. But at the end of the day, we're teammates. We still want to keep each other safe at the same time. So, we just gotta do what we can do."
Sometimes it forces a defender to swallow his pride, when an offensive player puts on a spin or a juke to finish a play and cross the plane – drawing gasps and applause from the fans that line Nitschke Field at training camp.
Like when 229-pound Eddie Lacy did that to Williams last week.
"I'm 185 pounds –Eddie's a lot bigger than me," Williams said with a smile. "It's just one of those things."
If it was a game, though?
"Oh, he's going to the ground," Williams said. "First of all I'm not going to hit him up there. In practice we have to thud him up than go down low, so definitely going to the ground and hitting him in the ankles."
He laughed, but it proves why Packers defenders are looking forward to Saturday night's preseason opener – no matter how little, or how much – they actually play.
In the past, the Packers' Family Night exhibition used to provide an early outlet for traditional contact, but that was eliminated this year in favor of a standard practice.
"When it's all said and done, we're all one team, and you don't want to go out there and beat up your own team like it's a real game, so, I like the form of practice right now," Williams said. "You still get to work on different things, different situations, and just like I said earlier, we're one team and we don't want to hurt each other at that point. We're still going to be competitive but we're not going to hurt each other."
Saturday night will be the first time technique can be put into practice.
"I think it's definitely important coming into these preseason games to get your tackling down – we don't do that," Packers safety Micah Hyde said. "We used to do that in the family night, but we don't do that no more. So, it's going to be good to go out there and get guys on the ground because come regular season we need to be able to do that. We don't do that anymore in practice, so this preseason it's going to be important to tackle."
Even some offensive players are looking forward to letting out some aggression, but also to work on ball control in such situations. After all, they're not being hit, either.
"Definitely. For sure," tight end Brandon Bostick said. "You can do things you wouldn't do to your own teammates."
He chuckled a little.
"It'll be good to do it against another team and compete."
The Packers coaching staff is also looking forward to the first game action of 2014 after an offseason of change.
Former running backs coach Alex Van Pelt is now working with Aaron Rodgers and the quarterbacks, and will be side-by-side with the players on the sideline. That means offensive coordinator Tom Clements is moving up into the coaches box for the first time. Sam Gash (running backs), Luke Getsy (offensive quality control) are also new to the communication chain offensively.
Winston Moss, now the assistant head coach who also works with the linebacking group, has Scott McCurley helping him with that position after being a quality control coach.
Ron Zook is new as a special teams assistant and Jason Simmons is on board as a defensive and special teams assistant after being a coaching administrator. John Rushing is the new defensive quality control coach after working on offense the last several seasons.
"The thing that makes the process work the best is the efficiency and the speed of the information," head coach Mike McCarthy said. "I think it's like any job – you're only as good as the information you're given; the accuracy and the timing. That's what I'm looking for."
As the play-caller, McCarthy is excited just to map out a game plan and direct the action for the first time since the team's January 5th playoff loss to San Francisco.
"Absolutely. Absolutely," he said. "Preseason, to me, I'm really looking forward to the game Saturday on a number of fronts. But for me personally, I'm excited to go call a game. It's awesome to call an offensive football game in the NFL. I've always enjoyed it and as a young coach you always aspire to be the play caller. So yeah, definitely.
"I'm looking forward to getting in there and competing and making sure I'm giving the quarterbacks and the offense clean plays and an opportunity (to score). Yeah, definitely, I gotta get back in a rhythm and get back into study patterns. I think every head coach in the league goes through it. During training camp you are stretched in different directions and that's no different for me this week."
Facebook Comments
Disclaimer: Please note that Facebook comments are posted through Facebook and cannot be approved, edited or declined by OnMilwaukee.com. The opinions expressed in Facebook comments do not necessarily reflect those of OnMilwaukee.com or its staff.