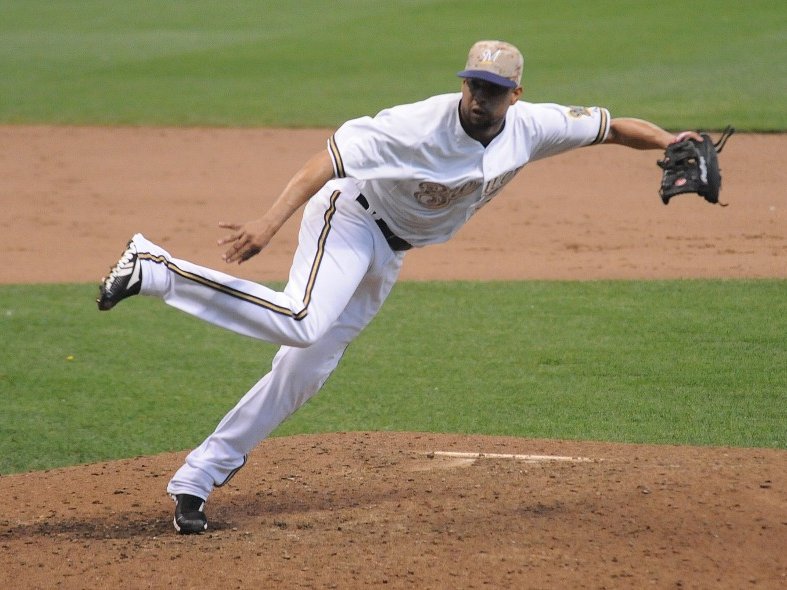 Ramirez, K-Rod appreciate all-star berths
Aramis Ramirez broke into the major leagues at 20 years old, when Bill Clinton was President of the United States and gas was $1.10 a gallon. Francisco Rodriguez also debuted at 20, and gas had skyrocketed to $1.43.
While Rodriguez's impact on the game was more immediate – "K-Rod" was born in the fall of 2002 as he helped the Los Angeles Angels of Anaheim win the 2002 World Series – Ramirez didn't hit his stride as one of the National League's premier third baseman until he was 23 and hitting 34 homers and driving in 112 runs for the Pittsburgh Pirates in 2001.
His profile nationally blossomed in the summer of 2003 when he was traded to the Chicago Cubs as they made their push for their first World Series berth since 1945. A year later he finished in the top 10 in the Most Valuable Player voting and in 2005 he made his first all-star team.
Rodriguez earned his first all-star berth in 2004 and finished that year fourth in the American League Cy Young voting – despite not being the Angels' closer. In 2005, however, he assumed that role and led the AL in saves with 45 while striking out 12.2 batters per nine innings.
Since then, Ramirez won a Silver Slugger in 2011 and led the NL in doubles in 2012. Rodriguez set the major league record for saves in a season with 62 in 2008 and led the league in games finished with the New York Mets in 2009 – which was also the last time he appeared in an all-star game.
Ramirez last played in the midsummer classic in 2008 (though in 2011 he declined an invitation to replace an injured player due to his previous travel plans).
Yet here they are, Ramirez at 36 and Rodriguez at 32, back in the spotlight in Minnesota this week as members of the Milwaukee Brewers.
"I think it's great," Brewers manager Ron Roenicke said. "These guys, for a while, when you talked about the best guys at their position, these guys were always brought up. Then, not that they haven't been good players for the last four, five, six years – has it been six for Frankie? – but when you go that span for a while then you kind of forget about it.
"I mean you know they're still there, but you forget about them being one of the top notch players and then all of a sudden they come out and boom, they're on a team again. It's great. Rami's got his kids that will come. I'm sure Frankie will bring his family there, too. So I think it's great."
Rodriguez laughed, remembering that his first All-Star ticket was punched a decade ago."That show me I'm old!," he said. "That's not good, though. But don't forget I'm still 32. I got the opportunity to be blessed to be in the big leagues at 20 years old. Obviously it's a blessing. After you played 10 years in the bigs, after that everything is a plus pretty much."
Ramirez was able to measure the time passed by his kids, Aramis Jr., Michael and Cristal.
"Yeah, the last time I went they were little," he said. "Now they can enjoy it a little more. It's just a good stuff for the family."
Ramirez is having a bounceback season after an injury-plagued 2013 when he played in just 92 games – just the second time in his career as a full-time player that he played less than 100 games.
"It means a lot because I got hurt this year, too," he clarified. "I missed a month this year (with a hamstring), come back, doing pretty well, the team is doing pretty well and it's just special.
"Last year I wasn't healthy at all. This year I feel a lot better physically and mentally and you see the results. Shen you're healthy, you're going to perform. When you're not, it's tough. And that was the case last year."
Rodriguez's journey has a bit less linear since he left the Angels to sign a three-year, $37 million deal with the Mets in 2009. He saved 35 games and made his last all-star appearance that year, but in 2011 it became clear the Mets wanted to shed his salary – and the Brewers brought him in to fortify the bullpen in front of closer John Axford.
Rodriguez remained in that role with the Brewers 2012 and again in 2013, until he was put back in the closer's position to boost his trade value. He was dealt, to Baltimore, where he posted a 4.50 earned run average in 23 games.
He had to wait until February before re-signing with Milwaukee, with the idea that he would be setting up Jim Henderson. He was late to spring training because of issues getting out of his native Venezuela, and then he stepped on a cactus – the last spines of which were finally removed in May.
"It was tough earlier," he admitted. "First since January all the way to we break camp, but like my mama used to tell me – and I never believed her – after the storm, it comes the rise. So you gotta patient. Just wait, wait, and when the sunshine comes out, make sure you take advantage of it. And that's pretty much what I did."
Since assuming the closer's role in a surprise move on Opening Day leads the league in games finished and has 27 saves with a 2.28 ERA.
"After 10 years, everything is a plus," he said. "I've been through a lot of adversity over the course of my career and I've been down, I've been up, I get up, I keep walking, and I'm going to continue to do that. Definitely a lot of adversity that I got before and just passed through it and keep moving forward. It's nothing more exciting and happy to see the result after all the struggles I had in the past."
Facebook Comments
Disclaimer: Please note that Facebook comments are posted through Facebook and cannot be approved, edited or declined by OnMilwaukee.com. The opinions expressed in Facebook comments do not necessarily reflect those of OnMilwaukee.com or its staff.