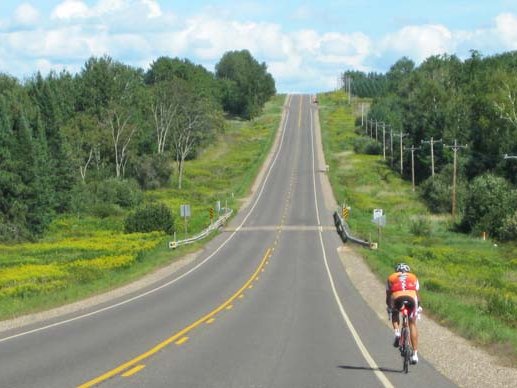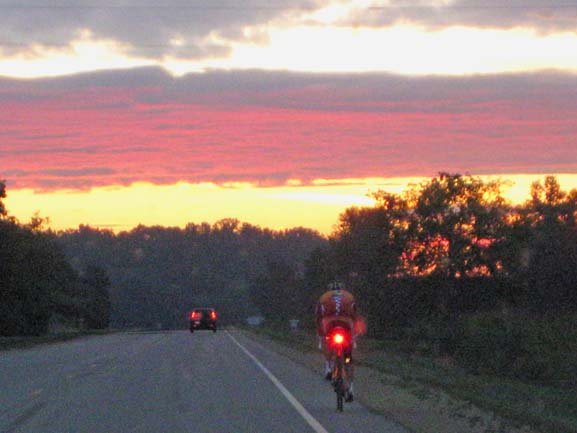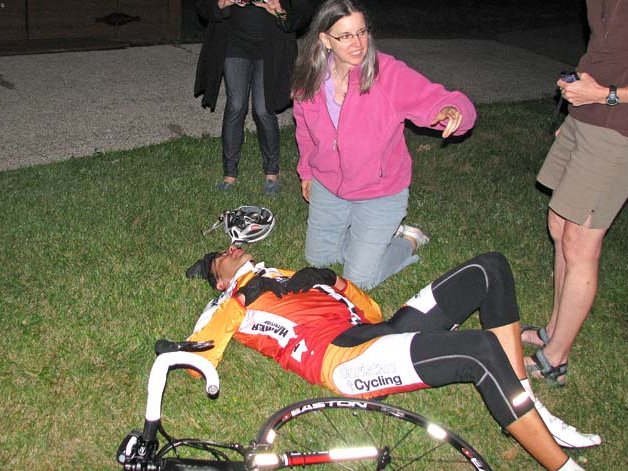 Cyclist credits faith for ride across Wisconsin
Mark Ehlers wears his faith prominently on his cycling jersey, yet he didn't strike a Tebow-esque pose at the end of his record-setting ride across Wisconsin.
He was too exhausted, physically and emotionally.
The 54-year-old from Milwaukee collapsed to the ground in Marinette, after completing a 298-mile journey guided by his desire to make a mark as an ultra-marathon cyclist and his commitment to Christianity. He thanked the Lord not from a knee, but from his back.
Ehlers' ride from border-to-border on Aug. 19 took 19 hours, 43 minutes, but actually spanned three decades, from the time he first found a passion for long-distance cycling.
"The first year I did a century ride, I was a welder in a factory and I didn't like my job," Ehlers said. "I wanted to do something for myself when I had free time. It was kind of taking control of the part of my life that I could control, and doing something that I enjoyed."
For a decade, the Wisconsin Lutheran High School alum devoted himself to the endurance sport. He organized and competed in the Race Across Wisconsin from 1984 to 1987 and attempted to qualify for the Race Across America. After a decade and thousands of miles, he burned out, left his job at Rainbow Jersey and pursued other interests, not all of them healthy or positive.
"I wasn't walking with the Lord anymore; partying a lot after I gave up cycling," he said.
Two discoveries brought Ehlers back to marathon cycling: his wife, Linda, and the faith he found through Eastbrook Church in Milwaukee. Linda encouraged him to start riding again and Christianity gave him the strength to log thousands the miles necessary to accomplish something significant on the bike.
"I realized that I still had a hunger for it," he said. "I felt compelled to try it again.
"I knew that I had a couple things going for me this time around. I had a wife who helped me keep things in check, keep things balanced, and I was now walking with the Lord, so I knew who to go to for strength."
Three years ago, Ehlers targeted the record for a west-to-east ride across Wisconsin. Fred Boethling, from Boulder, Co., set the mark of 19 hours, 55 minutes on Sept. 28, 2002. The records are verified and maintained by the UltraMarathon Cycling Association.
As he trained, Ehlers scouted the route, worked as a mechanic at Wheel & Sprocket in Fox Point and shared his faith. He wore the jersey of the International Christian Cycling Club and named his weblog the Prodigal Cyclist.
To add meaning to his ride, he sought contributions for every mile to raise money to support church member Abbey Gottinger on her mission to help refugees in Frankfurt, Germany.
Ehlers started his record ride in Prescott at 3 a.m. on Aug. 19, with pedals and prayer.
The forecast had promised a tail-wind from the northwest, but the gusts instead blew from the north and slowed his progress. At the half-way point, his average speed was 14 mph, below the pace necessary to beat the record. Discouraged, he considered stopping.
Crew chief Chris Larson, a fellow member at Eastbrook, provided the words to keep him going.
"I told him he would hate himself if he didn't push himself to go as far as he can," Larson said. "Besides, 'if you don't, I'm going to hit you.'"
Remarkably, he picked up the pace over the last 100 miles and approached Marinette slightly ahead of Boethling's mark. His wife, riding in a support car, implored him to keep pushing through the darkness.
Ehlers remembers feeling overwhelming exhaustion and a sever cramp in his left leg. He wanted his wife to stop nagging. He wanted to be done.
What he wanted more was to accomplish something, and to reward the people who supported him and prayed for him.
"When I started riding in the '80s, I thought I wanted to do something significant with it," he said. "I never really did anything that I felt proud of, then this came around.
"What was important for me was to make an official mark; that mark Ehlers is an ultra-marathon cyclist. It was all that I wanted, and it was plenty."
Larson observed every mile of Ehler's ride, and was impressed by both his physical and spiritual effort.
"Mark is a very honest and sincere person and he really did want this to be a meaningful ride," Larson said. "He didn't want to let Abbey down. He didn't want to let his crew down. I guess it's his character that really came through here."
rxasqyrbsywueybdbszurcacbwezse
Facebook Comments
Disclaimer: Please note that Facebook comments are posted through Facebook and cannot be approved, edited or declined by OnMilwaukee.com. The opinions expressed in Facebook comments do not necessarily reflect those of OnMilwaukee.com or its staff.