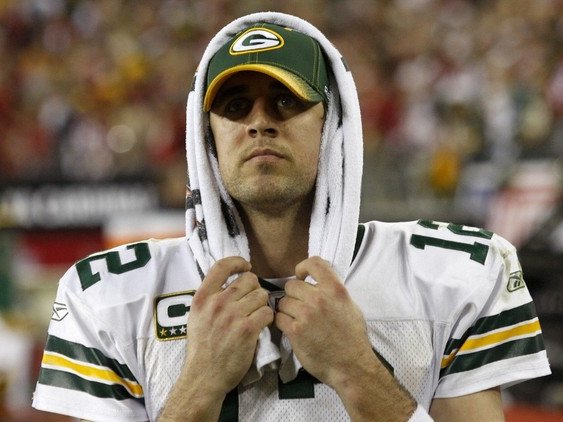 Rodgers played great, but not a great player ... yet
When he had to make the biggest pass of his young life, Aaron Rodgers overthrew it.
On the first play of overtime, with Greg Jennings wide open and nobody between him and the goal line, Rodgers threw a pass that was several steps too far.
It wasn't the worst pass in the world. But given the situation and the stakes, it was the kind of play that keeps a player from being called a great player. A good player, yes. A great player? Not yet.
Rodgers played a great game against Arizona and ran up incredible statistics. He led his team. He made tough passes and spread the ball around. But he missed on the big one.
And just for the sake of getting under everybody's skin, I will maintain that Brett Favre doesn't miss that pass.
Rodgers and his team staged a stirring comeback. The offense was great, even if they were the second best offense on the field that day. The defense stunk, but both defenses stunk. You don't give up yards and points like that and preserve the right to call yourself much of a defense.
It wasn't Aaron Rodgers, though, who lost this game for the Packers. There was no single thing responsible for the loss, unless you want to say that the injury weeks ago to Al Harris was that thing.
With Harris and Charles Woodson at the corners, the Packers were able to do a variety of other things with the rest of their pass coverage. But with Harris out, the options became limited and Kurt Warner just carved up that defense.
There's going to be lots of talk about interceptions, fumbles, dropped passes, bad passes, missed field goals, slipped tackles, blown coverage and bad calls. But none of that matters, really.

If it's true that adversity either kills you or makes you stronger (and I think that is true) then the Packers, while sad, can take a lot out of the loss to the Arizona Cardinals. Green Bay has become a good football team. Not a great team, but clearly headed in that direction.
One of the things you learn when you've been around sports for a long time is to not dwell on the past. Learn from your mistakes, but move on. If you don't keep moving ahead, then the rest of the world is likely to pass you up.
In that spirit we need to look at the Packers and what the things are that they are going to need to keep moving forward.
If you have to rank need, then the offensive line is at the very top. The odds are that both tackles, Chad Clifton and the resurrected Mark Tauscher, are either at or near the end of the line. Ted Thompson has to pay close attention to the offensive line and give good long looks at a few of the free agents who will be available, as long as the collective bargaining agreement is in place.
I also think hiring a psychiatrist to help Mason Crosby remember how to find the distance between the goalposts might be a wise move.
I think everything else on offense is pretty solid. On defense, if they are going to stick with the 3-4, they might want to look at somebody to replace the slow footed A. J. Hawk. Hawk has never lived up to his billing and he's weak in pass coverage and in chasing down running backs.
After that, I think it's an issue of drafting and signing free agents for depth and for development. If Favre retires from the Vikings after this season, the Packers will be clear favorites to win their division next season. Even if he returns, there's a chance Green Bay can battle with Minnesota for the division title.
Facebook Comments
Disclaimer: Please note that Facebook comments are posted through Facebook and cannot be approved, edited or declined by OnMilwaukee.com. The opinions expressed in Facebook comments do not necessarily reflect those of OnMilwaukee.com or its staff.