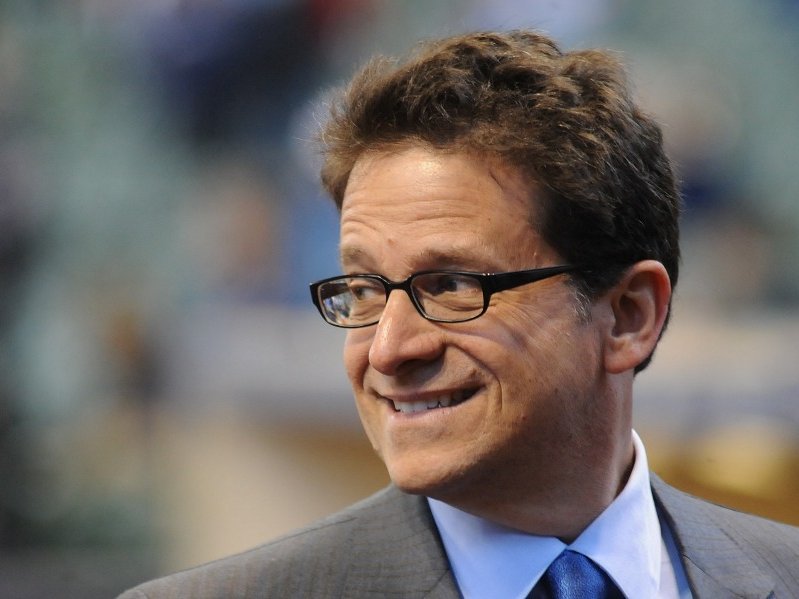 Attanasio now has a difficult decision to make with Braun
Just like that, Mark Attanasio found himself on an island.
No other owner in major American team sports has ever been put in the situation the Milwaukee Brewers' principal owner was dropped into when he learned of Ryan Braun's decision to accept a 65-game suspension for violating Major League Baseball's joint drug agreement.
Never has an owner watched his star player, the man his entire club is built around, be ushered out the door in this fashion.
In the NFL, suspensions for violating the league's PED policy is a necessary inconvenience and perhaps even an expectation. Even then, no elite quarterbacks have been suspended.
In the NBA, only eight players have been suspended for PED use since 1999, and none were players of note.
In the NHL, which began testing for PEDs in 2005, only one player suspended since that time.
Baseball is the exception.
Men once crowned the greatest of all time, future Hall of Famers, have been linked to performance enhancing drugs steadily since androstenedione was first noticed in Mark McGwire's locker in 1998. Since then, many of those names have been investigated by the federal government, failed tests or even admitted using.
But none were Braun.
None were 29 years old at the time of the suspension, two seasons removed from a Most Valuable Player and one season removed from another MVP-type season. None had seven years and $113 million dollars waiting for him upon his return to the team. None was right in the middle of his prime years. None had the business and charitable roots deeply embedded in the city in which he played.
This is Attanasio's predicament.
Does he ride this out, as long as Braun is a productive player? Or does he take unprecedented action in distancing his baseball club from an admitted violator of the league's Joint Drug Agreement?
There is no road map here, no experienced owner to lend advice on how to manage this situation – both publicly and personally.
You might tell him to look nearly 400 miles north of his Los Angeles-based offices, to his colleagues in San Francisco. After all, they dealt with Barry Bonds.
But no, Bonds did not put former San Francisco Giants principal managing partner Peter Magowan in Attanasio's shoes. There was no test for PEDs until 2003 and no penalty for failed tests until 2004. And while Bonds was investigated by the federal government for his involvement in the BALCO lab as far back as 2003, his career was essentially over at the age of 39 following the 2004 season. He missed nearly all of 2005 and his combined numbers from 2006-07 (.273 average, 54 homers, 143 RBI) were on par with his single-season totals from 2000-04.
No, he was no longer a franchise player.
Neither were Sammy Sosa, whose last effective season was in 2004, McGwire, whose was in 2001, or Rafael Palmeiro, whose was in 2003. Manny Ramirez may have tested positive during baseball's survey testing in 2003, but he was not suspended for anything until he was 38 years old.
Perhaps David Ortiz fits in this category, but even Big Papi did not acknowledge his positive test from 2003 until six years later, when he was 33 and had turned over lordship of the Boston Red Sox fiefdom to Dustin Pedroia.
Roger Clemens was done as a full-time pitcher after the 2005 season, at the age of 42. Andy Pettitte might be a New York Yankees legend, but his admission in 2007 came when he turned 35.
There is no one to turn to with this current mess.
Alex Rodriguez? He's a 37-year-old with two bad hips and hasn't been effective since 2010. No one in New York likes the man. Bartolo Colon? Jhonny Peralta. Who?
It was easy for those ownership groups to ride out the last years of contracts handed out long ago, wash their hands and say "Hey, we didn't know" and then watch those players leave alone into the night.
That, assuredly, is not this.
Braun is the unquestioned public face of the Brewers. And he will be allowed by Major League Baseball to start fresh in 2014. But make no mistake – this is Attanasio's baseball team. Players come and go every year. How he chooses to handle this is will set a precedent for all of team sports. Braun will not be the last franchise player to be tainted in this way, but he is the first.
His statement on the matter offers a hint at how he will handle this:
"We are disappointed with the news today of the suspension of Ryan Braun and his admitted mistakes. It's clear that Ryan used bad judgment, but we accept his apology and believe that he should be given the opportunity to redeem himself.
"We have always been and continue to remain strong supporters of Major League Baseball's Joint Drug Testing Program, an initiative that strives to ensure the integrity of the game."
On the surface, this means Braun will be a Milwaukee Brewer on Opening Day of next season, and be allowed to prove that only 2011 and 2012 were marred by PEDs, not the balance of a professional career that began in 2005.
Should Attanasio choose to pursue this route, no one will blame him. After all, that $113 million is spent, and you can hope the future is as bright as the past. It also follows suit with other sports owners who see their brand tarnished.
But it is just a day after the news broke. Opening Day of 2014 is a long, long way away. In that time, Attanasio could do what no owner has ever done. He could be angry, and hurt. He could let Milwaukee, and all of baseball, know it, with a strong verbal undressing of the man he invested so much into, but one who will be back.
He could decide to take that to another level, to determine such a player is not the public, daily face he wants representing his ballclub. The money is spent, after all, and any player can be traded. No one would blame him there, either.
I'm not sure what Attanasio should do here. It's a high fence separating those two paths, and I'm sitting square on it.
This is an inherently personal business decision being played out in the most public of settings. Attanasio is the first to have to ever make it. We can only sit and wait to see which road he chooses.
Facebook Comments
Disclaimer: Please note that Facebook comments are posted through Facebook and cannot be approved, edited or declined by OnMilwaukee.com. The opinions expressed in Facebook comments do not necessarily reflect those of OnMilwaukee.com or its staff.