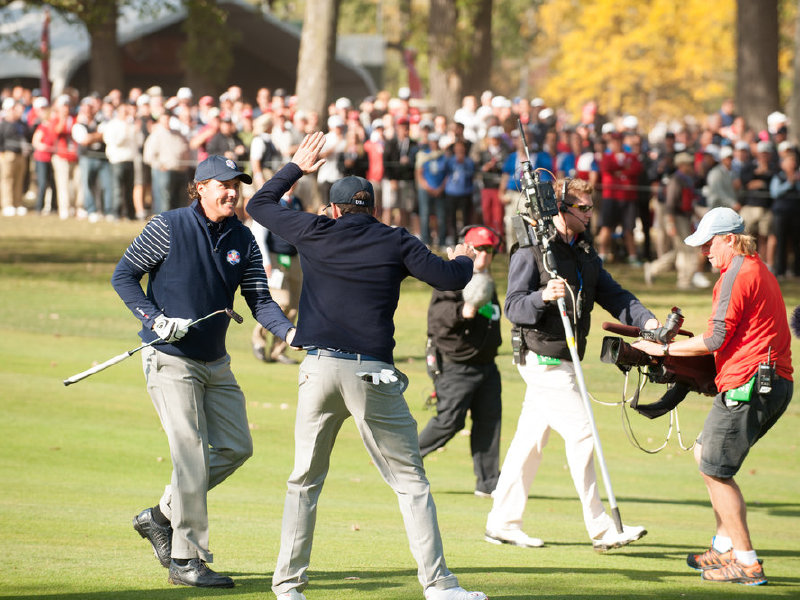 Present paints a new picture of the past at the Ryder Cup as U.S. leads
MEDINAH, Ill. – Day two of the 2012 Ryder Cup is in the books at Medinah Country Club in the west suburbs of Chicago, and the United States holds a 10-6 lead over the Europeans with 12 singles matches Sunday. To win the Cup, the U.S. needs to earn only 4 ½ points on Sunday.
"We are going to have a fun night tonight and just come back out tomorrow a little bit more rested, because we had some guys sit out today and then we get to sleep in in the morning," U.S. captain Davis Love III said. "I'm just excited that these guys are having this much fun."
The U.S. holds the record for largest comeback in Ryder Cup history when it erased a four point deficit in 1999.
With a U.S. victory likely on the horizon, the present state of the match begins to color the past a bit differently.
The last four years
How differently is 2010 beginning to look?
The Europeans reclaimed the Cup back from the United States with a hard fought, 14 ½ - 13 ½ victory in Wales, but now that the U.S. is on the verge of winning two of the last three, perhaps it can be said that the Americans have put together stronger teams over the last four years despite three Europeans holding the number one ranking in the world in that time.
So, let's look back at the last two full tournaments and two days.
Of the 12 Europeans participating this week, six competed in 2008 and nine played in 2010. Donald missed 2008 due to an injury while Rose and Garcia did not earn their way to the team two years ago.
Here is how the members of Europe have performed from 2008 through Saturday, excluding rookie Nicolas Colsaerts.
Peter Lawrie: 0-2
Francesco Molinari: 0-4-1
Sergio Garcia: 1-4-2
Peter Hanson: 1-4
Lee Westwood: 3-5-1
Martin Kaymer is 2-2-1
Rory McIlroy: 4-3-1
Luke Donald: 4-3
Graeme McDowell: 5-4-2
Simply, the dominance is no longer there. Only the fiery Ian Poulter (10-2) and Justin Rose (6-3) continue to cause problems for their American opponents.
Phil's makeover
Phil Mickelson entered the tournament with fewer points won in eight Ryder Cups than even the maligned Tiger Woods (six) and had won just as many matches (10). Mickelson's career record, in 34 matches, 11-17-6. He was 7-13-6 with his partners and 4-4 as a single.
Enter rookie Keegan Bradley here at Medinah, and the 26 year old's enthusiasm pushed all the right buttons for the 42-year-old Mickelson, who was sharp and inspired in his American record ninth Ryder Cup.
The pair ran roughshod in three matches, going 3-0 and equaling the largest margin of victory in Cup history – 7 & 6 over former world number ones Westwood and Donald – Saturday morning.
"The European side has had some great teammate with Seve (Ballesteros) and Ollie (Jose Maria Olazabal) and some others, but to be able to share this experience with Keegan and to partake in his great play and experience the Ryder Cup together has been really awesome," Mickelson said. "We've had so much fun. The crowd has provided so much energy, and it's brought our best golf out."
Mickelson is now in position to become the first American since to be a part of three winning Ryder Cup teams since Payne Stewart won his third with the 1999 squad. (Jim Furyk would also be a part of his third winning team).
New faces are the key
In 2008 U.S. captain Paul Azinger changed the team qualification process by determining only eight players should make the team automatically. That left him with four captain's picks, which included three rookies that year to go with rookies Ben Curtis, Anthony Kim and Boo Weekley who qualified on their own.
Azinger picked Steve Stricker, Hunter Mahan and J.B. Holmes, and the trio combined with the other first-timers for 12.5 points in the first U.S. victory since 1999.
Corey Pavin picked only one rookie – Rickie Fowler - in 2010 after two more qualified automatically in Dustin Johnson and Matt Kuchar. In the one point loss to Europe, the troika posted two points.
This year, the rookie quartet of Keegan Bradley, Webb Simpson, Jason Dufner and captain's pick Brandt Snedker have won eight points in two days.
"It's nice to have a new, young generation of guys and they are all playing well," Tiger Woods said.
Perhaps the consistent infusion of new blood has been just as important to the American turnaround the last four years as the European stagnation.
Stricker struggles

Madison resident Steve Stricker and partner Woods went a surprising 0-3 on Friday and Saturday, dropping Stricker's career record in the Ryder Cup to 3-6-1. He also fell to 2-4 with Woods. The duo stretched two of their three matches to the 18th and the other to the 17th after poor starts in each match.
Facebook Comments
Disclaimer: Please note that Facebook comments are posted through Facebook and cannot be approved, edited or declined by OnMilwaukee.com. The opinions expressed in Facebook comments do not necessarily reflect those of OnMilwaukee.com or its staff.