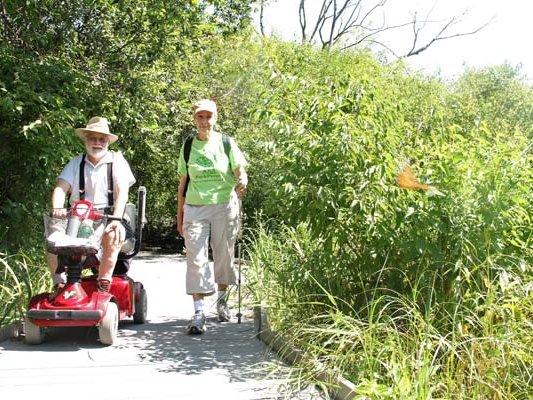 Scoot-abouts set pace on Oak Leaf Discovery Tour
Rolling at a steady four mph, Brad Dobbs has outpaced me and hundreds of others on his Oak Leaf Trail Discovery Tour.
By bicycle, I've collected 10 of the 14 Discovery Tour Passport stamps at parks scattered throughout Milwaukee County – from Grant to Dretzka.
Dobbs has collected all 14, traveling by electric scooter.
"I like the outdoors," Dobbs said when we met Tuesday at the Wehr Nature Center in Franklin. "I like being out in the woods. I'm more connected with the woods as a religion than anything else. It's spiritual. Nature is anti-depressive to me."
Dobbs, 64, calls his trips on the Oak Leaf Trail and its adjacent paths "scoot-abouts."
K-T Syndrome, a congenital vascular disease that limits blood flow in his left leg, hinders his ability to walk, so he covered roughly 80 miles on the popular path in five to six-mile outings. Throughout the summer, he parked along the trail, then scooted to the county park buildings identified as Oak Leaf Discovery Tour locations.
All of them are along the 115-mile trail that winds throughout the county; one large loop with a variety of extensions.
Travelers who have collected eight of the 14 stamps can turn in their passports to the Milwaukee County Parks Department to enter a prize drawing that will be held Sept. 15 at the Oak Leaf Discovery Tour Party & Concert in Estabrook Park. The deadline for submitting the passports is Sept. 11.
Dobbs placed the 14th stamp in his passport book in the Whitnall Park Clubhouse, after rolling along a connecting pathway from the nature center, with Cheri Briscoe, the secretary of the Park People and one of the leaders in creating the Oak Leaf Discovery Tour Passport program.
The group distributed nearly 2,000 of the passports this year to encourage people to visit parks outside their immediate neighborhoods.
"We feel it's been a success," Briscoe said. "We've heard wonderful stories of people enjoying themselves while getting the stamps."
As we traveled the path, Briscoe identified the birds and plants in our view, and talked about plans to expand the passport in 2013. Washington Park and others would be added to promote some of the locations not directly on the Oak Leaf Trail. Organizers are also talking about adding a geo-cache element to the promotion.
Dobbs, a retired grandfather who lives in Wauwatosa, is happy to be a part of it.
He routinely encountered runners and bikers on the Oak Leaf, but only one other person on a scooter. He would like to encourage others who need an assist to get out of their house and onto the trail, and serves as an example of how it can be done.
Dobbs traveled along the paved paths along the lakefront and the parkways through the southwest suburbs. He found the entire trail accessible and suitable, although he recommends the added safety measure of a bright orange flag along the parkways.
The storage bin on his scooter is filled with various Oak Leaf Trail maps.
Sections that he has covered are highlighted.
"I haven't had a single problem on any trail I've been on," he said. "People who are out on trails are friendly, helpful people."
Facebook Comments
Disclaimer: Please note that Facebook comments are posted through Facebook and cannot be approved, edited or declined by OnMilwaukee.com. The opinions expressed in Facebook comments do not necessarily reflect those of OnMilwaukee.com or its staff.