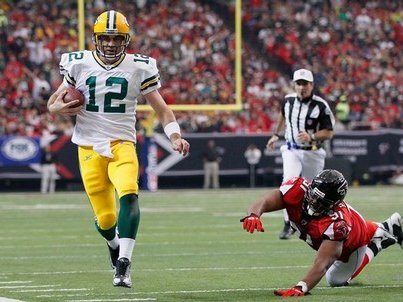 Friday Scorecard: Another streak comes to an end
Only a week left to get your Christmas shopping finished. And if you're anything like me, you haven't even made a list yet. With that in mind, we move right to the notes.
Been awhile: With Packers' quarterback Aaron Rodgers likely to miss the game Sunday night at New England, the Packers will need to use a substitute starter for the first time in more than a decade.
Brett Favre, of course, replaced an injured Don Majkowski in the third game of the 1992 season and his start the next week kicked off a string of 252 consecutive starts before giving way to Rodgers, who has started 45 in a row since taking over under center in 2008.
Prior the Favre takeover, though, the last time the Packers needed somebody to start in place of an injured quarterback was Oct. 6, 1991, when Blair Kiel filled in for Majkowski and led the Packers to a 20-17 victory at County Stadium.
Majkowski returned the next week, but was benched after four games in favor of Mike Tomczak. The Packers finished that season -- Lindy Infante's last as head coach -- 4-12.
Overall, the Packers have been fairly stable at quarterback over the last 20 years. During Favre's 297-game streak, 238 other quarterbacks have started games in the National Football League.
Reversing course: Smart move by Big Ten Commissioner Jim Delany, who Friday told WGN Radio in Chicago that the league would reconsider the names picked for the Big Ten's divisions next season.
After the "Legends" and "Leaders" announcement was made, outcry from fans was plentiful. Forget for a second that the Big Ten will have 12 teams when Nebraska joins next season. Scorecard agrees with Delany that "Big Ten" is more of a brand than a reflection of membership, but no matter how he tried to spin it, the divisional naming scheme was just plain dumb.
Like with the infamous Marquette Gold decision of a few years ago, that the Big Ten chose such ridiculous names isn't as big a problem as the fact that there was a group of individuals who all agreed that the names were a good idea.
Keep it to yourself: The Bucks' front office found itself in a bit of a controversy and a man's request for his son to propose to his girlfriend on the JumboTron was denied.
The father of the would-be groom an MP, who was about to ship out to Iraq, was irate over the decision and wrote the Journal Sentinel to complain.
Quite frankly, nobody should be proposing on the big screen. Games are already filled with enough sponsor-driven crap that has nothing to do with the game itself that sometimes, watching at home is almost more pleasant an experience than going to the game.
Let one guy slip a cheap ring on a girl's hand and next thing you know, you'll have about 500 more guys in line, all looking to mug for the camera while proposing. It's a vicious cycle and one the Bucks are right in preventing in their house.
Besides, how many times have you heard women say that proposing in public isn't romantic.
Around the Web: Brewers announcer Brian Anderson has a great story about his brother and new manager Ron Roenicke at his MLB.com blog ... Nobody, including Andy Baggot of the Wisconsin State Journal, seems to have anything good to say about the Big Ten's new logo and division names ... Want to know how FOX Sports got the video of snow pouring through the Metrodome roof? Patrick Donnelly of FOX Sports North has an interview with the man responsible ... Looking for the perfect way to commemorate Favre's streak of 297 starts? Why not buy an official commemorative football while the Vikings fan on your list might want to someday look back on the Monday night game in Detroit with a souvenir t-shirt.
Larry King Lounge: Do you think former punter Jeff Feagles -- the NFL record holder for consecutive games played -- cracked open a bottle of champagne when Favre sat out Monday night? ... The Brewers had a cake on hand when Shaun Marcum was introduced Tuesday, the right-hander's 29th birthday. Unfortunately, Marcum isn't much of a sweets guy ... Soccer fans always like to point out that it's the "world's game," and open to everybody. But FIFA president Sepp Blatter has a suggestion for those attending the 2022 World Cup in Qatar ... Want to watch the Rose Bowl but don't have cable? Tough luck; the game will be carried exclusively on ESPN ... Marquette will add men's and women's lacrosse beginning with the 2012-13 season. The sport is very popular on the East Coast but only a select few midwest programs exist, giving Marquette some expanded exposure.
Video of the week: In case you weren't one of the 19,000-plus at the Bradley Center last week when Marquette hosted Wisconsin, take a moment to check out the pre-game video, showcasing the 117-game rivalry.
Facebook Comments
Disclaimer: Please note that Facebook comments are posted through Facebook and cannot be approved, edited or declined by OnMilwaukee.com. The opinions expressed in Facebook comments do not necessarily reflect those of OnMilwaukee.com or its staff.