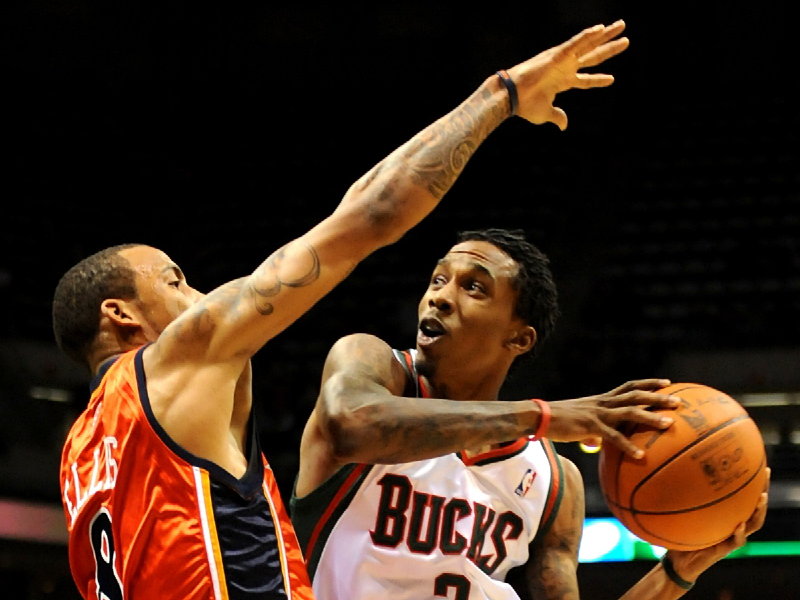 Saturday Scorecard: A decade to remember
Welcome to Saturday Scorecard, the post-Christmas edition. Sorry we can't redeem that gift card or exchange that funky sweater from Aunt Gert, but we'll give you something to read while you're planning a surgical strike to the mall.
As this is the last column of the decade, the idea of a "top stories" or "memorable moments" column was considered and quickly dismissed in favor of something a bit more meaty and personal that would spark a bit more thought from you, the gentle reader.
The question today is simple: What were the best sporting events that you attended from 2000-'09? We're not talking about watching on TV. We're talking about the most spine-chillingly memorable event that you witnessed in person during the decade.
Before launching into my list, I'll start with some events that I wish I'd attended but did not.
For starters, there was Wisconsin's trip to the 2000 Rose Bowl and a 17-9 victory over Stanford. That was preceded, of course, by the "Dayne Game," in which the Badgers clinched the Big Ten title and trip to Pasadena while Ron Dayne set a rushing record and wrapped up the Heisman. I watched that on TV.
I'd loved to have attended Wisconsin's Final Four run in 2000 or Marquette's in 2003, but baseball duties precluded that. Ditto for UW-Milwaukee's sprint to the Sweet 16 in 2005.
I'd have enjoyed watching the Bucks' performance in the 2001, just to have seen for myself if they really got screwed by the refs (it sure seems like they did).
And, I'd have liked to have attended the 2007 NFC Championship Game that the Packers puked away against the Giants, just because it was Brett Favre's last as a Packer.
Enough of the regrets. Here is my list of events that I was fortunate enough to attend/chronicle. There is a chance I forgot a few, so don't be surprised to see an update.
Use the Talkback feature to list yours.
Snakes alive -- Arizona outfielder Luis Gonzalez's winning hit in Game 7 of the 2001 World Series may have been the definition of a "duck fart," but it capped the most thrilling series I've seen. With New York reeling from the Sept. 11 terrorist attack, the Yankees and Diamondbacks provided an incredible diversion and a sense of excitement, hope and healing. The middle games in New York (I missed one to cover Michael Jordan's return to the NBA with the Wizards at Madison Square Garden), were incredible affairs and made everyone think that by Bronx Bombers were going to win a title. Randy Johnson, Curt Schilling and the Diamondbacks had other ideas.
Return to glory -- After nearly blowing a 5 1/2-game lead in the closing weeks, the Brewers clinched the 2008 National League wild-card by beating Chicago on Sept. 28 at Miller Park. Fans will never forget Ryan Braun's dramatic homer, CC Sabathia's gutsy complete game in his third straight start on three days' rest. The victory only clinched a tie, though, and the champagne didn't flow until the sellout crowd watched Florida beat New York on the scoreboard. The Brewers' playoff victory in Game 3 against Philadelphia was memorable, but it wouldn't have been possible without that unforgettable Sunday afternoon.
Fit to be tied -- Some long-suffering fans felt that the Brewers' teams in the late 1990s and early 2000s were cursed. That argument was bolstered on July 9, 2002, when an otherwise sublime evening ended with the first tie in the history of the All-Star Game. With the score knotted, 7-7, American League manager Joe Torre and his National League counterpart Bob Brenly ran out of pitchers. Commissioner Bud Selig declared the tie, touching off a firestorm of controversy and leading to the Midsummer Classic winner receiving home-field advantage in the World Series. (Personal note -- As vice-president of the Baseball Writers Association of America at the time, I served as one of three official scorers for that game).
The Homecoming -- Brett Favre dominated Wisconsin sports in the decade, and his return to Lambeau Field on Nov. 1 created an unforgettable stew of emotion. For the second time in a month, Favre led his new team past his old squad. With boos raining from the stands, he completed 17 of 28 passes for 244 yards and four touchdowns, leading his team to a 38-26 victory.
"Packer fans cheer for the Packers first," Favre said afterward. "I know that. But I hope that everyone in the stadium watching tonight said, 'I sure hate those jokers on the other side, but he does play the way he's always played.' "
Theater of the Absurd -- Thanks to the filming of the movie "Mr. 3000," there were plenty of cameras on hand July 9, 2003 at Miller Park. Thanks to Randall Simon, the night became infamous. Simon, a reserve first baseman with Pittsburgh, interrupted the nighty sausage race when he hit the Italian Sausage, portrayed that night by college student Mandy Block. Simon was arrested, fined and suspended by Major League Baseball for three games. The episode created national attention and launched a famous T-shirt that proclaimed "Don't Whack Our Wiener." (Note: It was one of the more surreal nights in this correspondent's career).
Page 1 of 2 (view all on one page)
Next >>
Facebook Comments
Disclaimer: Please note that Facebook comments are posted through Facebook and cannot be approved, edited or declined by OnMilwaukee.com. The opinions expressed in Facebook comments do not necessarily reflect those of OnMilwaukee.com or its staff.