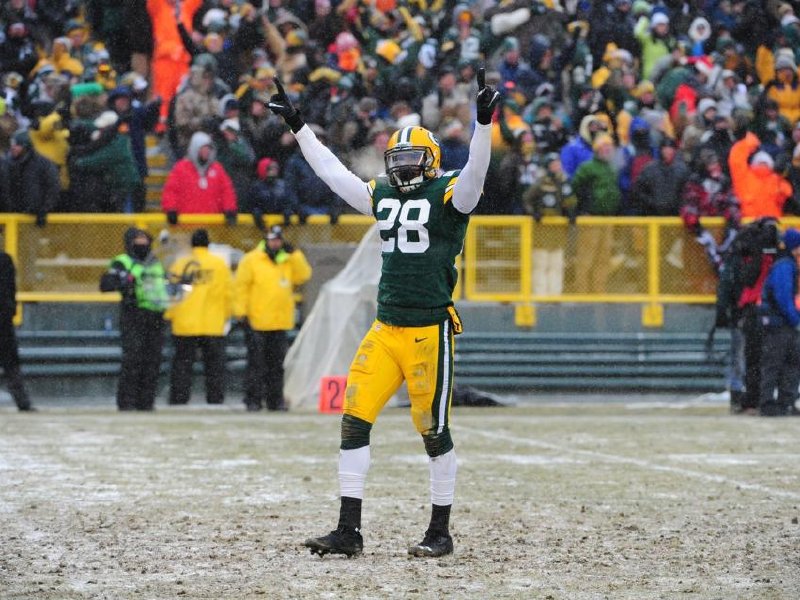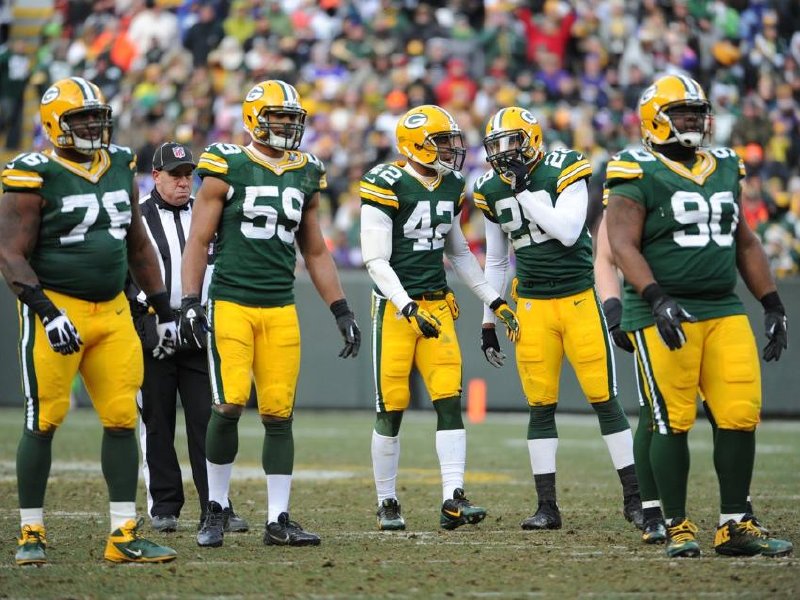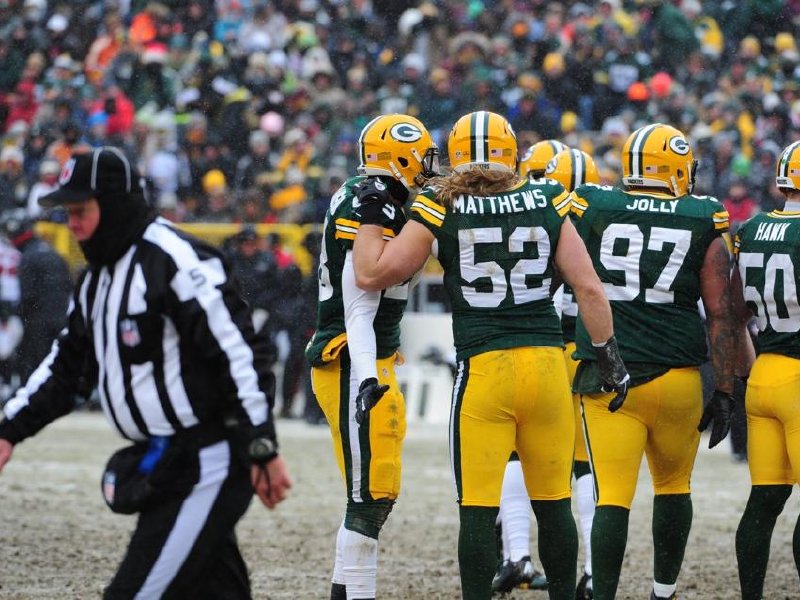 Faith, family & football: Sean Richardson's improbable journey
GREEN BAY – There was a noticeable placidity at Lambeau Field on Nov. 24, which could be expected when the Minnesota Vikings stood at 2-8 and the Green Bay Packers were in the midst of a three-game losing streak following an injury to Aaron Rodgers.
Mytisha Hinton bubbled with nervous energy, though. As Blair Walsh and the Vikings lined up to send the opening kickoff into the south end zone, it was palpable. She looked to the field. There he was. On the hash marks closest to the Packers sideline, No. 28 in green and gold. He crouched, then wheeled downfield as Walsh sent the ball sailing to Johnathan Franklin.
Equal parts fear, excitement and happiness rolled over Hinton has her high school sweetheart, Packers safety Sean Richardson, bolted downfield, looking for a white jersey to lay into.
It had been 364 days since Richardson last played in the NFL, and in that long year, the possibility always remained that that Nov. 25, 2012 would be the last time he did so.
But now, he had to unleash his own energy. Practice is one thing. He had to hit somebody. That person was Vikings safety Andrew Sendejo, near the end of the play as Franklin was being tackled. Hinton just wanted to see him trot off the field.
Richardson appeared only on special teams until the last play of the third quarter, when he lined up at safety on an Adrian Peterson carry.
"The first couple times it was like, OK, he's back, he's got the pads on, he's making contact with other people," Hinton said. "The first couple snaps, you know, I was nervous a little. Not scared, but nervous about the outcome. But as time went on and when he started getting defensive snaps I knew then he was back and everything would be fine."
After the game, Richardson was all smiles.
"It was great," Sean Richardson said of his return to football. "I was warming up. I stepped out on the field and, man, I was like …"
He paused, and looked to the ceiling in the Packers locker room for words.
"Last year I didn't even acknowledge it, having the privilege to line up with guys like Aaron Rodgers and everybody. When I stepped out there I was like wow, I'm back, I'm back on the field. It's just warmups but it felt like the Pro Bowl or Super Bowl or something."
Family matters
On his way to Lambeau early that Sunday morning in November, Richardson was a bundle of excitement. Giddy, even. Hinton couldn't remember the last time he was like that before a game. She drove, he fidgeted in the passenger seat.
There was no guarantee he would ever play again, not after he had surgery to repair a cervical disc herniation. While he only felt back pain following the Packers' game against the New York Giants in 2012, prospects about his return to football were dim. Dim enough to move him to tears.
"It was very hard. It was very hard to tell him that … We told him we'd rather him not be playing than to be paralyzed," Sean's father Ricky said of the message he and his wife, Sandra, had for their son.
Surgery revealed the injury to his neck wasn't as severe as initially thought – and he not only was told he could play, but that there would be no catastrophic consequence when he did return.
"That was the best news for me," Richardson said. "I could've got cleared and released the next day because I knew that I would have a chance, if someone would want to work me out or bring me in, at least I would have that chance to showcase that I'm able to play again."
He had to heal first, of course, and that process was painfully slow – more painful than the injury itself.
To many, Richardson remained a picture of stability. He maintained that he never got too up or too down. There were valleys in the journey however, the deepest coming after a summer appointment with his surgeon, Dr. Robert Watkins, in Los Angeles.
Richardson thought he would be able to participate in training camp once it opened on July 26, but a CAT scan indicated more time was needed. Richardson had to wait a few more months to play, not the days or weeks he expected, and he would start the 2013 season on the physically unable to perform list.
"I was devastated," Richardson admitted.
That emotion leaked out on Packers Family night in early August, and again with the start of the preseason and then the regular season, when he had to stand on the sidelines, watching.
"I think I handled it the right way," he said. "I handled it the best way possible. Even the down days, the days I was down I'd call someone, a family member, my girlfriend and they'd give me encouraging words. Hey, it could be worse – I'm sitting here down about not being able to play football when you've got people out there never be able to walk again or have cancer, or anything."
Even as he faced down the possibility of early retirement, Richardson, just 23, refused to feel sorry for himself. He was young, otherwise healthy, and said if he was going to be told his dream was over he had accomplished enough in the game.
He cited his paternal grandmother Lillian's battles with cancer as true heroism, and an inspiration.
"She's awesome and just a great fighter," he said. "My auntie told me, you and your grandma y'all have a lot in common. Y'all both fighters and stay positive through the worst situations, situations I couldn't imagine being in. She's been a huge impact on me staying positive and keeping my spirits up and just letting God do His work."
Richardson had another family looking out for him, too – the Packers.
As the days waned on Richardson's allotted time on the PUP list, general manager Ted Thompson, head coach Mike McCarthy and defensive coordinator Dom Capers had to make a decision on his future. Richardson was able to practice, so he was showing he could play and hit, to an extent, but he also knew he could be released, or placed on injured reserve for the rest of the season.
Instead, he was activated for that game against the Vikings. Then, three weeks later, he walked out to midfield in Dallas for the game-opening coin toss with A.J. Hawk and Don Barclay as a game day captain.
"It's just a blessing they stuck by me through the whole time," Richardson said.
It was a simple statement, and genuine, but Richardson's father was less matter-of-fact.
He could barely maintain his composure when speaking about the organization. In his eyes, their care for his son went beyond that of employer-employee. There were the private conversations in doctor's offices and the phone calls, giving him the knowledge that they wouldn't let his son walk onto that field unless he was completely healthy.
"They stood behind him," Ricky said, his voice shaking. "They believed in him and I really … I can't think of the words to say."
A faithful journey
Over the last year, reporters would wander over to Richardson's corner of the Packers locker room, checking on his progress. He smiled, remained positive in that public light, and always laid his journey back to football at the feet of God.
He never preached, however. All he could do was listen to doctors, lift weights and run, he would say. The rest was never up to him.
"I talked with my parents about it and just kept faith," Richardson said. "And my grandmother, I would call her all the time and she would give me encouraging words and scriptures out of the Book and she just told me that God has a plan for me and the only thing you can do is control what you can control, keep faith and stay positive and trust in the Lord and that's what I did."
Hinton said the couple would pray together often, and that Richardson's journey back to something as simple as a football game helped them in their relationship with God.
"Faith was extremely important," Hinton said. "On my end I was trying to stay positive, keep the faith so I could help him through it because if I was to the point where I didn't have faith, or I didn't feel like it was going to work out, then of course it would transfer to him. I had to keep the faith. I prayed, constantly, every day about it. I told him when it first happened, 'God didn't bring us this far to leave us.'
"This experience has been – we can sit back and say it was a test for us. It seemed like the dream was taken away, it just was a matter of God putting it into perspective. Don't take anything for granted because one minute it could be here and the next it could be gone. Hard times make you a better person and that's what we preach to each other."
Down in Demopolis, Ala. (a city of fewer than 8,000), just a short way from Linden – Richardson's hometown of about 2,000 – his family would congregate at the Eastern Star Baptist Church.
Faith has always been a part of their life. It has been tested, and rewarded – like when Lillian Richardson was deemed breast cancer free at the same time her grandson was awarded a scholarship to Vanderbilt University. They were tested yet again when her cancer returned and Sean's football career was put in jeopardy.
"I do go to church and I do a lot of praying," Sean's father, Ricky said. "And certain things that we learn coming up and growing and learning about Christianity and believing in God, there are some things you can relate to (the kids) to make them understand, that it is God's world, to make them realize patience.
"I remember one time when they were kind of young I put my paycheck down and my wife's paycheck down, the check stubs, to show them the money that we have doing things for Him so they could see how it needs to work. I used to bring stuff like that to their attention to make them understand life is not always on a platter and you have to treat life like that, you're going to have some up and down days. You have to always believe in God and make the right move and do the right things."
Sean Richardson learned those lessons well, and refers back to them often. Perhaps no one sees it more closely than Hinton, as the couple has grown together over the last eight years. This test didn't reveal anything new about Richardson, but only illustrated his character.
"It reinforced that he's humble," she said. "It helped me. He helped me grow as a person too because seeing him go through what he went through and staying humble and hard working as he was, it made me realize that in life there's going to be situations where you have to keep the faith, work hard for it and stay humble and everything will work out. It helped me as a person."
Playing for joy
It was at home, in Linden, where Richardson's family watched their son, brother and cousin retake the field.
Sean Richardson often jokes he's got another football team there supporting him, which includes a young sister who spent the last year telling everyone her big brother would play again – and her excitement couldn't be contained when No. 28 took the field against Minnesota.
"I was just full of joy, man. Just full of joy. Happy," Ricky Richardson said. "I guess you could say sometimes when you have you have a knock back like that and when you get a chance to go back and get another a chance, it's a feeling that hey, you got another shot, and we need to make the best of it and just pray that he can stay healthy."
Sean Richardson will be roaming the defensive backfield Sunday at Soldier Field, hoping to make a play that lifts the Packers to the NFC North division title and the playoffs.
There have been some good and bad moments, like when he filled the hole and drilled Pittsburgh Steelers running back Le'Veon Bell behind the line of scrimmage on a third-and-short play in the second quarter; or not closing down in time on Steelers tight end Matt Spaeth over the middle as he caught a touchdown in the third quarter last Sunday.
He's healthy, and back doing what he loves. It's just Sean playing football again for his loved ones, and the questions from the media are about coverages and what is happening (or not happening) in the defensive backfield.
The more Richardson plays, the more his injury drifts to the recesses of his memory. The journey, however, will always remain with him.
"It's been a humbling experience and that's why every day I step out there on that field I enjoy," he said. "No matter what the outcome is – I could be released tomorrow – but I can honestly and truly say I enjoyed it. These past weeks have been really fun."
Facebook Comments
Disclaimer: Please note that Facebook comments are posted through Facebook and cannot be approved, edited or declined by OnMilwaukee.com. The opinions expressed in Facebook comments do not necessarily reflect those of OnMilwaukee.com or its staff.