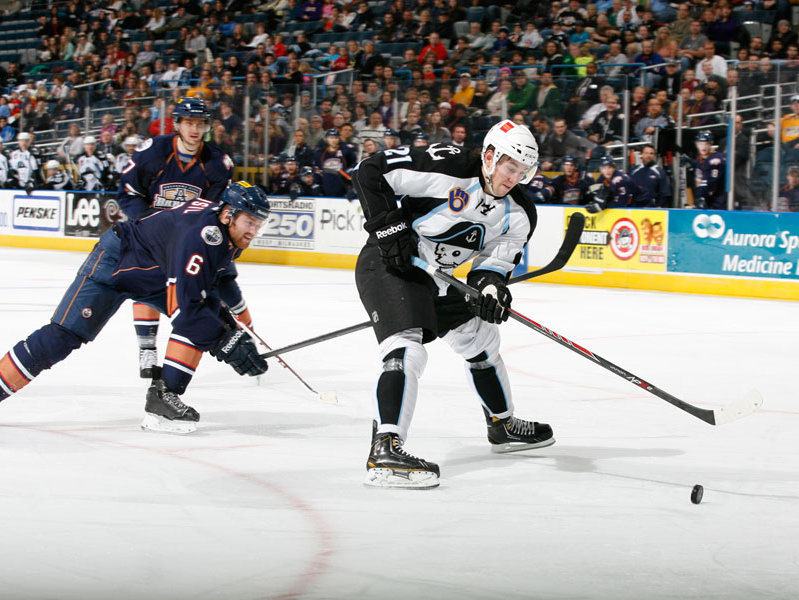 Admirals' Moser headed to the Olympics
Simon Moser knew a call from Switzerland would be coming – good or bad – very early on Jan. 5. The Milwaukee Admirals weren't playing until the next night against Iowa, so he'd be able to recover some of that lost sleep.
The phone rang, and the 24-year-old Admirals winger heard the good news: He would represent his home country in the 2014 Winter Olympics in Sochi, Russia.
"I didn't know if I was going to make it or not, so when the call came I was pretty nervous to hear," he said. "When he said I made the final roster I was pretty happy. It was awesome."
Due to the seven-hour time difference (Milwaukee is behind), and with an embargo placed on the players from the Swiss national team until they announced the full team publicly, he couldn't tell anyone.
So he sat, alone, in his apartment in Milwaukee, for the better part of a day.
"It was really hard to describe," Moser said. "I just texted my family and then they released it to the media and I got several texts to congratulate me. Because I was over here it wasn't too hard to keep for one day. The next morning after the walk through I told the guys in the locker room."
The good news wasn't totally unexpected for Moser, who has played in 40 games with the Admirals to this point, scoring 25 points (eight goals, 17 assists). He has been a member of the Swiss national team and has played in the last three world championships, helping Switzerland to a silver medal last year.
But, you never know until you know, and to be playing in an Olympic Games is a dream come true.
"It's a big honor to represent your country in such a big event," he said. "I'm really excited for it. I've only seen the Olympics on the TV so far, so I can't wait to get there and see everything live. It's pretty amazing.
"It was a goal. Your first goal is to become a pro hockey player, then maybe play for the national team. As soon as I got to the national team, I set the goal to play for the world championships and then the Olympics. It's a huge goal. I worked for it and I'm pretty satisfied it came true."
He joins a Swiss team that includes eight NHL players – including a Nashville Predators teammate in Roman Josi – and hopes are high coming off last year's worlds, which was the country's highest finish in nearly eight decades.
The Swiss are in Group C, along with Sweden, the Czech Republic and Latvia.
Team USA is in Group A, and Team Canada is in Group B.
There will be four rounds of elimination games and the winner of each group receives a bye into the second round, along with the second place team.
"I think we have a good team," Moser said. "It's a tournament and a lot can happen in a tournament. You can get lucky or unlucky during games so I'm excited to see how far we can get and how well we can play."
Moser was called up to Nashville on Saturday, made his debut, and then was sent back to Milwaukee on Sunday. He played a little over 10 minutes with the Predators, so his trip to Russia and his experience in the Games will give him an extended opportunity to play against the best hockey players in the world.
He admits it will be hard to "improve," in the traditional sense of the word in just over two weeks of practice and competition, but Moser does expect to learn quite a bit from the experience to bring back to the Admirals at the end of the month.
"I'm looking forward to playing against the greatest players from the NHL and each team has big names," he said. "I'm looking forward to competing and playing against them. I'm going to be pretty excited."
"I will not change my game just because it's the Olympics, but I'm really excited to get the experience. I hope I can learn a lot there. It's hard to get better during a week, but just the experience of seeing these guys play and playing against them. That's my goal."
Facebook Comments
Disclaimer: Please note that Facebook comments are posted through Facebook and cannot be approved, edited or declined by OnMilwaukee.com. The opinions expressed in Facebook comments do not necessarily reflect those of OnMilwaukee.com or its staff.