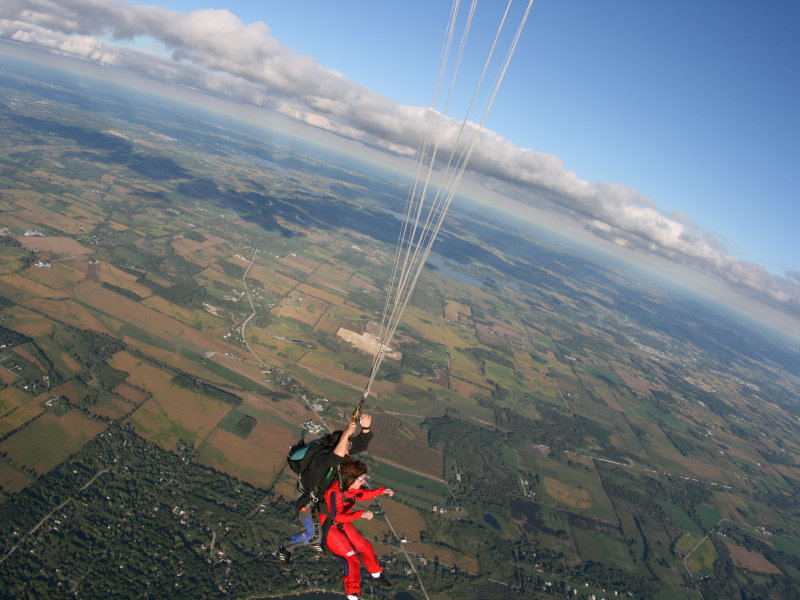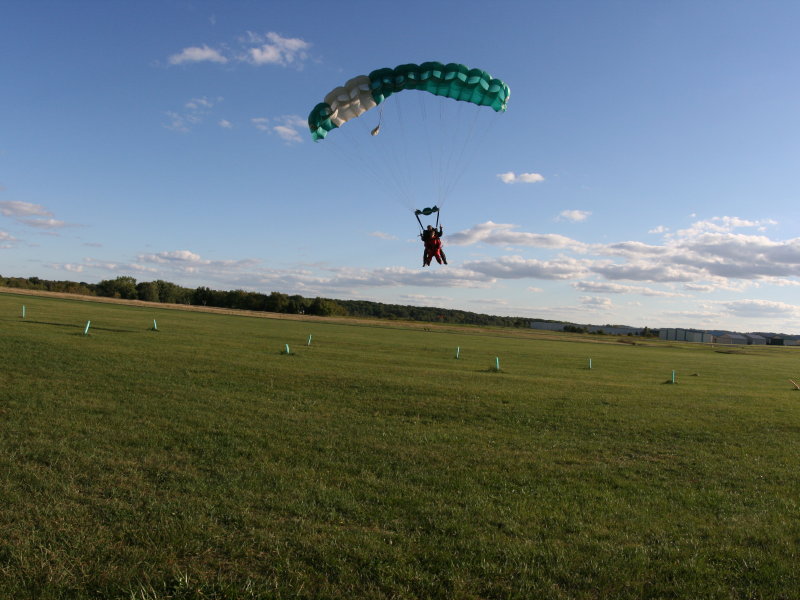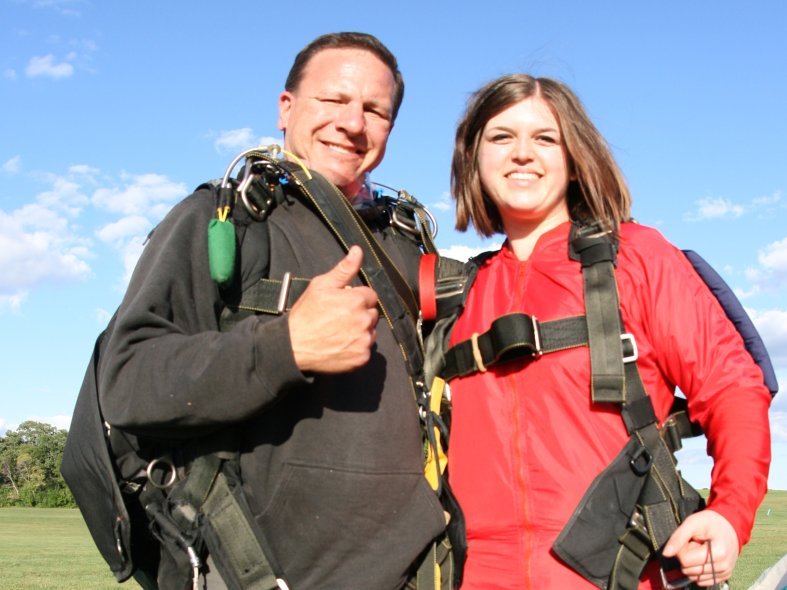 Take the plunge: Suiting up with Skydive Milwaukee
"Ready ... set ... go."
That was it. No fancy red light/green light over the door, no adrenaline-fueled dive out of the plane (which, in retrospect, would have been pretty hard to do strapped to my tandem instructor). Just three little words, a tip forward and I was a skydiver.
My very first jump was scheduled at the tail end of the East Troy club's fifth annual Cheese Boogie, a gathering for experienced skydivers to converge, hang out and – most importantly – jump out of planes as much as possible. With their boogie wrapping up and my skydiving adventure just beginning, I got a unique look at both sides of what Sky Knights/ Skydive Milwaukee is all about.
The Sky Knights Sports Parachute Club was formed in 1963 and operated out of airport hangars until it moved to its current home in the 1980s. The club's skydiving school, Skydive Milwaukee, is how I and many other novices get to experience the thrill of skydiving. Coincidentally, it's also what keeps the Sky Knights up and running (or jumping, as it were) year-round.
"The majority of the business would be tandem jumps. That's what flies the airplanes and keeps the lights on," said web marketing director Todd Zimmerman. "Sky Knights, or Skydive Milwaukee, is a little different. We're a club. We exist to create skydivers – to get more people involved in the sport and to have more friends to jump with."
Jumpers can enroll in the Sky Knights/ Skydive Milwaukee student program in order to earn their A License, which grants them access to jump with fellow skydivers without the help of instructors, as well as clearance to earn more advanced licenses. One-time thrill-seekers like me, on the other hand, can book an appointment for either a tandem or solo accelerated freefall jump. Both offer a 45-second freefall and five to seven minutes enjoying a bird's-eye view of the southeastern Wisconsin landscape as you parachute down.
"You go from 13,500 to 6,500 feet," said Zimmerman. "You open at 65. That's higher than most sport jumpers, but the idea is to give the full experience – the freefall and the nice, scenic canopy ride. We tend to open lower because we're in a hurry to get on the ground, pack up and get on the next flight."
Sure enough, the experienced skydivers on-site that afternoon wasted no time using the clear, sunny weather to execute a list of feats, which included setting new state records for POPS (Parachutists Over Phorty Society) canopy and 13-way wingsuit formations. Even as I sat waiting my turn, casually converting the 13,500-foot drop into miles in my head (two and a half, by the way), it was hard to connect that plunge with the leisurely parachutes drifting back to the open field below them.
After a while I met Amy Gralewski, Skydive Milwaukee's other marketing director. She asked me if I was nervous. I said no. After waiting a little while longer I got called back to suit up and met my tandem instructor, Tim Shue. He asked me if I was nervous. I said no again. A little while later, I moved to the skydiver waiting area. As I was chatting with some of the skydiving regulars, they asked me if I was nervous. One more time, I said no.
If they wanted a "yes," they should have asked if I was excited. I was about to cross off one of my top bucket list items, and there wasn't a single negative – or even neutral – vibe in the place. If anything, I wanted to get things moving. I wanted to jump. But, there are a lot of moving parts that work together for a successful skydive, and I didn't mind waiting to make sure they were all aligned. Page 1 of 2 (view all on one page)
Next >>
Facebook Comments
Disclaimer: Please note that Facebook comments are posted through Facebook and cannot be approved, edited or declined by OnMilwaukee.com. The opinions expressed in Facebook comments do not necessarily reflect those of OnMilwaukee.com or its staff.