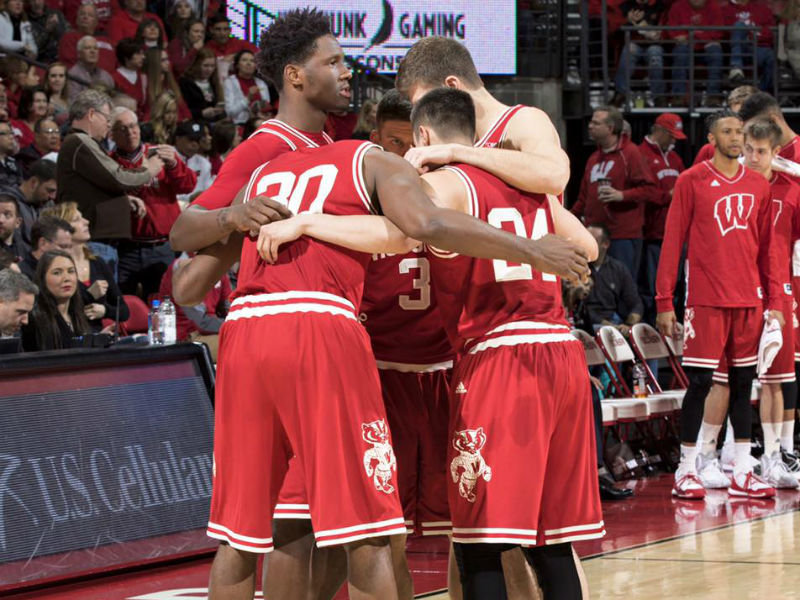 OnMilwaukee Sports power rankings: Badgers tops among area teams
In sports, there are quantitative things and there are qualitative things.
The quantitative things involve measuring performance, analyzing statistics and examining results to better understand and evaluate the players, teams, games and leagues that we love.
The qualitative things are then about using all of that objective, carefully calculated information to go and make absurd predictions, draw unproven conclusions and, in general, speculate wildly about the players, teams, games and leagues that we love.
With the latter in mind, especially, we present the OnMilwaukee sports power rankings – a randomly periodic assessment and absolutely arbitrary (arguably idiotic!) placing of the area's eight major professional and collegiate teams at a particular point in time:
1. Badgers
With five straight victories, including big wins at home over No. 4 Michigan State and No. 19 Indiana, Wisconsin (14-9) has turned its season around under interim coach Greg Gard and moved into the top half of the Big Ten standings, with a 6-4 conference record. Last week, the Badgers beat Illinois by eight on the road and Ohio State by 11 at home, both impressive displays. Juniors Nigel Hayes (17.1 points per game) and Bronson Koenig (13.4) are leading the way, while getting a lot of help from freshman Ethan Happ (12.3 points, 8.1 rebounds). This week, Wisconsin hosts Nebraska and then plays at No. 2 Maryland.
2. Admirals
(PHOTO: Milwaukee Admirals Facebook)
Before Saturday's loss at San Diego, Milwaukee had been on a six-game points streak, winning five and dropping one in overtime. Even while on a month-long stretch during which they only played one home game – a victory over Grand Rapids on Jan. 30 – the Admirals managed to move into third place in the AHL's Western Conference, with a 28-14-3-0 record. In Saturday's 7-3 win at Bakersfield, defenseman Trevor Murphy (above) was moved up to left wing and posted a career-high six points, with a hat trick and three assists. On Friday, Milwaukee hosts Rockford at the BMO Harris Bradley Center.
3. Brewers
A baseball team coming off a 68-94 season that hasn't played a game in five months and is just beginning what will likely be a long, painful organizational rebuild – what are they doing in third place? Well, Milwaukee has had an active and, for its purposes, successful offseason, making eight trades and numerous other personnel moves to dump veterans and acquire young players. On Jan. 31, the team held its popular Brewers On Deck annual event, which was a hit with fans. Additionally, the Brewers have unveiled a cool new alternate jersey and released a TV ad featuring manager Craig Counsell that is poignant and well-produced. So kudos to not only the baseball operations office, but also the savvy marketing/PR departments.
4. Wave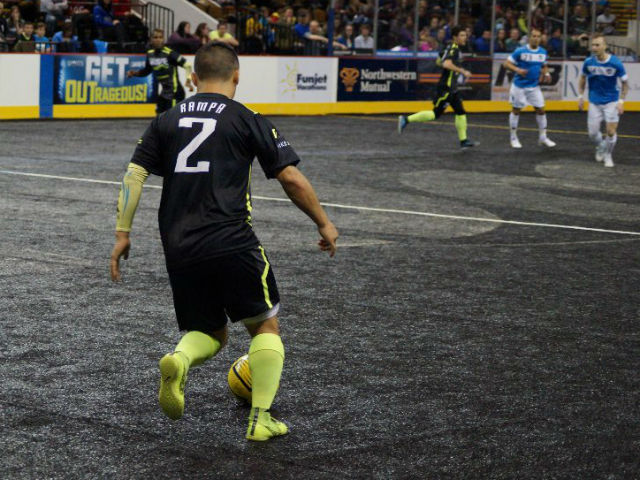 (PHOTO: Milwaukee Wave Facebook)
Milwaukee's indoor soccer team closed out January by clinching a playoff spot with an exciting, 7-6 win at home over Cedar Rapids, though it lost the next day against Syracuse. It was less than a month ago that defender Tenzin Rampa (above) was featured on the "SportsCenter" Top 10 countdown, grabbing national attention when his bicycle-kick defensive clearance was named the No. 1 play. The playoff-bound Wave are 10-6 and their next game is a Valentine's-themed showdown Feb. 14 at home against first-placed Missouri.
5. Packers
After losing in heartbreaking fashion to the Cardinals in the NFC Divisional Round three weeks ago, the Packers cleared out their lockers and watched the rest of the playoffs from home. Any season that doesn't end with raising the Lombardi Trophy – or at least playing in the Super Bowl – is considered a failure, given the extremely high standards in Green Bay. That's especially true when Aaron Rodgers is the quarterback. Still, a 10-6 record and a road playoff win was nice, and over the weekend Brett Favre was inducted into the Pro Football Hall of Fame. So it's a good but not great time in Titletown, which has too often been the case this time of year.
6. Panthers
(PHOTO: Milwaukee Panthers Facebook)
After starting the season with just four losses in its impressive nonconference schedule, Milwaukee (15-9) has lost two consecutive games, dropping three of its last four, to fall into a tie for fourth place in the Horizon League at 6-5. The Panthers are playing close, hyper-competitive games lately – their last five contests have included two wins by a combined margin of four points and three losses by a total of seven. Milwaukee's balanced offense (five players are averaging at least 10 points per game) is ranked 49th in the country, but its defense is No. 207. In the next week, Jordan Johnson (above) and the Panthers have three road games against tough opponents, against Oakland, Detroit and Green Bay, all of which are at least .500 in the conference.
7. Golden Eagles
Like Milwaukee, Marquette (15-9) had a very good start to the season but has struggled in the strong Big East, going just 4-7. Since conference play began, the young Golden Eagles have been streaky – losing two, then winning two, then losing three, then winning three. They've now dropped their last two games, a blowout road defeat against Seton Hall and a near-upset at No. 6 Xavier over the weekend. Henry Ellenson, averaging team-highs of 16.3 points and 9.8 rebounds per game, is one of the best freshmen in the country, but his teammates have been inconsistent. This week, Marquette has a pair of home games, hosting No. 20 Providence and then Creighton.
8. Bucks
(PHOTO: Milwaukee Bucks Facebook)
Since beating the Magic in head coach Jason Kidd's return from surgery on Jan. 27, Milwaukee (20-32) has lost five straight games and sunk to the third-worst record in the Eastern Conference. The Bucks, despite relative health, are in the bottom-third in team offense (97.8 points per game, ranked 24th in the NBA) and defense (102.9 points allowed, 20th). They can't rebound (41.4 per game, No. 27 in the league) and are still getting madly inconsistent performances from their best players. Giannis Antetokounmpo (above) and the Bucks have home games against Boston and Washington before the All-Star Break. After that, the Feb. 18 trade deadline could be interesting for a young and talented team that is once again headed back to the lottery.
Agree with the power rankings? Disagree? Let us know how much you disagree in the comments.
Facebook Comments
Disclaimer: Please note that Facebook comments are posted through Facebook and cannot be approved, edited or declined by OnMilwaukee.com. The opinions expressed in Facebook comments do not necessarily reflect those of OnMilwaukee.com or its staff.