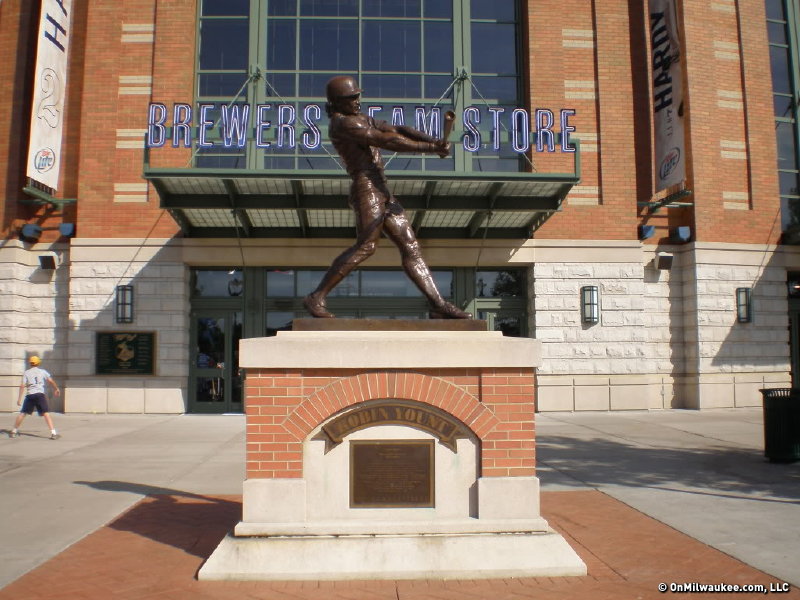 Immortality awaits, but for whom?
They are both divisive and revered. They have been debated and memorialized; then become gathering places for impromptu memorial services and candlelight vigils. They are posed with, dressed up, prayed at, and even used to try to manipulate history to fit a more genteel narrative.
They are larger than life, and with one very notable exception, forever.
This week, two Milwaukee sports icons are in the news for the highest honor one can have bestowed upon them. Monday it was announced that Kareem Abdul-Jabbar will get his long-awaited statue erected outside of the Staples Center in Los Angeles; on Friday Bob Uecker will have his unveiled at Miller Park.
Both men, of course, are deserving of the honor. But while one icon openly complained about his exclusion, the other used his characteristic wit and self-deprecation to almost be embarrassed by his inclusion.
"I don't understand (it)," Abdul-Jabbar said last year when it was announced that the Boston Celtics were honoring legend Bill Russell with a statue outside of TD Garden. The NBA legend that started his career in Milwaukee was miffed that he did not have a statue outside of Lakers home arena. "It's either an oversight or they're taking me for granted. I'm not going to try to read people's minds, but it doesn't make me happy. It's definitely a slight. I feel slighted."
What exactly Russell's statue 3,000 miles away had to do with infuriating Abdul-Jabbar is unknown, but it was clearly something he had been thinking about for a long time.
Of course, Abdul-Jabbar and the Lakers have had a rocky relationship over the years, which may sound familiar to Bucks fans. Abdul-Jabbar, while erudite and learned, also has a massive ego. An ego, not unlike many superstar athletes, that needs to be stroked.
"I am highly offended by the total lack of acknowledgement of my contribution to Lakers success," Abdul-Jabbar continued. "I guess being the lynchpin for five world championships is not considered significant enough in terms of being part of Lakers history."
Of course the notion that his contributions have gone unnoticed is absurd, especially considering the Lakers explanation to the all-time leading scorer in NBA history.
"We've been at Staples Center 11 years and have two ex-players (Magic Johnson and Jerry West) who have statues now," spokesman John Black responded last year. "It's not like we do it every year; we have no timetable. Whenever we do the next statue of the third Los Angeles Lakers player, it (will be) Kareem---and he has been told that. Again, we didn't say when that was going to be."
As it turns out, the squeaky wheel got the grease, as childish as his tantrum may have been.
Conversely, when Uecker, Milwaukee's greatest sports ambassador was notified of the honor in March, he used his typical wit and charm to diffuse how Brewers fans and the entire organization felt about his likeness in bronze.
When asked what took so long, he deadpanned to reporters, "I didn't have enough for the down payment."
Uecker will join fellow Milwaukee baseball legends Hank Aaron, Robin Yount, and Bud Selig on the Brewers version of Mount Rushmore. Four men without whom the tapestry of the franchise could not have been weaved. Like Selig, Uecker's statue will not be of a man in a baseball uniform.
"Kind of a Schwarzenegger-type thing," Uecker joked. "Beefcake. Speedos. Pretty buffed. It's really enhanced. I've seen pictures of the finished product, and, yes, I'm very pleased."
All kidding aside, Uecker was moved by the recognition of his work.
Page 1 of 2 (view all on one page)
Next >>
Talkbacks
InTheView | Aug. 30, 2012 at 11:27 a.m. (report)
Wow, Kareem needs to practice a little humility. If I were in the Lakers organization, I'd unretire that jackwagons jersey for those remarks.
Facebook Comments
Disclaimer: Please note that Facebook comments are posted through Facebook and cannot be approved, edited or declined by OnMilwaukee.com. The opinions expressed in Facebook comments do not necessarily reflect those of OnMilwaukee.com or its staff.